Faculty and Staff
The Graveyard, the Trolley Ride and the Teacher Who Ties It All Together
Meet Candy Beal, and discover how unorthodox field trips are making her students better future teachers.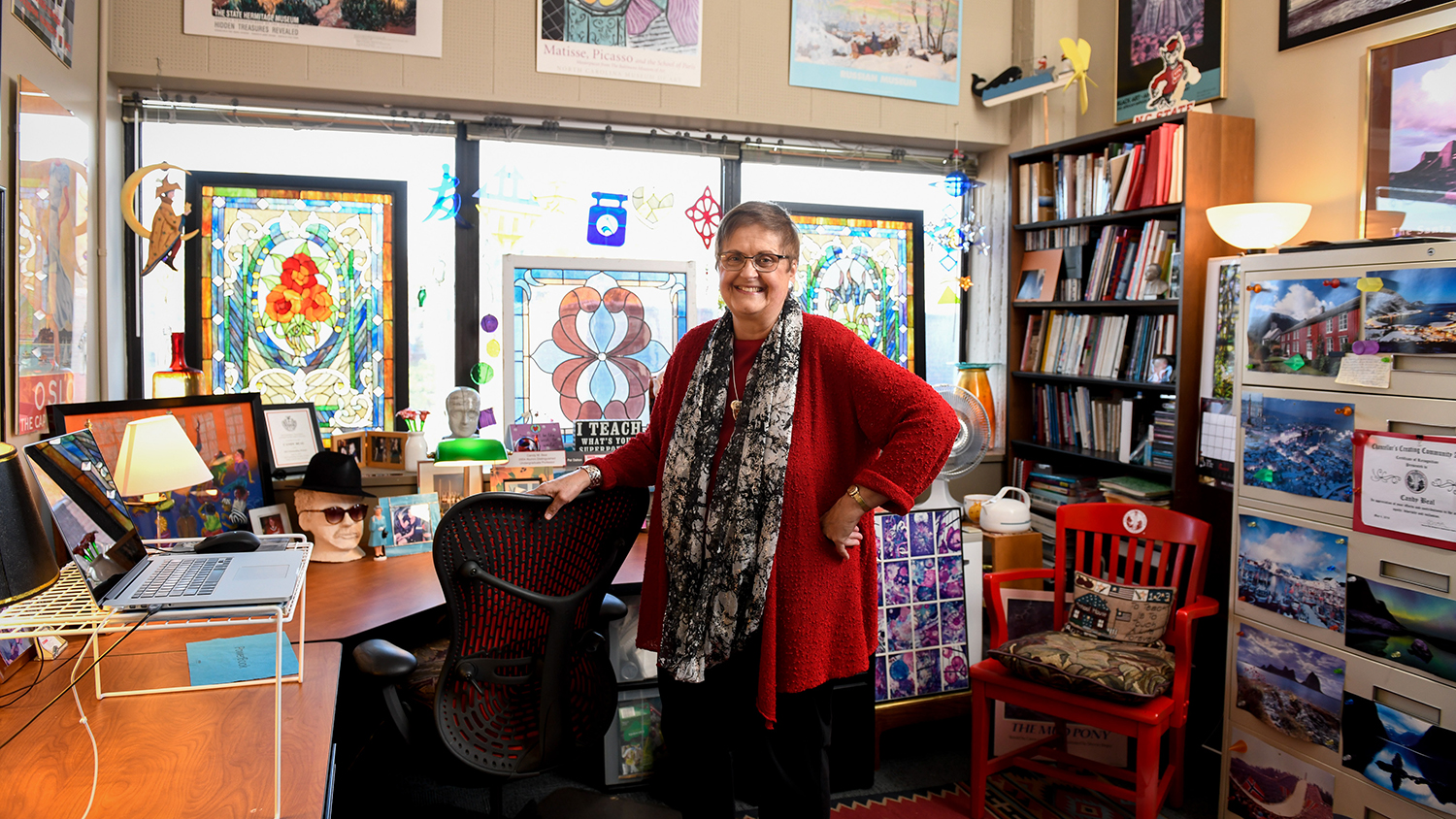 Candy Beal has been an educator for 51 years, 23 of those in the NC State College of Education. Her focus is teacher education for those who want to teach middle grades language arts and social studies. As part of a robust lineup of award-winning faculty, Beal holds special expertise in adolescent development theory and learning methods.
"Most people, when they hear what I do, say, 'Why would anyone want to teach middle school?'" says Beal.
Adolescents, particularly those between the ages of 11 and 14, have a certain reputation for being difficult, aloof, hormone-addled or awkward. But Beal delights in the opportunity to prove those prejudices wrong.
"I think it's a wonderful age. They're so curious; they have big ideas, they want to change the world and they still believe in themselves. I like to say, 'Why would anyone want to teach anything but middle schoolers?'"
Beal's classes are unorthodox and focus on collaborative learning and experiential education, hallmarks of NC State's hands-on approach to education. In a given semester, her undergraduate and graduate students will go on field trips to Raleigh landmarks, role play parent-teacher conferences, write personal histories and contribute to potluck suppers.
They'll study 18th century portraiture at the North Carolina Museum of Art as a way to understand adolescent developmental theory. To establish a sense of place, they'll ride the Parks and Recreation Raleigh Trolley for a three-hour tour of Raleigh's historical sites, with Beal at the helm and on the mic, sharing tales of the town's founding, Civil War devastation, political scandals and life downtown before electric scooters. And they'll learn the fascinating history behind the graves of some of North Carolina's most prominent figures at Oakwood Cemetery.
"Dr. Beal's Raleigh Trolley tour should be part of the on-boarding orientation for all new faculty and staff who come to NC State. It's both informative and fun," says colleague Cathy Crossland, professor in Special Education and director of the university's Diagnostic Teaching Clinic.
Beal has taught outside the box for decades, as evidenced by her portfolio of classroom activities dating back to the 1970s. One of her earliest collaborative classroom projects, in Saratoga Springs, NY, involved taking her students to a neighboring town to help set up a circus tent and interview the performers.

"A graveyard is a classroom. A museum is a classroom. It's my job to show these students that when they become teachers, they have a wealth of possibilities in front of them."
The College of Education's innovative Teaching Fellows program and robust scholarly research are major draws for top students hoping to become educators in North Carolina. In fact, the college is the foremost producer of STEM educators in the state.
Beal credits a high level of professional trust and strong departmental leadership with encouraging her to educate future teachers using her own methods.
"Colleagues at peer institutions are always telling me how lucky I am to work at NC State," Beal says. "And they're right."
Her work studying educational systems both at home and abroad has given her a unique perspective on how adolescents learn as part of a community. "In Petrozavodsk, Russia, the students are also the custodians — every student has a job. They keep immaculate classrooms and take pride in their schools as second homes. On Harkers Island, N.C., you have generations growing up in the same neighborhoods and attending the same schools. The classroom is an extension of the family."
Beal seeks to create that same sense of community and ownership in her classroom. "I start every semester with a deep dive on personal histories. Not everyone wants to share about themselves at the outset. But when students can identify themselves in others, when they feel those connections, their collaborative work is so much stronger, and the lessons we're trying to impart sink much deeper."
When students can identify themselves in others, their collaborative work is so much stronger, and the lessons we're trying to impart sink much deeper.
Around Poe Hall, Beal is known for her colorful office, thoughtful student advising and generous snacks for three-hour lectures. And while her field trips are highlights for the semester, no two syllabi are ever the same. The extra effort pays off, says Beal.
"Kids are the keepers of the history. I pass on every bit of knowledge and expertise I can to my students so they can do the same for their students."