Campus Life
A Century of Readership
Technician, NC State's student newspaper, celebrates the 100th anniversary of its inaugural edition, published on Feb. 1, 1920, as more than 250 former editors, writers, photographers, cartoonists, artists and business staff reunite this weekend.
They were, quite literally, the first couple of Technician, a pair of young applied science majors from small North Carolina towns who helped change a turbulent world, the culture of NC State and the surrounding Raleigh community.
It wasn't necessarily intentional, but journalism is nothing if not the art of accidental discovery and timely truthfulness.
Grant Blair was a textile chemistry major from Jamestown in Guilford County, who grew up in the twin shadows of Quakerism and civil rights protests. He had done just enough summer work in a Burlington, North Carolina, laboratory to hear his boss say, "I wish they would teach those damned engineers how to write a sentence."
Cora Kemp was a math and English major from Louisburg who longed to leave the family tobacco farm to become a high school teacher. And maybe stand one day on equal footing with her male peers.
They both eventually lived their dreams, with detours and opportunities granted to them during their work at NC State's student newspaper, as they fought for both integration and the acceptance of female students of the previously all-white, all-male institution. Both Blair (1963-64) and Kemp (1964-65) served as the Technician's editor-in-chief. Kemp was the paper's first female editor. They were married for 52 years before Kemp's death in 2017.
Their work and advocacy as student journalists remains in indelible ink, a small part of the newspaper's legacy that will be remembered this weekend as more than 250 former Technician editors, reporters, copy editors, photographers, layout artists and advertising sales specialists gather on campus to celebrate Saturday's 100th anniversary of the paper's first edition.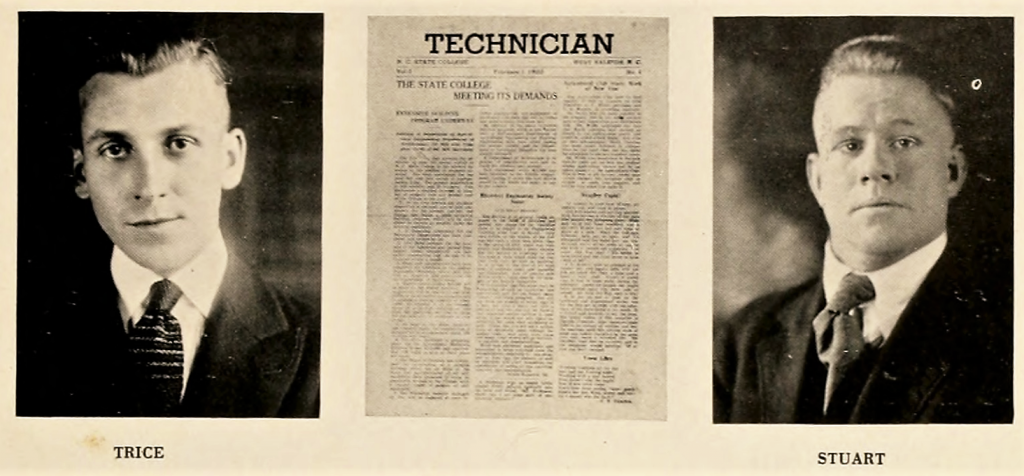 The goal from the start was to create "a real humdinger," wrote the paper's first editor-in-chief, Marion Francis Trice. That wasn't really the case with NC State's first campus newspaper, The Red & White, a collection of essays in pamphlet form sponsored by the athletics department. It was published from 1899-1917 but was disbanded when the United States entered The Great War in Europe and State College's campus was turned into a military training institute.
When Trice and his fellow veterans returned from the war in the fall of 1919, they wanted a vehicle to share important news, something they had grown accustomed to in the military. Plus, as Trice wrote in the inaugural Feb. 1, 1920, edition, "College life without its journal is blank."
Technician rolled along for more than four decades as a journal for its students. Writers and editors mostly volunteered or received a small stipend to produce the paper, with the help of the university print shop. There was no journalism school to draw a regular staff because in the consolidation of the state's three colleges into the University of North Carolina System in 1933, NC State was given engineering, agriculture and textiles, while UNC-Chapel Hill maintained its schools of journalism, law and other traditional liberal arts.
The paper turned out more than its share of successful graduates, such as the late Roy H. Park, the 1931 editor-in-chief who went on to own more than 50 newspapers, radio and television stations as part of a vast media enterprise. Along with his involvement as publicist for Duncan-Hines Brands, Park used his media fortune to create the Park Foundation, which funds dozens of NC State's most prestigious academic scholarships every year.
William C. Friday, a one-time Technician sports editor and fashion model before World War II, earned his degree in textiles but devoted his life to higher education, earning national and international recognition as president of the UNC System.
And C.A. Dillon Jr., a legacy student from old Raleigh, spent 50 years as the public address announcer for Reynolds Coliseum and a local radio broadcaster. The most familiar voice in school history began with the written word on the sports pages of Technician.
It really wasn't until the dawn of the turbulent 1960s, however, that the paper's editors turned their sights outward from the school's relatively small campus. The paper had almost no editorial stance when the school was integrated in 1956 — when four African American undergraduates enrolled at State — and when Irwin Holmes became the first black student to earn an undergraduate degree in 1960.
By the time Blair and Kemp came along a few years later, however, that changed dramatically, in part because of their relationship with NC State assistant social studies professor Allard K. "Al" Lowenstein. A UNC-Chapel Hill graduate who spent a decade working in Washington and South West Africa (now Namibia) against apartheid — Lowenstein's book Brutal Mandate featured a foreword by Eleanor Roosevelt — sought to make changes in Raleigh using Technician's voice.
"Al was NC State's local liberal," says Blair, a retired Monsanto engineer who lives in Ninety-Six, South Carolina, who was Technician editor-in-chief in 1963-64. "He had published a book about apartheid and worked undercover in Alabama during the Freedom Rides. He had honest-to-goodness liberal connections."
(Lowenstein was eventually elected to Congress as a representative from New York, became friends with conservatives Donald Rumsfeld and William F. Buckley, but proudly maintained his liberal bona fides, ranking No. 7 on President Richard Nixon's infamous "enemies list." He was assassinated in his New York office in 1981.)
A Voice for Integration
On the night of April 30, 1963, Lowenstein invited Kemp and Blair to join him in taking Liberian United Nations delegate Angie Brooks, a Shaw University graduate, to dinner with her nephew, who was a student at St. Augustine's. Brooks, who later became the first black female president of the U.N. General Assembly, had spoken to NC State students earlier that day at the Erdahl-Cloyd Student Union at D.H. Hill Jr. Library.
When they tried to have dinner at two Raleigh restaurants, they were denied service at both places. They ended up eating sandwiches at the downtown bus terminal, the only integrated restaurant in the capital city.
Because of that incident, Blair and Kemp used their editorial voice to help integrate Raleigh restaurants. They also served on a chancellor's committee with Garland McAdoo, an African American nuclear engineering student who later became an attorney focusing on housing rights and nonprofits, along with several local business owners.
"The owner of Baxley's Café [a prominent Hillsborough Street restaurant that closed in 1989] stood up in one of our meetings and said he was integrating his place because it was the Christian thing to do and he couldn't live with himself if he didn't," Blair says. "It was something we all got in the middle of because it seemed like the right thing to do. I grew up near Greensboro, with a lot of Quakers, right about the time of the Woolworth sit-ins.
"It was something Cora and I both believed in strongly."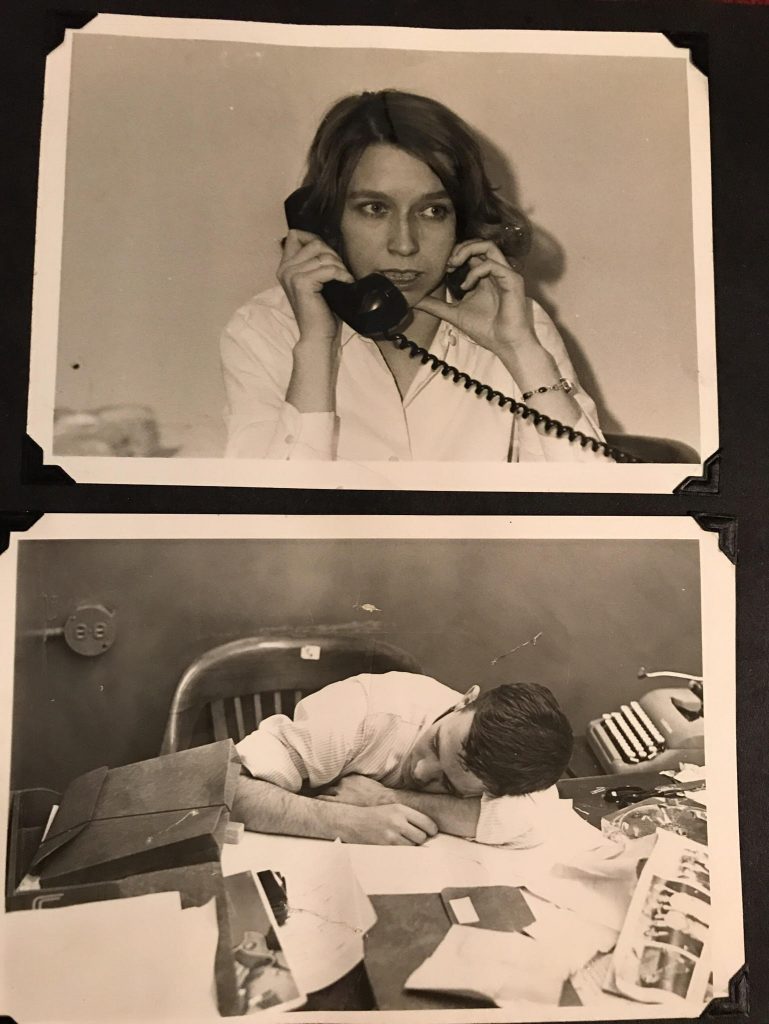 At Technician, they pushed the paper to extend its boundaries. When President John F. Kennedy was shot and killed in Dallas on Nov. 22, 1963, Blair and several other members of the newspaper staff drove to Washington, D.C., to attend his funeral. Blair sent back dispatches from America's saddest weekend that were turned into front-page stories.
Soon afterward, Technician ran its first color photograph, in its coverage of the December 1963 Liberty Bowl in Philadelphia. Blair and Kemp also used Technician to help fight the North Carolina Legislature's infamous Cold War-era "Speaker's Ban," which prohibited those with ties to communism from speaking on UNC System campuses.
"We had never heard a communist speak on campus, but we perceived it as an infringement on our right to free speech," Kemp wrote in 1995, when the paper celebrated its 75th anniversary. "We had a field day with this."
They also backed NC State students who fought vehemently for two years against the legislature's decision to change the school's name to UNC-Raleigh when it achieved university status in 1965.
Kemp, nicknamed "The Cobra" for her feistiness, was among the first full wave of female undergraduates admitted to the school, back when there was no co-ed housing on campus. She was an early leader in getting university administration to improve accommodations for its women students, especially during her tenure as editor-in-chief.
After Technician re-instituted the traditional April Fools' Day spoof issue, Kemp stood her ground through tears when North Carolina Secretary of State from 1936 to 1989, Thad Eure, objected to being parodied in the paper's spoof issue.
Both Chancellor John Caldwell and Governor Terry Stanford sided with "The Cobra" over the longest-serving elected official in U.S. history.
Blair and Kemp were married in the campus YMCA chapel the day after they both graduated in 1965. Both worked for The Raleigh Times, the city's afternoon newspaper, while in school, thanks in part to the paper's editor, A.C. Snow, who moonlighted as Technician's writing adviser and an NC State English instructor. They eventually moved to Alabama when Blair landed a full-time job. Kemp remained active, earning a master's degree in industrial education from Clemson when Blair's work took them to South Carolina.
Thanks to their time at Technician, they both learned how to write a damned sentence, and it helped change the campus forever.