Academics
Research of Particular Relevance
Park Scholar Daniel Haller's keen interest in stopping the spread of infectious diseases helped earn him a prestigious Goldwater Scholarship.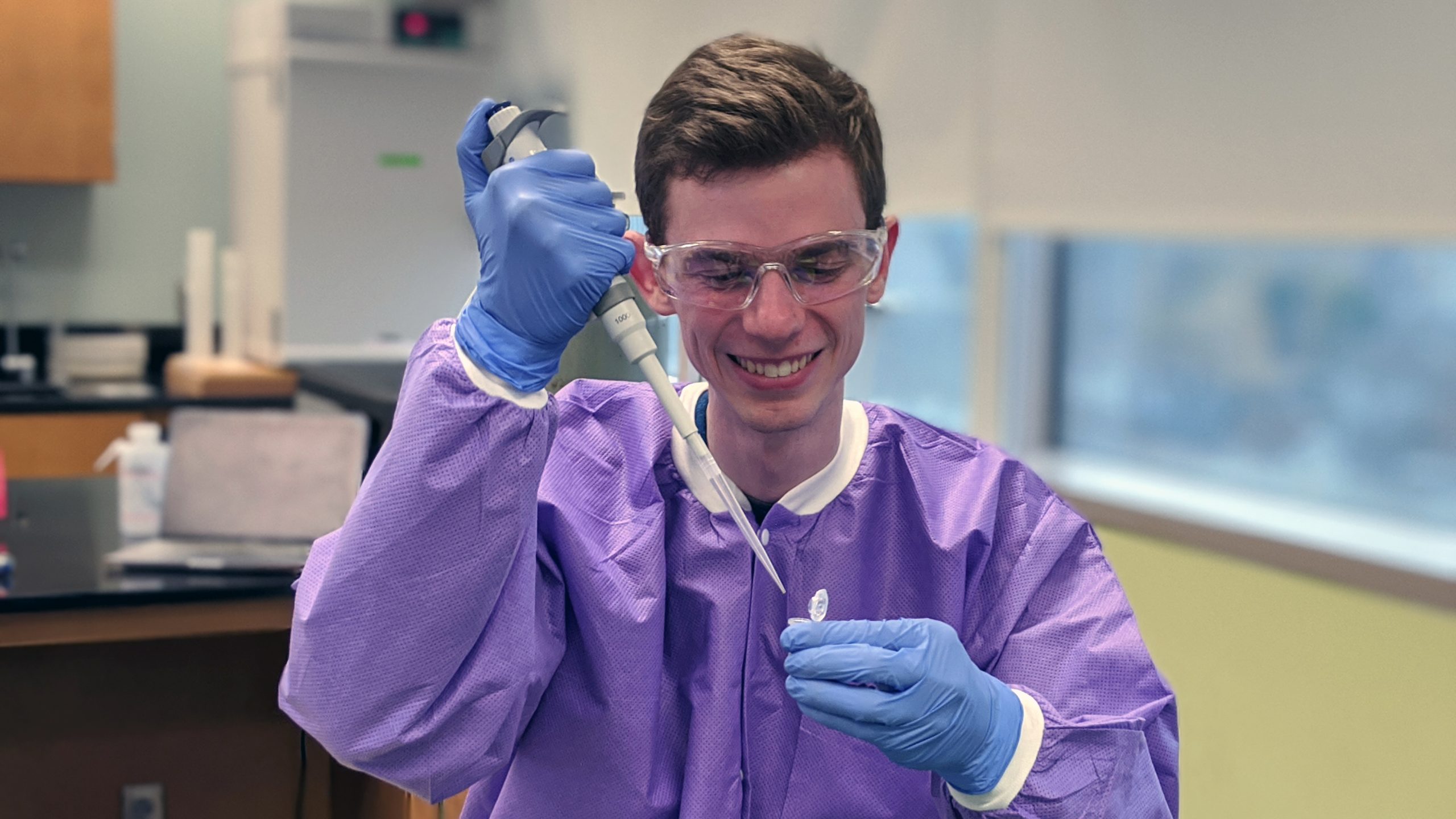 Daniel Haller knew when he came to NC State two years ago he wanted to study global infectious diseases, to pursue undergraduate, master and Ph.D. degrees that would advance research in that field.
What the Park Scholar from Waxhaw, North Carolina, didn't know was that his sophomore year here would be almost completely interrupted by the very thing he is most curious about.
Though he's not working in research that studies the novel coronavirus that has circled the globe since winter, his interest does lie in finding cures for neglected tropical diseases. For now, however, he is working to develop technologies that enable the manipulation of human health through intestinal microorganisms and the directed-evolution of engineered probiotics, both foundational blocks to his larger goal.
For his work, past and future, Haller is one of three NC State undergraduate students who were recently awarded the Goldwater Scholarship, which provides grants for students looking to pursue advanced degrees in science, technology, engineering and mathematics.
Specifically, Haller has worked under the guidance of assistant professor of chemical and biomolecular engineering Nathan Crook, emeritus professor of biology Robert Grossfeld and mathematics lecturer Elisabeth Brown, all of whom served as campus mentors for Haller in the Goldwater application process.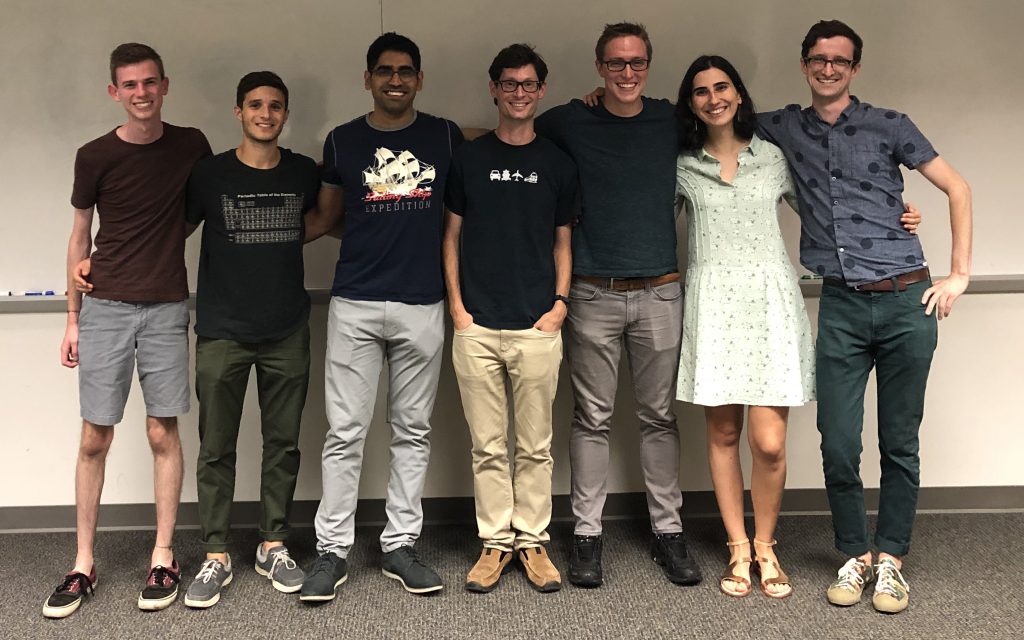 "Well, [the research] certainly became a little more relevant," says Haller, a sophomore in chemical and biomolecular engineering. "But I always knew when I came to college that I wanted to do research and that I wanted to do something in global health.
"I just didn't know what."
Haller's curiosity was sparked by teachers at Union County's Marvin Ridge High School, where his academic work and community service earned him a chance to compete for a Park Scholarship. He earned a place in the program's Class of 2022.
"I had a couple of really exceptional teachers who sparked my interest or helped me discover an interest in biology and math," Haller says. "Seeing how these fascinating topics have been able to help people made me know I wanted to be a part of that continuing process of discovery.
"More importantly, to apply that discovery to things that make people healthier and happier."
Through Park Scholars connections, he joined Crook's undergraduate research team in studying the human gut microbiome and how to develop and manipulate the intestinal bacteria and fungi that live there. Crook's work addresses how to improve nutrient deficiency on a molecular level, using the intestinal probiotic yeast to secrete useful nutrients, such as beta carotene.
The professor was impressed at just how quickly Haller jumped in to start finding creative solutions.
"When he interviewed for a position in my lab, I asked him what his interests were, and to my surprise he didn't skip a beat and said 'synthetic biology and neglected tropical diseases,'" Crook says. "Keep in mind that he was a freshman at the time.
"Luckily, some of my graduate students were working on a strain of probiotic yeast that could produce vitamin A, something Daniel was immediately interested in as this yeast may help deliver vitamin A to regions of the world with vitamin A deficiency."
Haller began planning experiments to optimize vitamin production, meeting with Crook on a regular basis in his first few weeks on campus to discuss how to remove or introduce genes to achieve the preferred outcome.
"This type of planning and initiative is something not many first-year graduate students can do well, let alone an undergraduate freshman," Crook says. "I was very impressed."
Also in his freshman year, Haller worked with one of Crook's graduate students on a white paper that soon will be submitted for review and publication, on which Haller will be listed as a co-author, and also worked with a postdoc in Crook's working group to do computational modeling of phage dynamics.
"Again, Daniel was still a freshman, and this type of differential equation-based modeling is something that would be more expected from a junior or senior," Crook says.
Haller says he has absorbed much from his work in the lab, not only with developing creative solutions but also in learning to work in teams instead of just individual study.
"With everything that is going on in the world right now, working in a lab and research group not only reinforced my interest in these areas, but it has also taught me the importance of being part of a team because it takes so many different perspectives to combat these issues and find solutions."
Certainly, the academic research is heavy and taxing stuff, which means Haller needs multiple outside activities to balance his studies, service and social activities, all of which are equal parts of the scholarship experience.
Haller started a campus club for alumni of Science Olympiad, developing tests and projects for local and national competitions. (NC State was scheduled to be the host of the 2020 National Science Olympiad, which has been postponed because of the coronavirus.)
He helps identify relevant science and technology voices for the Parks Foundation's Gerald H. Elkan Distinguished Lecture Series, which brings noted presenters and lecturers to campus to add to the educational experience.
And since he brought his trusty oboe from home, Haller spends his free time playing in the Raleigh Civic Chamber Orchestra, a 20-year-old amateur ensemble that performs two public concerts annually.
Haller has obviously immersed himself into the full college experience — and he plans to use the Goldwater Award to assure he is able to pursue the advanced degrees he needs to begin his own research in how to solve global health issues.