Campus Life
Coffee and Statistics To Go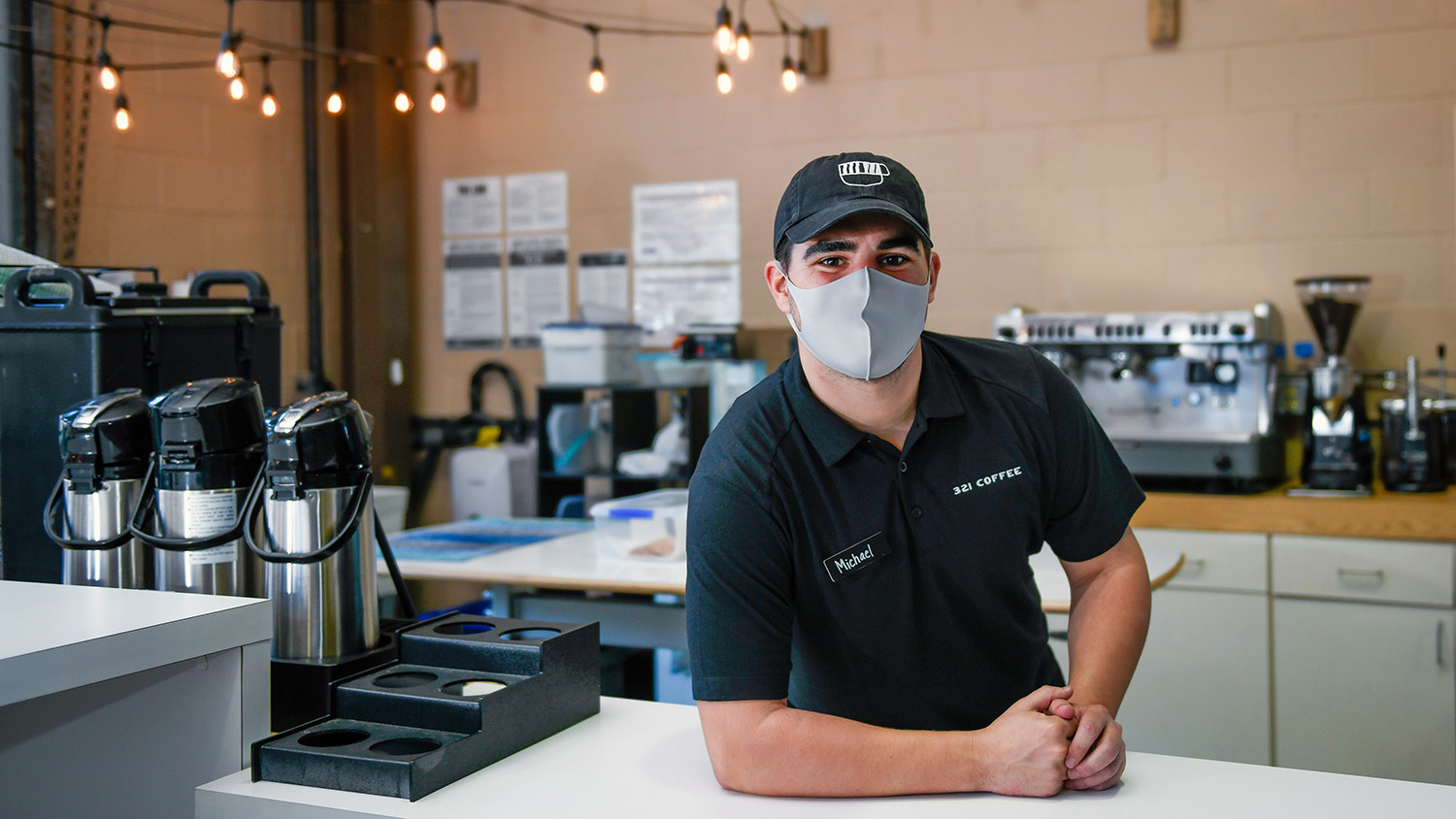 In the past five years, Michael Evans has been on the go: moving from Pennsylvania to North Carolina, studying abroad in Prague, changing majors, growing into an entrepreneur. After graduating from NC State with his bachelor's degree in statistics this past December, he has kept his focus on the nonprofit coffee shop he co-founded during his time at NC State while continuing his studies through the Department of Statistics' online master's degree program. This flexible program has enabled him to continue working while advancing his education.
Evans and his dad visited campus the summer before his senior year of high school and fell in love with the university. He decided to apply for the Park Scholarship, but he already knew he wanted to join the Wolfpack even if he didn't get it. "I was already pretty in love with NC State, and I knew this is where I was going to be regardless," he said. 
He got the scholarship. And through his connections within the program, he helped found 321 Coffee, a coffee shop that employs individuals with intellectual and developmental disabilities. Knowing that 80% of people with disabilities are underemployed, Evans and his fellow co-founders wanted to create a space where those people could find meaningful employment. What started out as a student organization that used dorm rooms as test kitchens evolved into a permanent stand at the State Farmers Market. He and his team didn't know how successful they would be; the night before opening day, they were focused on figuring out how to work the espresso machine.
"The next day, a crazy number of people showed up," Evans said. "It's still one of the busiest days we had. It was amazing to see there was a lot of support around this, and that was the moment we realized this would actually work."
Although Evans came to NC State majoring in engineering, a conversation with the head of the online master's program, Justin Post, about data analytics in sports piqued his interest in statistics. That's served him well, as he has continued to work at 321 Coffee as he earns his Master of Statistics degree this year. He already deals with the business's finances and logistics, and he'd like to see the company grow.
"The vision for 321 is to have multiple locations and, at least in the Triangle area, 321 Coffee would be a household name," he said.
It was amazing to see there was a lot of support around this, and that was the moment we realized this would actually work.
Evans was just named as the winner of the Yusor Abu-Salha Senior Award for Outstanding Community Engagement. The statistics department is proud to have Evans earn not one, but two degrees in their department.