Veterans March Into History
NC State alumni working or serving in the Pacific Theater during World War II faced the horrors of war and POW camps with extraordinary courage.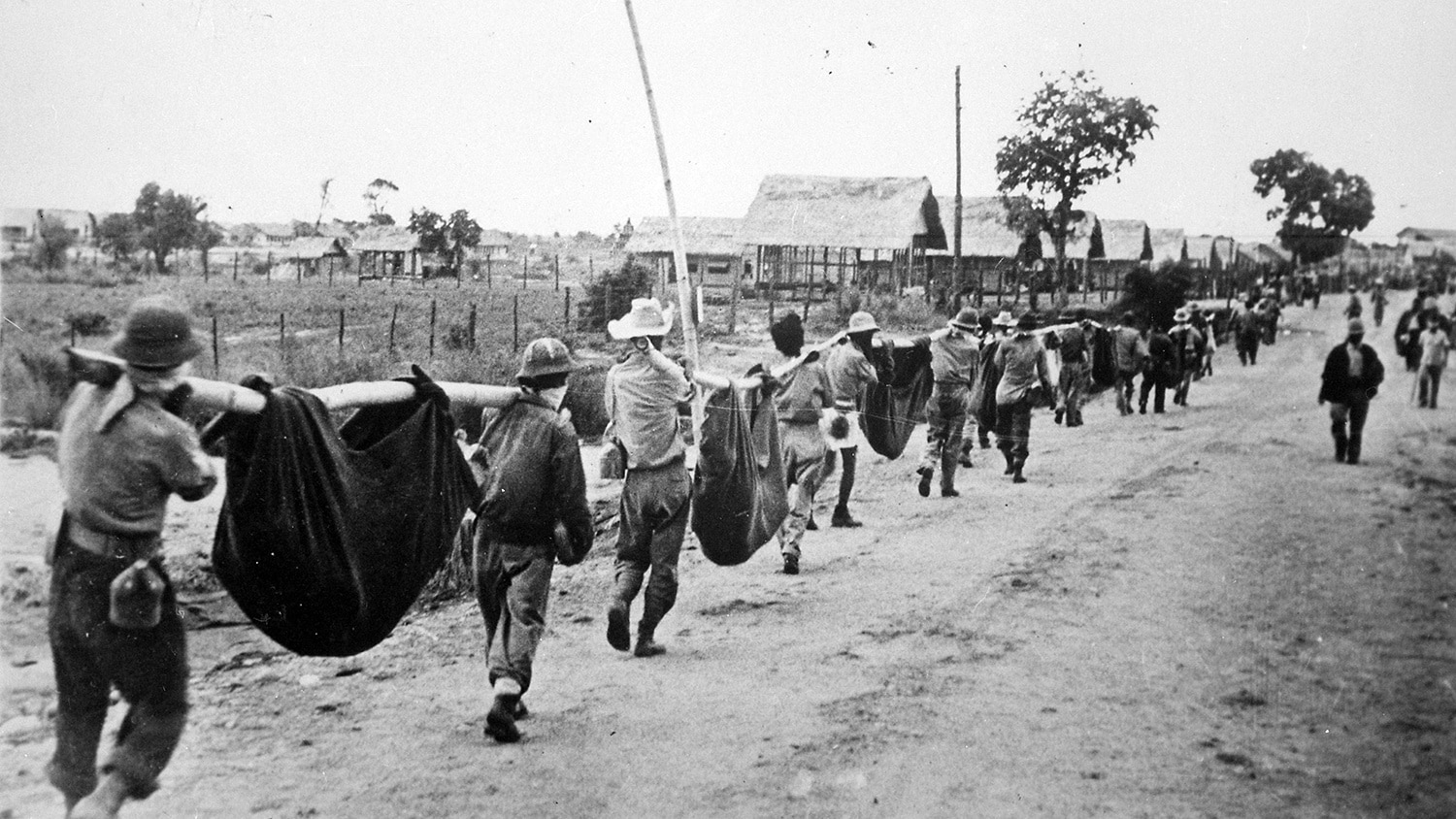 They gathered in a corner where death had not yet reached, happy to see some familiar faces.
At the brutal Cabanatuan Prison Camp near Manila, in the Philippines, nearly a dozen NC State alumni serving in World War II found a quiet place to sit back and remember their happy times in Raleigh, where they had learned academics, life and military science in the simpler times before the United States joined the world's biggest military conflict on Dec. 8, 1941, the day after the Japanese attack on Pearl Harbor.
On this Veterans Day, these are a few stories from the men who were unfortunate enough to be stationed at the largest U.S. military installments in the Pacific before that fateful Sunday morning attack, not knowing they were about to go to war just after going to bed.
Not all were military officers, serving devotedly for Gen. Douglas MacArthur and Gen. Jonathan Wainwright on the island of Corregidor. Some were civilians doing business in the southeast Pacific.
They were the lucky ones, survivors of the 65-mile prisoner transfer into Camp Cabanatuan that is known to history as the "Bataan Death March," in which some 100,000 Filipino natives and U.S. service members were forced to walk in blistering heat with no shoes, no shirts and little water from one prison camp to another.
U.S. Army Capt. William L. Dixon of Charlotte, a 1939 graduate of NC State, never made it that far. He died during the initial wave of attacks on May 6, 1942.
Those who did, however, held de facto Alumni Association meetings during their time in captivity. Snacks were not served. In fact, most of them had no sustenance at all, save for the 10 ounces of rice mush they received daily from their Japanese captors.
Once corralled at the prison camp, an additional 4,000 service members and civilians died from untreated battle wounds, malaria, dysentery, dengue fever, beriberi or simply starvation before being transferred to other camps to serve out the war doing hard labor for their captors.
For U.S. Marine Capt. Julian Vincent Lyon, a 1939 honors graduate from NC State's School of Forestry, Cabanatuan was just the first stop in 40 months of captivity. He was transferred to a mainland prison camp in Japan, after surviving a transfer in an unmarked prison ship that was attacked by American dive bombers.
Weighing just 98 pounds, Lyon was eventually released at the end of the war and awarded the Purple Heart, the Legion of Merit, a Presidential citation with two Oak Leaf Clusters, among many other military honors. He married his prison camp nurse, Beatrice "Betty" Woodbury of Lynnfield Center, Massachusetts, and lived to see a new millennium. After 21 years in service, he began a new career with the Wakefield (Massachusetts) Saving Bank He died on Oct. 11, 2002, in Clearwater, Florida, at the age of 85.
Army Major E. Pearce Fleming Jr. was captured on Luzon on April 11, 1942, and survived the brutal march to a prison camp. He served as the senior American officer at Cabanatuan for two and a half years until he was packed into the hold of a prison ship and transferred with 500 other prisoners on an 11-day journey to Japan. After surviving a harrowing train trip that started in Nagasaki and took him through Tokyo, he spent the rest of the war as the senior officer at a forced-labor operation in a Japanese copper mine, where he served as a buffer between his noncommissioned soldiers and the Japanese leaders.
"Captain Fleming's men worshipped him," wrote Charles R. Jackson in his book I Am Alive!, which is filled with prisoner-of-war stories from the Pacific Theater.
Fleming survived 40 months of internment during World War II and went on to serve with distinction during a long military career. In 1965, he assumed command of the U.S. Army Primary Helicopter School at Fort Wolters, Texas, and in 1983, he was inducted into the Army Aviation Hall of Fame.
Many of those State College men never returned home. William Guy Weaver, a 1924 graduate of NC State working for Liggett and Myers Tobacco Company of Rocky Mount, died in captivity in 1943 at the Santotomas internment camp near Manila.
Army Lt. Charles R. Dunnagan of Yadkinville, North Carolina, spent four years as the business manager of NC State's student newspaper, Technician, and enlisted in the Army shortly after he received his degree in textile management. He survived the Bataan Death March and his initial imprisonment in the Philippines, but on Sept. 7, 1944, he was one of 750 American prisoners of wars on a prison freighter bound for Japan that was attacked and sunk by Allied bombers. He was not among the handful of survivors.
Army Lt. Byron Lee Johnson of Scotland Neck, North Carolina, a high-performing member of the NC State rifle team and four-year member of the Army ROTC program who earned a degree in agriculture education, suffered a similar fate. He was initially declared dead after the first attack on the Philippines, found alive at a prison camp after the march to Manila, then killed when his prison transport ship was bombed in the Subic Sea on Dec. 14, 1944.
Army Capt. Clifton Croom of Bolton, North Carolina, a former star wrestler and football player during the 1930s at NC State, escaped from a prison camp, but was declared killed in action on Oct. 24, 1944. He was awarded a Silver Star with Oak Leaf Cluster, a Bronze Star with Oak Leaf Cluster and Purple Heart with Oak Leaf Cluster.
The oldest NC State survivor of the Philippine prison camps was Lt. Cuthbert L. Moseley Jr. of Raleigh, a 1939 aero-engineering graduate who joined the U.S. Army Air Corps in 1939. He was a bomber pilot stationed in the Philippines at the outbreak of the war, but made a daring escape to Java and then on a transport ship to Australia.
He later served in Korea and Vietnam and retired as a colonel in the U.S. Air Force. He died on Sept. 23, 2005, of natural causes and was buried at Fort Sam Houston in Texas.