Wake STEM Early College High School Hosts May 9 Open House
Take a tour of the school's new campus and learn about the innovative program that allows students to earn a high school diploma and college credit.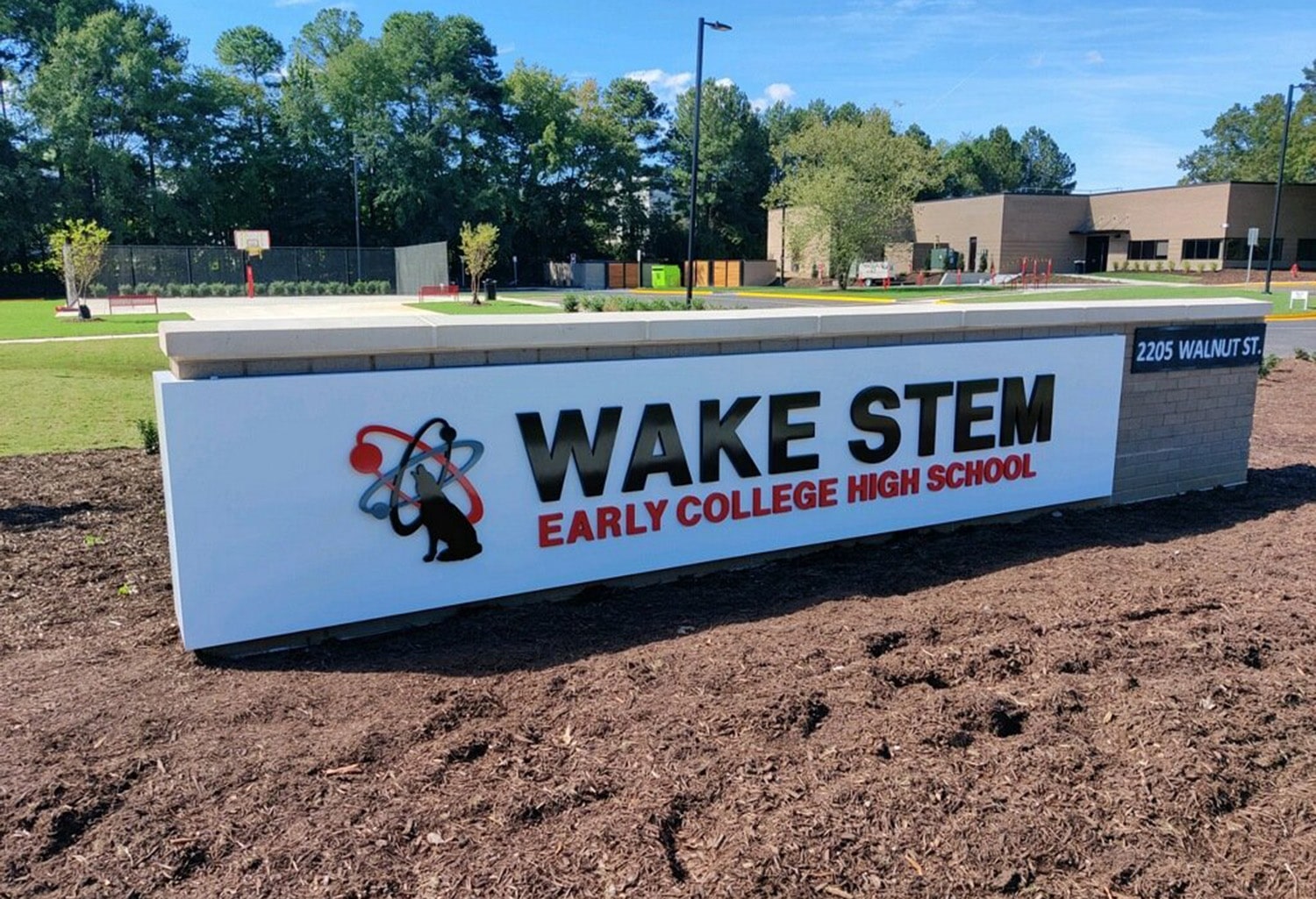 The unique partnership between NC State's College of Education and the Wake County Public School System will be on display next week at its new campus on the Raleigh-Cary city limits.
The Wake STEM Early College Campus, which has approximately 250 Wake County high school students jointly taking college classes at NC State, recently relocated from its second home across Western Boulevard to a larger, more expansive campus near Cary's Crossroads Shopping Center.
On May 9, university faculty and staff can tour the new campus to learn more about the program that has won national recognition since opening 10 years ago as a joint venture between the county's two educational leaders. It is regularly named a National Magnet School of Distinction by the Magnet Schools of America and was ranked the No. 1 high school in Wake County by U.S. News & World Report.
Students who apply and are accepted at the five-year, STEM-based magnate school concentrate on both high school and college classes in their final two years of the five-year program. Graduates earn both a high school diploma and college credit.
The scheduled open house will showcase the new campus.
"It's designed for those at the university to come and see the different opportunities they can get involved with," says Amber McGregor, the College of Education's liaison with the Early College school. "School won't be in session, of course, but we will have a couple of students there to give tours and share their presentations in a great environment.
"Those who come will really see all the great things that students are doing."
It's the third location for the innovative school, which began on NC State's Centennial Campus, moved to a location on Western Boulevard and then opened at its current spot at 2205 Walnut St. in Cary.
"What is good about our new location is that it enables a stronger focus on science, technology, engineering and math," McGregor says. "Overall, it is a project-based learning school, which relies on a lot of collaboration with co-workers and co-working spaces. Every grade level has a project appropriate for that level the students have to complete each year."
Those projects are presented to representatives from Wake County Public Schools, NC State and other stakeholders, like the school's business advisory board.
"In our older building, we really just had one hallway of classrooms," McGregor says. "We now have a lot of co-working spaces for our students and for our teachers."
The school opened in the fall of 2011 and had its first graduating class in 2015. Since then, it has sent more than 90% of its students to four-year colleges and universities, including most of those in the UNC System and the most distinguished private schools, both in state and nationally.
"A large amount of our students definitely go to our in-state schools, our public schools, but we also have some students who travel out of state to attend various universities," McGregor says. "A lot of them, because this is STEM-focused, want to go into engineering, and computer science or computer engineering."