Harnessing Data for Decision Making
Fathom Science's Metocean Forecasting Technology Wades Into Uncharted Territory
Since receiving support from the Chancellor's Innovation Fund in 2018, professor Roy He's startup company — Fathom Science — has worked with clients across both the public and private sectors to deliver customized data analytics solutions.
When a storm's coming, you want to know as soon as possible — especially at sea. Whether it's a hurricane or an ocean "tornado" headed your way, extra time to prepare can make a world of difference.
Ruoying ("Roy") He has devoted the better part of his last two decades to physical oceanography research that could, among other things, make it possible to accurately predict as far as three months out when ocean eddies — which He colloquially calls "ocean tornadoes" — will form.
"This has never been routinely done before," says He, a Goodnight Innovation Distinguished Professor in NC State University's Department of Marine, Earth and Atmospheric Sciences. "We are hoping our technology will enable that."
He's startup company, Fathom Science, has been asked by a leader in the oil-and-gas industry to predict the patterns of ocean eddies, circular currents of water which can wreak havoc on offshore drilling operations.
He says that it is possible to predict ocean conditions much further out than the average weather forecast. Still, though, He says a "decent" ocean forecast typically can predict conditions up to three weeks or, at most, a month ahead of time.
But due to the safety hazards ocean eddies create for offshore oil rigs — and, in turn, delays in the supply chain — He and his company have been asked to more than triple the window of time their client has to prepare for an incoming eddy.
Fathom Science, founded in 2018, is a metocean — short for "meteorology" plus "oceanography" — forecasting company that uses its proprietary software to develop customized analytics, which can be packaged as a dataset, report, web portal or combination thereof depending on its clients' needs.
Fathom has worked with NOAA, NASA, the National Science Foundation and the Office of Naval Research, in addition to businesses both large and small. Its work to lessen the impacts of ocean eddies on offshore oil rigs is just one of many different challenges that He and his team have been asked to solve.
Fathom's been contracted to crunch the numbers on variables such as predicted wind and current patterns to a variety of ends, from sailboat racing routes to shipwreck recovery searches, says Joe Zambon, Fathom's vice president of research and development.
"Taking the data analysis we do and applying it to real-world problems is really cool," Zambon says. "Fathom gives us the ability to do that — and to pivot a bit more rapidly than we can in academia."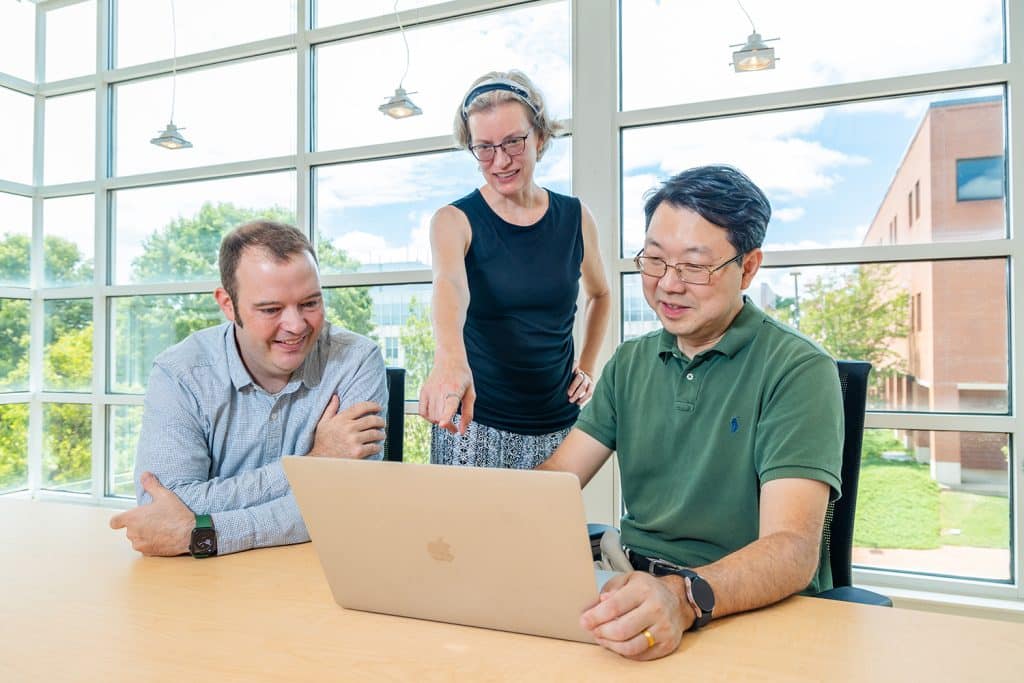 Fathom Science was co-founded by He, who serves as company president; Zambon, who's also a research assistant professor at NC State; and Jennifer Warrillow, who serves as vice president of operations and is also a lab manager with He's Ocean Observing and Modeling Group at the university. The three of them launched their startup less than a year after receiving support from the Chancellor's Innovation Fund (CIF).
The CIF is a competitive internal seed funding program run by the Office of Research Commercialization, which awards up to $50,000 to support short-term commercially focused research projects. Its goal is to help bridge the gap between public and private funding.
How the CIF Helped
Without the help of the Office of Research Commercialization (ORC) and the CIF, the work of He's Ocean Observing and Modeling Group might've never left the lab — beyond what research gets published in peer-reviewed journals, which He has come to realize have a relatively small audience.
He says once he realized how many more people there are living along the coastlines of just the U.S. alone than there are marine science researchers around the globe, it was "a wake-up call" that he needed "to do something more impactful."
"The Chancellor's Innovation Fund really made us realize that what we do — oceanography — is applied science," He says.
And so, with the encouragement of ORC's Amy Parker, now the assistant director of research commercialization programs, He decided to apply to the CIF — taking an existing concept, the "Coupled Northwest Atlantic Prediction System" (CNAPS), and rebranding it for the purposes of the pitch as a "Virtual Marine Ecosystem" (VME) system, likened to a combination of Google Maps and AccuWeather for the ocean. The VME system was essentially a prototype that incorporated aspects of what now makes up Fathom's suite of products.
The funding they received ultimately allowed them to develop the first of those products: FishCast.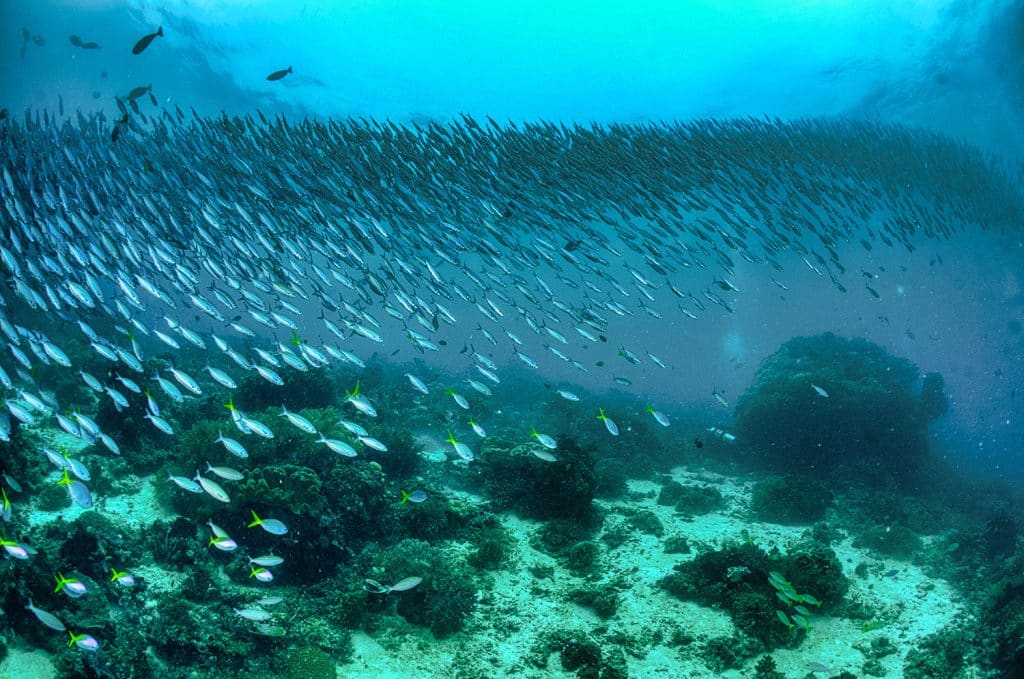 FishCastTM is now used by commercial and competitive fishers alike — including in the annual Big Rock Blue Marlin Tournament, hosted off the coast of Morehead City, North Carolina.
But when FishCast first launched, Fathom needed customers.
Thankfully, the support of the CIF is far more than financial. For example, He says they were paired with a team of four business mentors who met with them twice a month over the course of a year.
"We had ideas, but we didn't know how to execute [them]," He says. "They gave us lots of good advice — but also a reality check."
Initially, he and his team had 10 different sectors they wanted to pursue; the mentors helped Fathom figure out the fishing industry was the best first target.
More importantly, the mentors helped Fathom realize that pivoting to a business-to-business ("B2B") approach was more viable than selling FishCast to individual consumers. As a small startup, Fathom's employees had nowhere near enough time to field emails and calls from customers during the peak of the fishing season. Partnering with ROFFSTM, a company with decades in the industry and an existing client base to show from it, allowed Fathom to further establish a proof-of-concept — and secure a "beachhead market."
In addition to matching them with mentors, ORC encouraged the Fathom team to participate in the National Science Foundation's I-Corps program, which He says taught them the importance of listening first in meetings with prospective partners or customers; whereas before, coming from an academic perspective, they had a tendency to overexplain things — sometimes "boring" their audience in the process.
"Every time we go to a new end-user or business partner, we want to understand what they're looking for," He says. "We know to listen first, then provide a solution that can help to solve their specific problem."
Warrillow also credits the CIF with inspiring her to earn a graduate certificate from the Poole College of Management's Technology Entrepreneurship and Commercialization (TEC) program.
"I realized we needed someone in our group of academics to have some more business insights, so I enrolled in the two-year program through Poole," Warrillow says.
Where They Are Now
According to He, ORC's support continues to this day. He says Parker regularly gives Fathom a heads-up about opportunities "for investing, engagement and showcases."
Last fall, Fathom was selected as a finalist for one of those showcases — NASA iTech Cycle II — which was one of its first opportunities to market its ocean intelligence technology on a national stage.
The event, which was held at Hunt Library and featured technologies with both a commercial application and application to NASA missions, gave Warrillow the chance to pitch to NASA center chief technologists, industry experts and potential investors.
While the NASA iTech event was Fathom's first chance to network on a national scale, back in November 2021, it received recognition for "innovation, excellence and growth" at the state level here in North Carolina — being named as a finalist for the NC Tech Awards, in the "CleanTech" category.
A Fathom news release announcing that achievement highlights the many ways Fathom's "operational numerical modeling software" and data can help "improve environmental and human safety" by "providing better information on all facets of the marine environment." Its "ocean intelligence" can be used to identify ideal places to generate hydrokinetic or offshore-wind energy; promote sustainable marine life by improving the way protected areas are planned; and reduce fossil fuel use by finding more-efficient navigational routes in sectors like shipping and commercial fishing.
Moving forward, He hopes to shift Fathom's focus even more toward sustainability and ways it can help mitigate climate change.
The Fathom team is among a project group who recently submitted a multimillion-dollar proposal to answer key scientific questions on ocean-based carbon dioxide removal approaches. "Ocean alkalinity enhancement" is one of eight ambitious ocean-based carbon dioxide removal (CDR) initiatives, He says, which could potentially help capture significant amounts of carbon dioxide from the Earth's atmosphere.
"The ocean plays a major role in modulating the carbon concentration in the atmosphere," He says.
The idea behind the proposal is that adding precise levels of environmentally friendly chemicals to the ocean could increase the amount of atmospheric carbon dioxide the ocean can absorb.
"We want to do a scientific and economic analysis to see whether this is a feasible approach," He says.
If selected for funding, Fathom would extrapolate small-scale data from experiments conducted in lake- or pond-sized bodies of water to make models and other data predictions with which to weigh the overall socio-environmental pros and cons.
"Having models allows us to do experiments without actually changing things in the real world," Warrillow says. "Our models can serve as a 'digital twin' of the ocean."
Warrillow says that NASA and NOAA are becoming increasingly interested in using the concept of a "digital twin" to research complex scenarios without having to worry about any impact on the natural environment. Fathom is "ideally suited" to work on the digital twin concept "for a lot of different scenarios," Warrillow says.
"We can put information into a model and say, based on our best knowledge of physics and fluid dynamics, this is what's likely to happen," Warrillow says. "So we can experiment digitally, which can help us try out solutions like that ocean alkalinity for carbon dioxide removal or prepare for disasters like sea-level rise and hurricanes."
What's Next
In July, He began a one-year sabbatical; he says he's looking forward to being able to devote much more time to Fathom and its many projects.
Currently, Fathom has a couple of large-scale projects underway — one with ties close to home and another that's for an island nation on the other side of the globe.
Fathom has been subcontracted by the University of Florida on a hurricane research project, funded by the National Oceanic Partnership Program, to create a "keystone model" for its collaborators to use — based on storms that form in the mid-Atlantic coastal region; this season will be the first in which they test the collaborative modeling framework.
Fathom is also working with a country off the coast of Southeast Asia to develop a comprehensive online interface — akin to the concept of the VME system — that can serve as an observation and prediction system similar to those used by NOAA. He says the country is trying to modernize its infrastructure and needs the "entire package" — datasets that can be used by fishers and coastal managers, as well as government officials and scientists.
He says what sets Fathom apart from its competition is that it does much more research in-house, as opposed to simply using data from sources like NOAA.
"Many companies are just using open-domain datasets," He says. "We are building our own data, our own models, which allows us to stay cutting-edge."
He says that competitive advantage is possible largely thanks to the "intellectual capacity" provided by proximity to students and other faculty on campus.
To get where He ultimately hopes to be, though, will take more help.
He says Fathom is looking to hire as many as three new employees within the next year — any one of whom might just end up being the next former NC State student to join the team; Zambon was one of He's first master's (and later, Ph.D.) students at State.
Specifically, He says they're in need of people with more expertise in artificial intelligence and machine learning.
To have any hope of accurately predicting the patterns of ocean eddies in the Gulf of Mexico as far as three months out with consistency, for instance, will take the assistance of AI, He says.
To learn more about Fathom Science, visit https://www.fathomscience.com/.