Partners
New AI Collaboration Aims to Accelerate R&D of Specialty Chemicals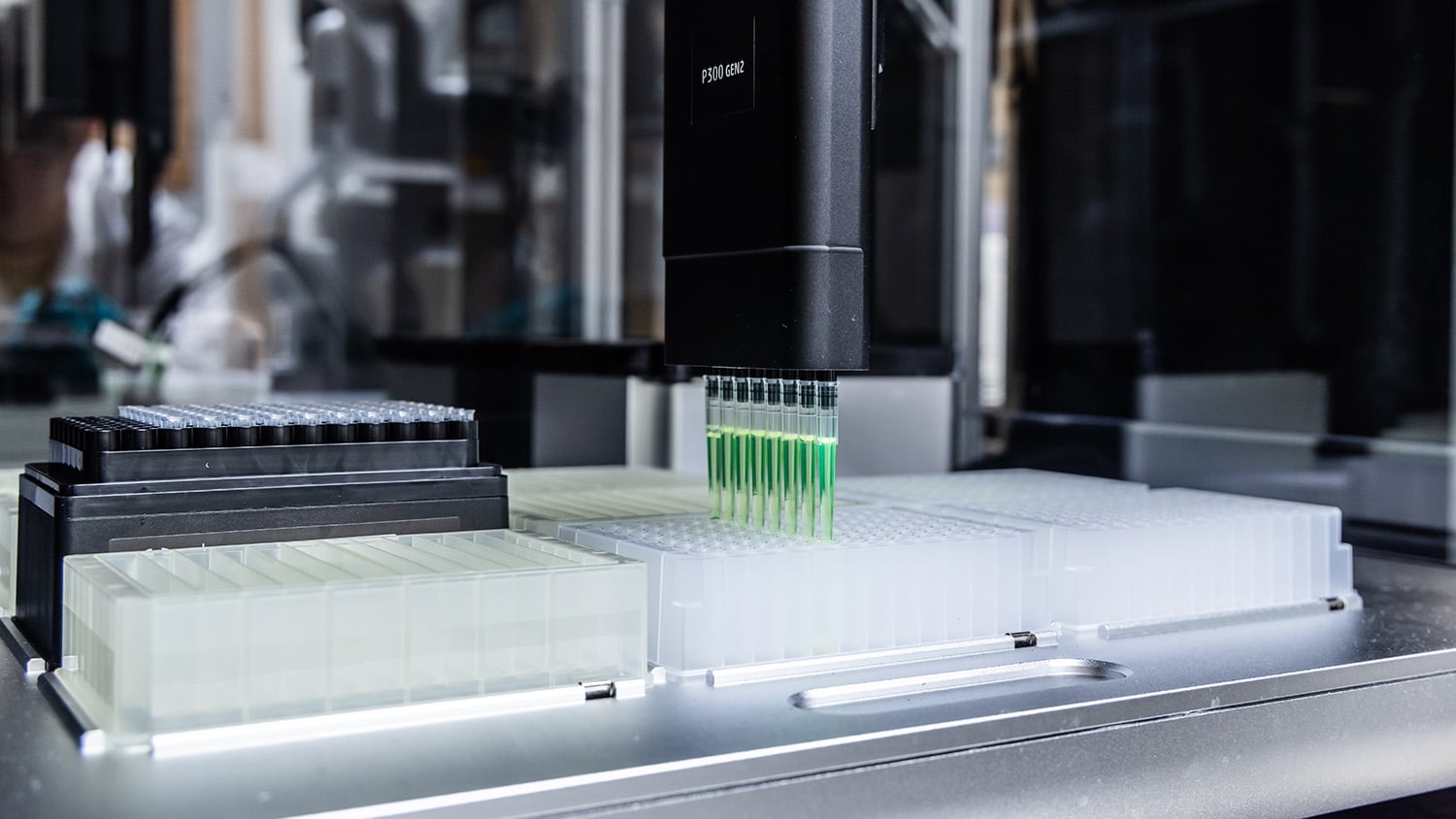 A new research collaboration between Eastman and NC State's Department of Chemical and Biomolecular Engineering aims to significantly accelerate the research and development (R&D) of new specialty chemicals — chemicals that improve manufactured products and processes. This latest project builds on five years of work between the department and Eastman, integrating advancements in artificial intelligence (AI), catalysis and robotics to build a 'self-driving lab.'
"The goal is to help Eastman digitize chemistry in order to identify the most sustainable and efficient ways to manufacture specialty chemicals," said Milad Abolhasani, the project's principal investigator, and associate professor of chemical and biomolecular engineering and University Faculty Scholar at NC State.
Located in Engineering Building I on Centennial Campus, Abolhasani's team of chemical engineers will use Eastman's funding to develop a fully autonomous lab, equipped with state-of-the-art robotic and analytical characterization tools.
"We have been exploring a variety of experimental approaches with NC State over the years," said Dawn Mason, Eastman's global external innovation manager. "This project is a continuation of that work, and we are excited about its potential to accelerate innovation."
Planned to be operational by the end of 2022, the self-driving catalysis lab will allow the team to fast-track chemical discovery –– bringing together expertise in microreaction engineering, AI, automation and robotics.
College of Engineering Dean Louis Martin-Vega underscores the project's impact: "Industry partnerships are critical to strengthening the research and teaching that we do at NC State. Working collaboratively with leaders in the field provides the opportunity to apply emerging science and technology while training our students for future careers."
This latest collaboration adds to more than 100 completed research projects between Eastman and NC State over the past decade. Since 2012 when Eastman selected NC State as its strategic university partner, the company has invested $20 million across 11 academic departments. The long-term partnership has supported student and faculty development while commercializing research in a range of disciplines. Eastman also hosts an innovation center on Centennial Campus within walking distance of the College of Engineering and key academic programs that align with its innovation strategy.
"The strong partnership with Eastman has resulted in a number of impactful technologies," said Professor and Department Head of Chemical and Biomolecular Engineering Sindee Simon. "Eastman's investment in the self-driving lab will allow Dr. Abolhasani and his students to further develop this technology to revolutionize the synthesis and development of speciality chemicals."
Previous projects between Eastman and the Department of Chemical and Biomolecular Engineering have resulted in several advanced materials breakthroughs. Together they have studied BPA-free coatings for packaging, developed slippery coatings for a variety of everyday products, and applied machine learning to evaluate a mixture's performance under different temperature and pressure conditions.
Through the most recent project, Abolhasani and his researchers will collaborate with Eastman on new approaches to automate time-consuming experimental tasks required for chemical discovery. The end goal is improved R&D efficiency and reduced waste.
"The self-driving lab runs on its own with minimal human intervention and supervision; these intelligent robotic assistants analyze the results from each completed experiment to inform which experiment they will run next using their built-in AI — so it can speed R&D for Eastman," added Abolhasani.
In conventional R&D settings, it is estimated that nearly 70% of the chemist's time is spent on repetitive tasks that can be operated with higher precision and reproducibility by robotic platforms. The reliance on in-person operations in traditional chemistry labs has resulted in catalyst discovery timeframes of 20–30 years and R&D costs exceeding $100 million.
"Autonomous experimentation is where the entire industry will be in the future," explained Chris Killian, chief technology officer at Eastman. "Because the self-driving lab has the potential to continuously choose the right next experiment based on previous data, it enables the scientists to spend their energy on analyzing options and proceeding down the innovation path more efficiently. By needing to run fewer experiments, we can improve sustainability outcomes, too."
In the self-driving lab, a scientist defines the objectives of the autonomous experimentation, then the robots do the rest — making better use of the highly-trained scientists' time. For example, the scientist could set a goal to maximize the reaction yield for a specialty chemical using the most environmentally-friendly solvent. The robotic assistant runs the chemical reactions, analyzes them, and then decides what should be the next experiment to achieve the objective.
"In chemical and materials sciences, the integration of AI with experimental robotic systems is still an emerging field of research," said Abolhasani. "At NC State, our team has demonstrated success in building similar research acceleration platforms for other applications, such as advanced materials, resulting in a reduction of time and labor costs by 100x."
Technology advancements in automation and AI are transforming the way we live and work. As these innovations continue to scale, they will increasingly contribute to economic growth while providing solutions in areas from health to climate change and energy.
"Transformational technologies are built from novel research," added Dean Martin-Vega. "University–industry partnerships will allow us to tackle some of society's biggest challenges. NC State is a leader in creating new knowledge and transferring it to the real world."