Campus Health Continues to Protect the Pack with Testing, Vaccines and Boosters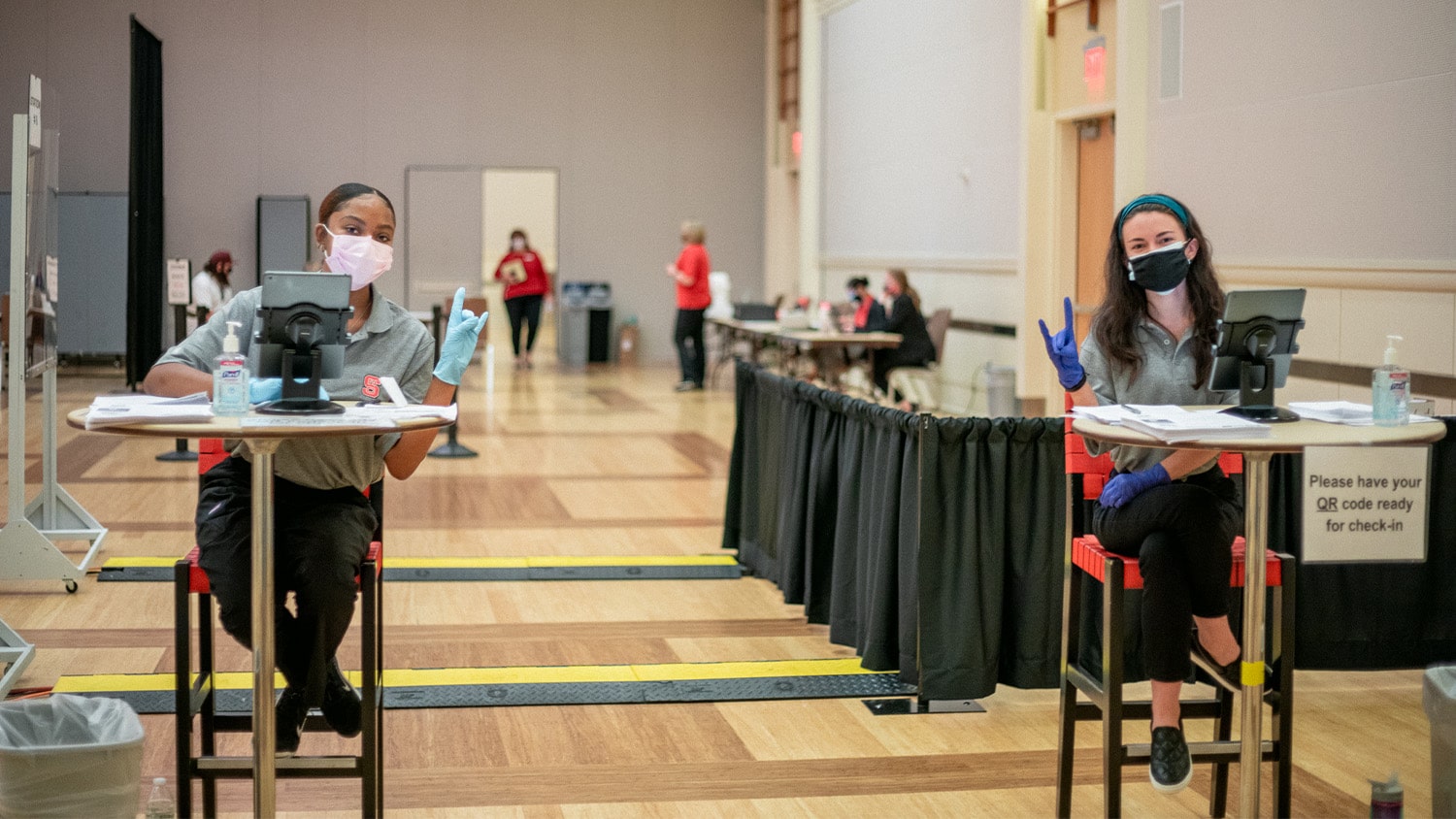 Although NC State has lessened restrictions and guidelines on campus this fall, COVID-19 and other viruses are still a threat to the campus community. Fortunately, Campus Health (formerly Student Health Services) continues to offer free COVID-19 testing as well as vaccinations and boosters for COVID-19, the flu and even Monkeypox to protect you and help reduce the spread to those around you.
COVID-19
Campus Health advises NC State students, faculty and staff to remain vigilant as the world continues adjusting to the COVID-19 pandemic. Regular testing is no longer required for students, faculty and staff, but those who wish to get a PCR test on campus may do so for free Monday through Thursday at select locations across campus. 
In addition to primary series COVID-19 vaccines, Campus Health is now offering Pfizer Bivalent boosters to eligible students, faculty and staff. Check your eligibility on the Centers for Disease Control website. NC State students and employees can make appointments for COVID-19 vaccines and boosters with Campus Health through the HealthyPack Portal.
In addition to testing and vaccines, Campus Health urges the campus community to continue taking personal precautions and following the Community Standards implemented in 2020. While face coverings are no longer required, they are highly encouraged, especially in indoor spaces.
Learn more about testing, vaccines and boosters for COVID-19 here.
Flu
As we begin the fall season, we are also entering flu season. To help protect the Wolfpack, Campus Health is now offering flu shots to students, faculty and staff both by appointment at the Campus Health Center and at walk-in clinics across campus. To schedule an appointment, use the HealthyPack Portal.
No appointment is necessary for walk-in clinics. However, you will need to upload a copy of your insurance card to the HealthyPack Portal before you arrive at the clinic using the Insurance tab at the top of your HealthyPack Portal.
Learn more about flu vaccinations and check the walk-in clinic times and locations here.
Monkeypox
Although there have been no active cases on campus to date, Campus Health advises students, faculty and staff to be aware of the risks of Monkeypox (MPV). The Centers for Disease Control and Prevention recommends vaccination for people exposed to MPV and people at higher risk of being exposed to MPV. The approved vaccine, JYNNEOS, provides the best protection from monkeypox for those at greater risk.
Campus Health has a limited number of JYNNEOS vaccine doses. If you believe you are eligible for the vaccine, call Campus Health at 919-515-2563 and ask for "JYNNEOS vaccine consultation." If you think you have been exposed and are ill, make an appointment at Campus Health online or call 919-515-2563.
Learn more about Monkeypox, symptoms, risk factors and vaccinations here.
This post was originally published in DASA.