Campus Life
Finding Your Wolfpack: Multicultural Student Affairs
Multicultural Student Affairs offers a space for underrepresented students to find community and resources at NC State. 
On the fourth floor of Talley Student Union, the Multicultural Student Affairs (MSA) suite is regularly packed with students. For many of them, it's more than a place to study and socialize between classes. It serves as a meaningful space to create community and find the resources they need to navigate college life.
"Once students find this space, they keep coming back," says Dave Johnson, interim director of MSA. "You never know what kind of intersection of student population you're going to get here, and I love it. It gets loud. It's lively."
Housed within the Office for Institutional Equity and Diversity (OIED), MSA was established in 2001 after Hispanic Student Affairs and Native American Student Affairs were added to the existing African-American Student Affairs department. MSA strives to promote academic success, retention and graduation among underrepresented students, with an emphasis on those from African American, Native American, Latinx and Asian Pacific Islander South Asian American backgrounds.
Letting Students Take the Lead
Much of MSA's work involves supporting student organizations and holding several signature events throughout the year — including the Symposium for Multicultural Scholars, which is held before the start of each semester; Multicultural Graduation in the spring; and heritage month celebrations. By collaborating with MSA staff to put on these events, students gain opportunities to develop leadership skills and express their identities.
"I like being able to organize and create something fruitful that the students actually had a voice and a say in," says Gavin Bell, assistant director of MSA. "I want the events to be reflective of who they actually are."
For heritage month celebrations, MSA provides funding, materials and logistical support, but the students organize the event activities and decide how to run them.
MSA assembled a committee made up of student organization leaders, first-year students and transfer students for Latinx Heritage Month. Three subcommittees oversaw each of the main events — the kickoff tabling event, Chat n Chew and Talley Takeover.
Taking on leadership roles and working in teams allowed the students to build professional skills and gain experience working as part of a team.
As part of the subcommittee for Chat n Chew — an event in which attendees eat Latin foods and discuss topics relevant to the Latinx community — sophomore communications major Rebecca Hernandez was involved in planning the topics covered during the event.
"I would say I have more skills in navigating group work, but the experience also helped me begin my professional career in the sense that this is the first time that I've been on a board or a committee or anything like that," she says.
Over the summer, Hernandez also worked as a counselor for the Symposium for Multicultural Scholars.
"I'm a younger sibling, and I've always had people to look up to, but I've never been a role model myself," she says. "So the symposium was the first time where I really was a leader."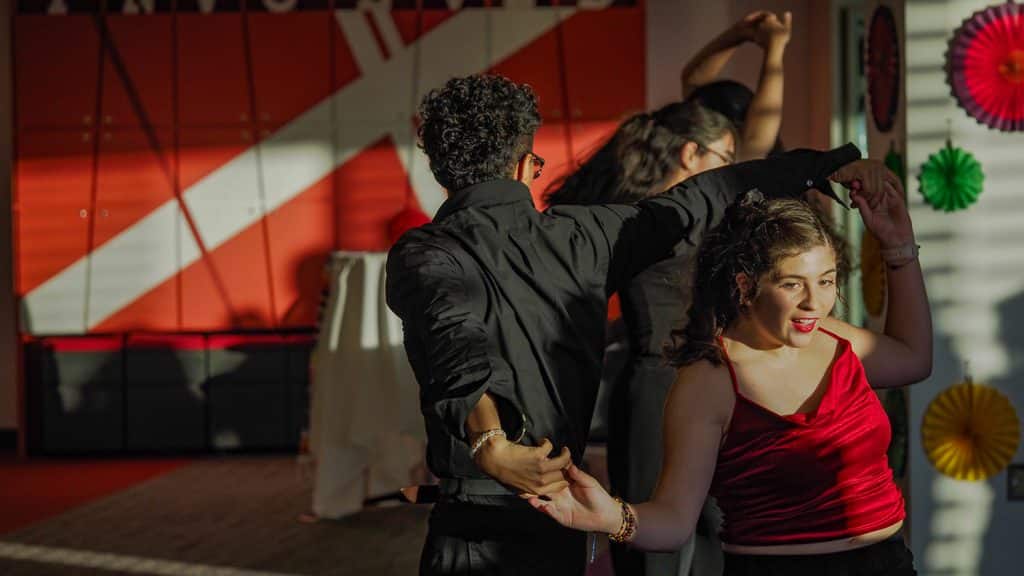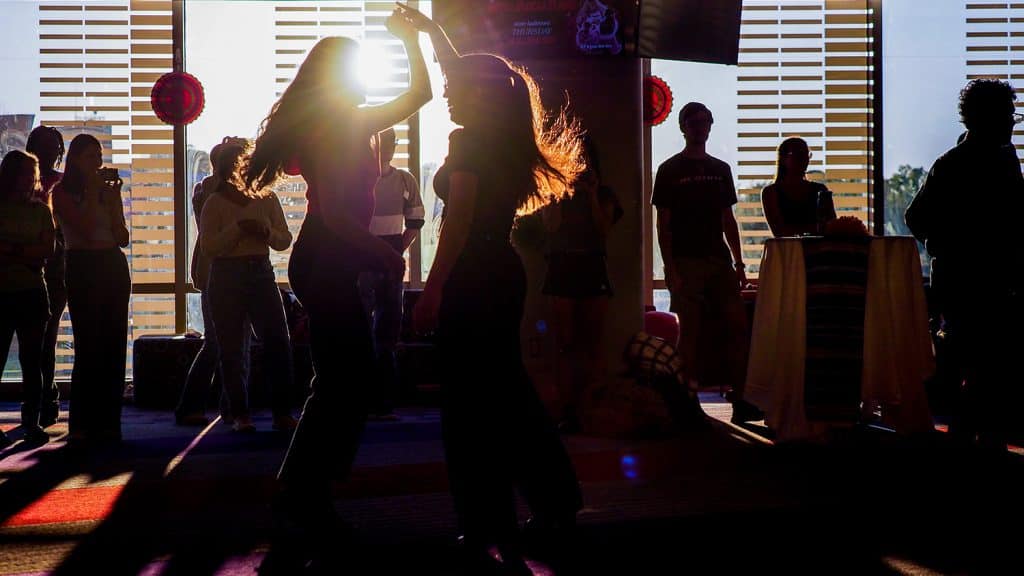 The symposium allows incoming undergraduate first-year and transfer students of color, first-generation college students and students from historically underserved populations to move into the residence halls a few days early to familiarize themselves with NC State.
During the symposium and whenever possible, MSA collaborates with the other centers within OIED — the African American Cultural Center, the GLBT Center and the Women's Center — to ensure they are serving students whose identities may intersect.
"During the symposium, we'll give the students time in the centers' suites," says Bell. "That way, when classes start, the whole campus might be unfamiliar, but at least they'll know where the centers are."
Making Personal Connections, Meeting Needs
Beyond hosting events and programs, the staff at MSA understands the importance of connecting with students on a personal level.
"The populations we serve oftentimes value familiarity over a title," says Bell. "The first couple of conversations I have with students is just me getting to know them. I don't ask them anything about their classes or their major. I'm just like, 'who are you?' Then they know I've taken the time to get to know them by their name — not just by their major or ethnicity."
Building this level of trust with students helps MSA learn more about students' needs — big and small — and quickly address them. For instance, feedback from students last semester helped the staff realize that some of them were experiencing food insecurity.
If we have a student who really needs us right then and there, we're going to drop everything and be there for the student.
"We told them about the (Feed the Pack) food pantry, but we found that there was still a stigma around being the person of color at the pantry," says Johnson. "We worked with the pantry to bring a mini pantry with some non-perishable items into our space. And we talk about the other pantry to hopefully help students feel more comfortable going there if they need food."
The students at MSA also know they can count on the staff to help with smaller things as well.
"If we have a student who really needs us right then and there, we're going to drop everything and be there for the student," says Roma Bustillos, the graduate assistant at MSA. "If I'm in the middle of writing an email but I have a student come in wanting help on rewriting their student organization constitution, for example, then I'm gonna help them rewrite their constitution."
When Yahir Sanchez-Vazquez, a first year business major, needed tips on how to set up his LinkedIn profile and where to get a headshot, MSA was the first place he went.
"Roma was actually kind enough to take my headshots and now I can use those," he says. "She didn't have to do that, but she just dropped what she was doing to help me."
MSA also allows students to build relationships with each other and establish a sense of belonging at NC State.
"I believe that I wouldn't be where I am today here at State, or even as involved as I am, if it weren't for MSA and the people I got to meet there," says Sanchez-Vazquez. "MSA has allowed me to network and to feel like I have a community at NC State, even though it is a primarily white institution. It just makes me feel more at home."
Through MSA, Sanchez-Vazquez learned about other Latinx organizations that he's now involved in, such as Mi Familia, the Society of Hispanic Professional Engineers and the Association of Latino Professionals for America.
"Finding those resources here has strengthened my love for State. With all these programs, I've actually felt more connected to my culture, to my roots, than I did before," he says.
I've been able to make connections just by having that space where people who look like me and speak like me can go.
For Hernandez, finding a group of students she could both relate to and look up to has helped her find her way at NC State. She started getting involved in MSA after hearing about it from a friend toward the end of her first semester.
"Being a freshman and trying to navigate college and transition out of high school was very difficult for me," she says. "Most of the people I met at MSA were sophomores or upperclassmen. Being around people who had plans of what they wanted to do career-wise — and how they were going to achieve it — really helped me keep myself on track."
During his time at NC State, the MSA suite has served as a place for Nestor Rodriguez-Garcia, a senior double majoring in political science and public relations, to find community.
"I would have probably not met certain people if it were not for MSA. I've been able to make connections just by having that space where people who look like me and speak like me can go to meet each other," he says. "And I would say MSA is definitely the bridge for that."
Spreading MSA's Reach
The impact that MSA has on students is undeniable, but both staff and students agree that it needs more visibility on campus.
"MSA is just a great place for students of color on campus in general, but it definitely does feel more like a hidden gem on campus instead of something that's more known," says Hernandez.
The MSA staff has been working to overcome the challenges of reaching students on other parts of campus, such as Centennial Campus.
"We want to make sure students in other parts of campus don't feel like we're expecting them to go out of their way every single time to come to us," says Bell. "We can also come to them, even if it's just for a lunch, or for something casual. Intentionality is more important, in a lot of ways."
We want to make sure we're creating an environment for everybody to learn and engage.
Bell, who is a member of the Lumbee Tribe, is particularly interested in ensuring that Native American students know they have a place to come together on campus, no matter their tribe.
"Sometimes it's easy for our Native kids to get very spread out on campus — geographically and even just academically," he says. "And I think they're now, especially on the back end of COVID, they're doing a really good job of trying to account for that."
And MSA isn't only for students of color.
"We want to make sure that we're creating an environment for everybody to learn and engage," says Bell. "We're not going to tone our identities down for anybody, but if anybody wants to come into the space and get that individual support, that's available for everybody."
"Our students know that this space is here, but to the students that don't know, I just want to say that this is a very welcoming and open space," says Bustillos. "We're here. We have snacks."