Wolfspeed Ahead: An NC State Spinoff Powers the Future
The company that pioneered LED lighting now looks to improve the efficiency and performance of electric vehicles and other high-power applications. Meet the people building the world's largest silicon carbide manufacturing facility in Chatham County.
There were times Wolfspeed Chief Technology Officer John Palmour says he felt like fellow NC State alum Zach Galifianakis's character in The Hangover: A Wolfpack of One.
That's because, for the longest time as part of the leadership at Cree Inc., creating silicon carbide semiconductor devices for power and radio frequency applications was not the market focus of the Triangle-based company. Cree first developed the blue LEDs necessary for large, full-color video screens and billboards and produced the first consumer household LED lightbulb.
Now, after the spinoff recently spun off both its LED and lighting divisions, Wolfspeed is proving that its more efficient silicon carbide wide bandgap semiconductors are critical for improving the efficiency and performance of electric vehicles and many other applications in transportation, communications and energy storage.
All of it is based on technology and research that started four decades ago when Palmour and a group of four other graduate students first began working with silicon carbide and gallium nitride materials — both of which have proven advantages over the traditional silicon that makes up about 90% of the global semiconductor market.
Made in N.C.
Palmour believes Wolfspeed will transform that market, not only thanks to NC State-founded technology, but with the help of the University of North Carolina System's two biggest land-grant institutions, NC State and North Carolina A&T in Greensboro.
That's one of the biggest reasons Wolfspeed recently announced its plans to locate the world's largest silicon carbide materials manufacturing facility in Chatham County, about 45 miles west of NC State's campus and near Wolfspeed's existing Durham County headquarters and manufacturing hub.
The multibillion-dollar facility was announced last month by the State of North Carolina and was secured through partnerships with the NC State Office of External Affairs, Partnerships and Economic Development and North Carolina A&T. The facility will bring more than 1,800 high-paying technical jobs to an emerging area of the state.
That was important to Palmour, a Raleigh native and two-time NC State graduate who values state-funded education and research and believes his company's work will solve one of the world's most pressing challenges: the global move from internal combustion engine (ICE) technology to electric vehicle (EV) technology.
"We hope what we are doing will bring about the end of the ICE age," Palmour says.
A Raleigh Foundation
Palmour is an NC State legacy who has spent more than four decades devoted to expanding the use of silicon carbide technology. Born at the old Rex Hospital at the intersection of Wade Avenue and St. Mary's Drive, he graduated from Needham B. Broughton High School near downtown and grew up going to his father's lab at NC State's ceramics engineering department, which predated the current materials science and engineering department.
Professor Hayne Palmour III ('61 Ph.D.) spent some 56 years as an active and emeritus professor of ceramics engineering. He and his son John were both elected into the department's inaugural hall of fame class in 2015. John Palmour established a scholarship in his father's honor in 1998.
John Palmour was accepted into programs at other top engineering schools, but struck a deal with his father to attend NC State — as long as he could live in a residence hall, not in the family home not too far from campus. That in-state tuition was a money-saving proposition for his parents.
"I looked at four schools and three of them were out of state," he says. "I told my dad, I'll go to State and save you a bunch of money if you let me live in the dorms and pretend like I live out of town.'"
"Deal," Hayne Palmour said.
The younger Palmour was accepted into NC State's School of Engineering but didn't immediately decide on a discipline to study. His familiarity with his father's work in ceramics engineering didn't really sway him, but he ultimately did choose to study materials science and engineering, and he initially worked on projects that included high-tech ceramics for radioactive waste containment, space shuttle tiles and other high-heat materials research.
"I didn't so much follow my father's footsteps as fall into them," he says.
Palmour was also elected into the National Academy of Engineering's 2022 class for his work to advance silicon carbide-based devices.
Leading With LEDs
During the spring of 1983, in between celebrating the men's basketball team's unlikely victories in the ACC and NCAA tournaments, Palmour and four graduate school classmates — Calvin Carter, Thomas Coleman, John Edmond and Neal Hunter — spent their time in the Riddick Engineering Laboratories developing a solution for what many see as the answer to the biggest question currently facing sustainable energy sources: the development of wide bandgap semiconductors made of silicon carbide to improve the efficiency and cost of EV batteries and RF power amplifiers.
For years, those semiconductors were used in the development of blue LED lights. The work the students began under NC State materials science and engineering professor Robert Davis was spun off from NC State as Cree Research in 1987 and, while based in Research Triangle Park, eventually became the world's largest producer of LED lighting.
Cree developed lighting solutions, such as back-lit screens for cell phones and lighting systems that have advanced into full-color displays like the new lighting that bathes Carter-Finley Stadium in constant waves of red and white.
That work proved a financial boon that allowed further research and development of wide bandgap technology.
A Game-Changer
Using silicon carbide and gallium nitride as the foundation for their products, the power devices Palmour and his team developed improved performance by a factor of 10; their reduced size made them lighter and more efficient. Originally, their microwave applications were used for military purposes.
"The end goal was for high-power microwave devices, and we still do that," Palmour says. "Basically, the ability to operate at much higher electrical fields allows us to operate far more efficiently than the incumbent silicon devices."
The focus of Wolfspeed is now on more efficient power systems for EVs and other applications, such as renewable energy and storage, driven by silicon carbide semiconductors.
"That's where they're a game-changer," says NC State Chancellor Randy Woodson. "Their technology really is at the heart of the new generation of electric vehicles and essentially everything that is trying to use stored energy to operate."
That evolving technology was the driving force behind President Barack Obama's push for creating PowerAmerica, a Department of Energy-funded institute headquartered on NC State's Centennial Campus. Obama announced PowerAmerica's creation at a national event staged on NC State's campus on Jan. 15, 2014.
Through public-private partnerships, PowerAmerica's mission is to bring the technology to market in order to reduce the nation's energy consumption and boost manufacturing competitiveness.
"Wolfspeed, and John Palmour in particular, played a leadership role in helping PowerAmerica win the grant and also get up and running," says John Muth, a professor of electrical and computer engineering at NC State. "By bringing together industry members from across the supply chain to collaborate with academia and government, everyone has benefitted."
Focusing on Silicon Carbide
In 2015, the power and RF division of Cree became Wolfspeed, a name wholly endorsed by the NC State alumni in its corporate leadership.
"We wanted to pay homage to our NC State roots," Palmour says.
The Wolfspeed division was going to be spun off into its own company, then purchased by an international conglomerate. A proposed deal was nixed because of national security concerns.
In 2017, Cree hired CEO Gregg Lowe and sold its lighting and LED divisions to focus solely on silicon carbide materials and semiconductor devices. The entire company was rebranded as Wolfspeed last year, with a streaking wolf in its logo and a line of power modules that includes "wolf" in the name.
Two years ago, the company broke ground in New York on the world's first, largest and only silicon carbide wafer fabrication facility.
"For years, we were sort of the redheaded stepchild of the business because we weren't paying the bills like the lighting and LED divisions," Palmour says. "We were always scraping for resources and funding.
"We always kind of felt like a Wolfpack of one."
That's no longer the case. And the acceleration of Wolfspeed's power and RF semiconductor devices into the sole focus of the company is what positioned it to make a game-changing announcement on Sept. 9.
Powering the Future
In the shadow of that announcement, Palmour wanted to share the importance of bringing a major materials production facility to his home state, where manufacturing has traditionally been roughly one-quarter of the state's economy.
He knew that Wolfspeed would not only benefit from the homegrown technical talent produced by the state's university system but would also bring more economic prosperity to an area of the state that has the infrastructure for growth.
"I've always been a fan of the UNC System," Palmour says. "It's still one of the best deals on earth, and it gives access to education for so many people.
"So this is all very, very gratifying for me — there is no other way to say it. We already employ a couple of thousand workers here in North Carolina. That's going to go up dramatically."
That's music to the ears of Woodson, leader of the state's largest university and one of the nation's top producers of ready-to-work talent.
"Wolfspeed could have built this plant anywhere, but from the beginning, they wanted to support North Carolina because North Carolina has supported them," Woodson says. "They also have access to the talent produced at NC State and NC A&T to provide the workforce necessary.
"To have a company that was founded out of research from our university and populated with people that call North Carolina home is huge for the state."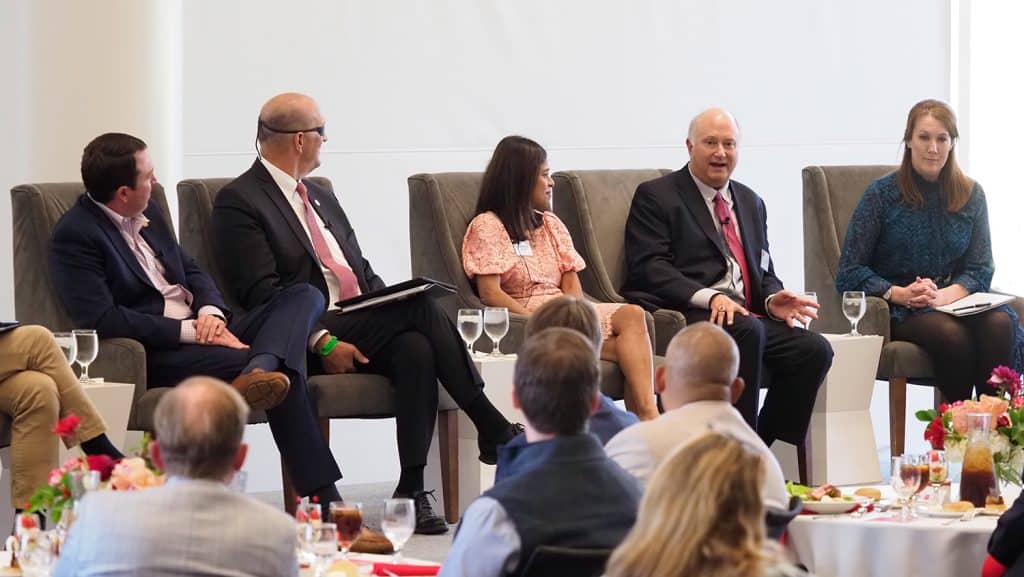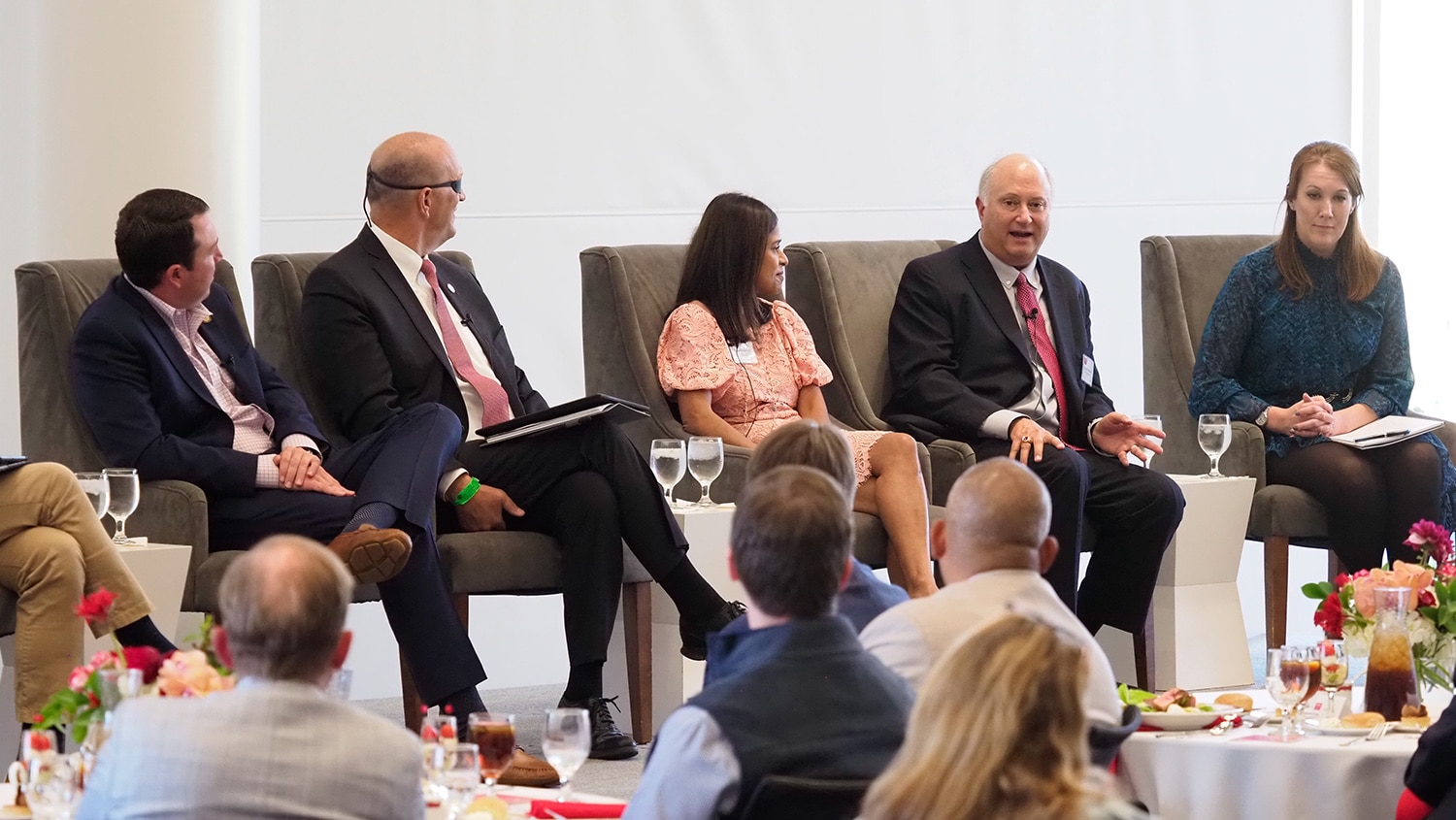 The Strength of the Wolf
NC State helped land Wolfspeed's expansion in Chatham County by working closely with statewide economic development agencies, and by leveraging the expertise of faculty members such as Muth and Dan Stancil in the Department of Electrical and Computer Engineering and Fred Kish and Phil Barletta in the university's Nanofabrication Facility.
Tom White, NC State's director of economic development, who led the university's coordination with partners throughout the recruitment, says the teamwork was instrumental in bringing the concept to reality.
The new factory will concentrate on producing 200mm silicon wafers for its Mohawk Valley facility in New York, where those wafers will be fabricated into power semiconductor devices for customers.
The primary purpose is to solve the vexing problem of making EVs more commercially viable and affordable at a time the driving public is eager for solutions.
"If you look at the penetration of electric vehicles in the American market, it is still very low," Palmour says. "Something like 3% of all cars sold are EVs, but that is predicted to go to 30% or 40% by 2030.
"The purpose of the new factory is to meet that market demand for the late '20s and early '30s. If we get the market penetration we are hoping for, the cost of ICE vehicles will go up and battery EVs will go down.
"At that point, it is a no-brainer to buy a battery electric vehicle."
Efficient, Reliable and Smarter
Wolfspeed is also involved in manufacturing ubiquitous components for other applications that include variable speed drives, like HVAC systems, robotic motors and high-frequency power supplies for semiconductor production.
"Silicon carbide will eventually be critical in almost every car, solar and wind farm, large industrial machine and data center," Muth says. "It also has significant implications for the power grid and infrastructure critical for our national security.
"We expect that silicon carbide and ultra wide bandgap materials will make our electric grid efficient, reliable and smarter."
That technology is possible through the work that began at NC State and will continue as Wolfspeed expands its manufacturing facilities throughout the central part of the state.
"In the United States, North Carolina is already the epicenter of silicon carbide and we intend to keep it that way," Palmour says.