Faculty and Staff
Access for All
NC State's new Digital Access and Inclusion Project aims to advance digital equity and create new training opportunities for frontline employees.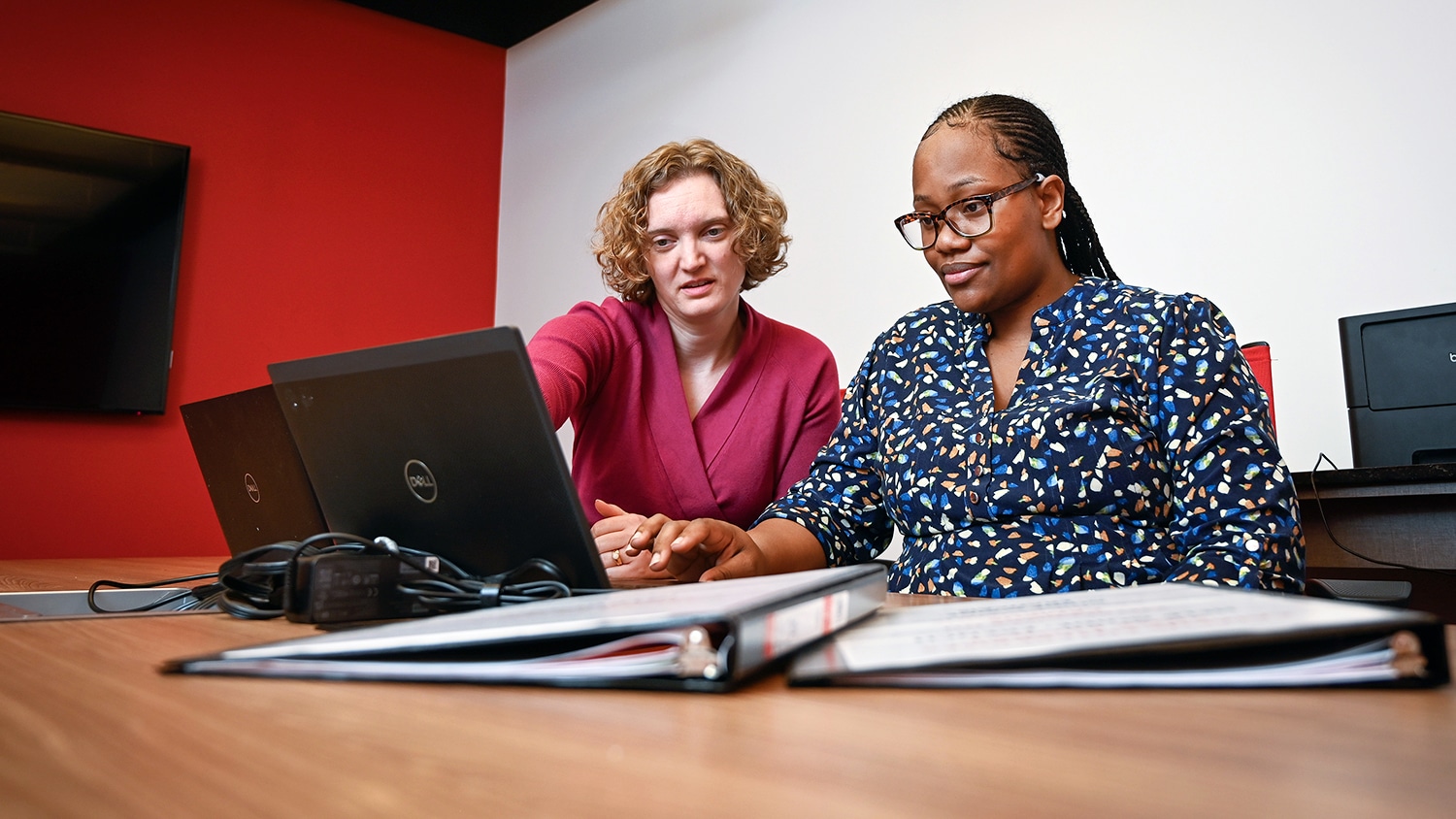 When Breche Nupsia Makosso, who goes by Mazzi, moved to the U.S. from Africa, she had three semesters of college under her belt and big hopes for the future.
Her sister lived in North Carolina at the time, but the rest of her family — including a mother reluctant to allow her young daughter to move so far from home — remained in the Republic of the Congo.
After a transition period, Makosso started working at NC State in 2016 as a temporary housekeeping technician with NC State Student Centers, a department of Campus Enterprises. Within a year, she became a permanent employee, working night shifts to attend Wake Technical Community College during the day.
In 2019 she graduated with an associate's degree and started a new position as a housekeeping shift lead. Today, she is an administrative coordinator with Student Centers.
"If you asked me when I first got here, I would never have believed that I would become who I am today," Makosso says. "My plan when I got here was a paycheck. I needed to pay my bills, and that was it."
But over time, she says, thanks to the support she received from her supervisors and manager, she pursued a number of training and professional development opportunities at NC State that helped accelerate her career growth.
If you asked me when I first got here, I would never have believed that I would become who I am today.
A self-described introvert, Makosso says she started out by learning people skills and improving her English. Before long, she knew the ins and outs of equipment management, data collection and analysis, work plan development and purchasing.
Now she is on a mission to help ensure that all frontline employees have access to the same opportunities.
Enter the Digital Access and Inclusion Project.
The product of a grassroots effort in the Staff Senate, the project aims to increase digital access and knowledge for NC State employees who do not use computers regularly in their jobs.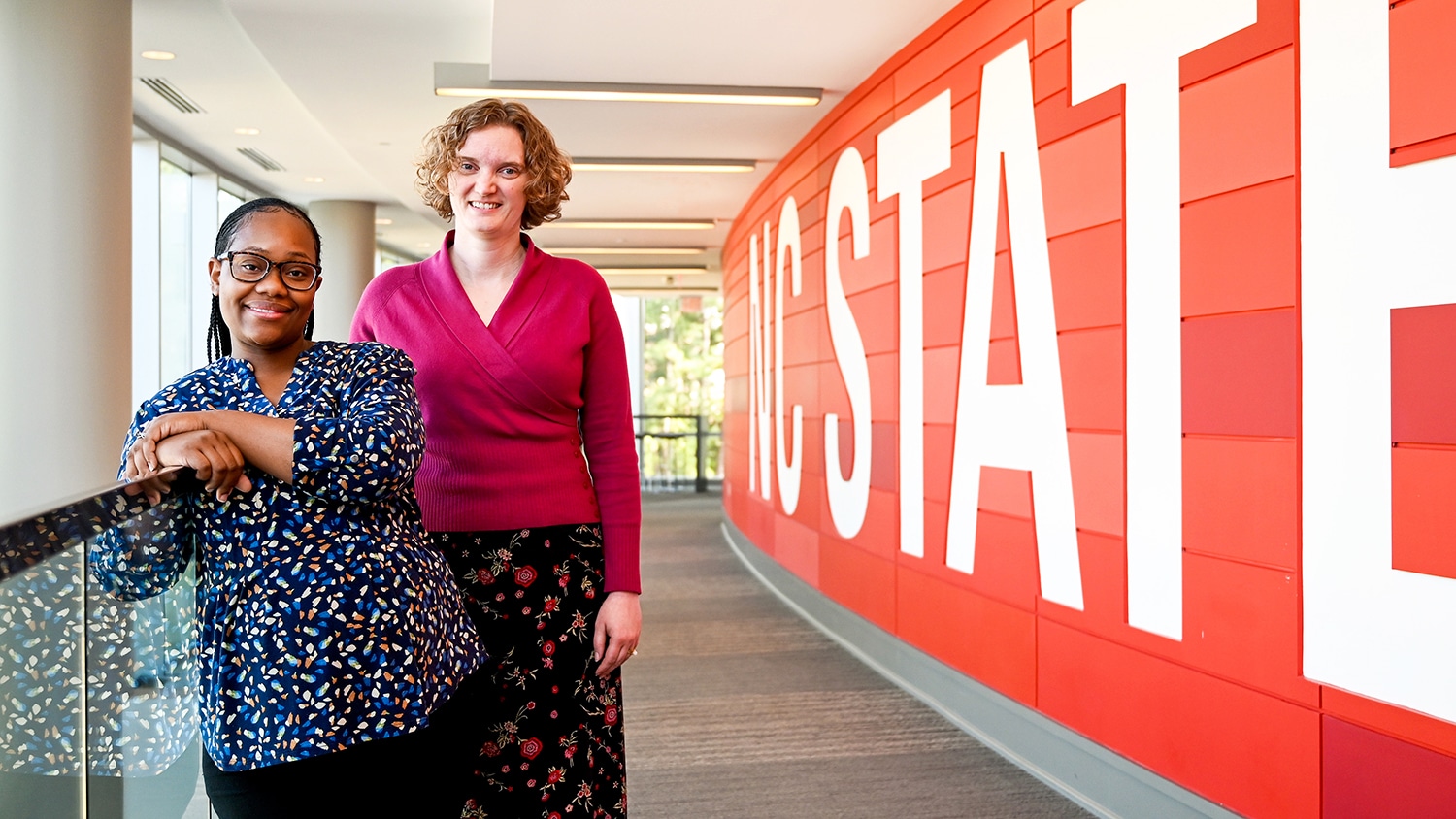 A 'Light Bulb Moment' Sparks Change
A 2021 Staff Senate survey of NC State Dining and Housekeeping employees found that 80% of staff reported one or more challenges accessing digital technology, and 54% had never participated in a technology-related training, mostly because they didn't know what was available or no one had ever encouraged them to participate.
In addition, 33% of the staff surveyed access their NC State email monthly or more rarely, and 30% reported that their primary language is something other than English.
Annaka Sikkink, employee development and engagement coordinator with Campus Enterprises and a former staff senator, says her first "light bulb moment" was when the university rolled out data security training for employees a few years ago.
The required training was only offered digitally and in English, so she and her team set up a series of in-person workshops to help deskless Campus Enterprises staff complete it. As part of the process, they brought in experts from the Office of Information Technology to answer employee questions, which led to more startling discoveries.
"The questions we got just blew my mind," Sikkink says. "There were people who came up and said, 'I got a new phone six months ago and I haven't been able to set up DUO on it, so I can't log into anything.' Or, 'I don't know how to get into my email.'
"These fundamental gaps indicated that people really had no access through the core NC State systems to any communication that was coming by email," she says. "So that was the first time I really realized the depth of the challenge within our own workforce."
This discovery inspired Sikkink to start taking steps toward change. She found like-minded colleagues in the Staff Senate, established a subcommittee, and set out to bring to life what would become the Digital Access and Inclusion Project.
How Will the Project Help?
Early efforts — stalled briefly when the pandemic hit — included surveys and listening sessions. In April 2022, organizers hosted a summit that drew participants from all over campus.
They followed it up with a June working session to dig into the summit's outcomes, landing on three focus areas for the project: access to technology, training and employee development, and operational considerations.
"We were really thinking about what this would look like in the units, how to support our supervisors so that they can support their staff effectively," Sikkink says.
From that June session came the Digital Access and Inclusion Project recommendations that center on five main goals:
Goal #1
Ensure all staff members can access digital resources and receive support.
Goal #2
Ensure all staff members can develop technology skills, starting from the beginner level.
Goal #3
Support supervisors to support their staff.
Goal #4
Address language barriers.
Goal #5
Communicate the program directly to relevant staff members.
During the September Staff Senate session in which she presented the project, Sikkink showed an image of NC State Dining employees crowded around their manager's computer, trying to get a glimpse of the screen.
This is common, she says, because the computers in these frontline units are for the management team. When the staff need to use them as well, it can prevent the manager from completing necessary administrative work.
So Campus Enterprises established two computer kiosks in the West Dunn building and two in Talley Student Union, with more to come. This is just one example of the technology access strategies central to the project.
It's a joy to be part of a project that has already touched people's lives and could have very practical, tangible outcomes for so many employees.
Michelle Healey, business services coordinator for the Department of Horticultural Science, helps lead the initiative. As chair of the Staff Senate Employee Experience and Relations Committee, she serves as the project's main point of contact.
"It's a joy to be part of a project that has already touched people's lives and could have very practical, tangible outcomes for so many employees," she says.
Opening Doors to Digital Fluency
In addition to technology access, Makosso says her personal story is an example of the importance of the project's training and continuing education component.
"It took a supervisor to look at me and my work ethic and say, 'We can build something out of doing more, we can teach her new things.' It took them giving me a computer and teaching me how to use it for me to become who I am today. So it's very important to give people those opportunities."
Makosso recently completed a project management workshop through NC State Continuing and Lifelong Education. She attended sessions during work hours, and NC State Student Centers covered the cost.
"On the first day, I was intimidated by all the people in the class because this is a new subject for me," she says. "On the second day I got a bit more involved, and I ended up learning a lot."
She finished the training with a grade of 95. Opportunities like this, Makosso says, should be available to all frontline employees.
The Power of Partnerships
The project committee has held a number of one-on-one meetings with campus leaders from the Facilities Division, University Human Resources, the Office of Information Technology and Campus Enterprises, among others.
Tim Danielson, associate vice chancellor for Human Resources, who also serves as the administrative liaison to the Staff Senate, says this project is critically important.
"We need to do all we can to make it so that individuals who do not use a computer on a daily basis or who speak a primary language other than English are also in receipt of and able to clearly comprehend information that they receive," he says.
Sheri Schwab, vice provost for institutional equity and diversity, echoes the sentiment.
"Annaka has created a very important conversation for our campus," she says. "She observed inequity and wanted to create change — to make a difference. So for us, whether it's my position or any position in the chancellor's cabinet, we are here to help carry the idea forward and help bring real solutions to life."
Breaking Down Barriers
More than 40 different primary languages have been identified among employees in University Facilities and Dining alone, Sikkink says, which poses a significant challenge for digital access and inclusion.
Her team in Campus Enterprises is working to develop help guides for the computer kiosks that include information about how to log into MyPack Portal and do basic things like view and print a paycheck.
"We're starting with Spanish, French and Vietnamese because those are the three most common languages spoken among our staff in Campus Enterprises," she says. "But it is a challenge. We created these guides with Google Translate, which is an excellent, free tool, but certainly not perfect."
Operational challenges are also among the biggest the project faces, according to Healey. The units that employ the majority of deskless workers are dealing with staffing shortages, and recruitment and retainment challenges, thanks in large part to the pandemic.
"So that makes it really hard for these supervisors to be able to give up a frontline employee to go to a training course or sit with a digital ally and practice their typing skills," Healey says. "Our supervisors are very supportive of the project, but these conditions make it difficult for them to be able to prioritize it."
What's Next?
The Staff Senate Employee Experience and Relations Committee is taking the lead to prioritize, plan and coordinate the implementation of the project's recommendations, with the involvement and support of campus partners.
Danielson has high hopes, having worked on a similar project at a previous institution.
"I've never seen a project like this gather such momentum and enthusiasm from folks throughout the university so quickly," he says. "It's great. There is a strong commitment to this by a number of people from across campus."
Makosso says the effort could have a big impact not only for deskless employees, but also for the university as a whole.
It's a win-win. There is no downside to this at all.
"I think giving everybody access to computers, to technology, that's what we need," she says. "Because we keep hiring, new people with different backgrounds are coming in. So being able to give them more options would be very helpful. We can build people in house, give them the tools they need to grow, instead of trying to find them somewhere else."
Sikkink agrees.
"Above all, I really want to see this project make a difference for employees, providing them new ways to stay connected, feel like they belong, and have opportunities to grow within the university," she says. "That's ultimately what is most important.
"It's a win-win. There is no downside to this at all."