Faculty and Staff
'Opportunity Is the First Thing'
The co-chairs of NC State's African American Faculty and Staff Organization strive to build on the group's legacy with an eye toward the future.
Karen Sims and Gerald Cobb are a dynamic duo who work hard to create opportunities — and build community — for NC State's Black faculty and staff.
As co-chairs of NC State's African American Faculty and Staff Organization (AAFSO), they strive to build on the group's rich 50-year legacy with an eye toward the future.
Sims, director of gift and records management with Advancement Services, has more than 20 years of experience in nonprofit administration. She is the immediate past and founding chair of University Advancement's Task Force for Inclusion, Diversity and Equity (T.I.D.E.). She also serves as a staff representative on the Council of the Status of Women and a collaborating contributor to the NC State DEIB Collaborative community of practice.
Cobb, an IT integrated solutions professional with the Office of Information Technology, serves on the OIT Diversity Equity and Inclusion Team and the NC State DEIB Collaborative community of practice. He is also the OIT DEI Website Workgroup lead/project manager and chairs the nonprofit organization Leaders by Choice.
Together, they combine their strengths and unique areas of expertise — aka superpowers — to lead AAFSO and support African American employees throughout the university.
"Gerald and I share a passion for wanting to see things done in excellence, and also to put forward the best value for our faculty and staff," Sims says.
Read on to learn more about AAFSO and its dynamic leaders. (This interview has been edited for brevity and clarity).
How did you discover the African American Faculty and Staff Organization?
Sims: At a previous institution we had a faculty and staff organization similar to AAFSO, so when I got here, I looked for us and was very excited and surprised to see that we were here. It was important to me because the work I did at my previous institution was something that I had a leadership role in and a deep understanding of the organization's connectivity to recruitment and retention. I've stayed connected with AAFSO throughout my time at NC State, serving as treasurer for two years before I became co-chair.
Cobb: I found AAFSO through collaboration and partnerships with phenomenal talent throughout the university, such as Karen Sims. By building relationships with those individuals of excellence, I was able to discover AAFSO, and I viewed it as an opportunity to leverage and bring a value-add to the organization.
What is the history of AAFSO?
Sims: AAFSO has been around since the 1970s. We've had folks like Rupert Nacoste, Witherspoon and Clark, who started a lot of the work. One of the things the students were saying back then, and continue to say today, is they want to see more diversity in our faculty and staff, to see folks who share some of their cultural and racial experiences.
Today, AAFSO has about 720 members and operates as a self-governing organization. But our work often intersects with the efforts of divisions like OIED and HR, as well as the African American Cultural Center. They have become great partners, and a lot of our work starts with the synergy we have with them.
Cobb: Within the ecosystem of affinity groups throughout the university, we want to make sure that we champion a place of belonging for all individuals and to define safe spaces that reflect them. And through those reflections and self-actualization, individuals can continue to grow and have the confidence to contribute to the ongoing success throughout the university.
What does AAFSO offer to NC State faculty and staff?
Sims: I think opportunity is the first thing. The opportunity to focus and engage, to get that sense of belonging, to answer the call for recruitment and retention of both faculty and staff. It's great to see people come into the university with all different backgrounds, but we also want to keep them here.
We want to provide resources like career guidance, for example, to help employees identify unconscious bias in the workplace and equip them to have crucial conversations with their managers.
We also want them to stay connected and engage together. So we've had movie nights where we bring our families, and we also collaborated with the Juneteenth celebration, which was a blast. To share that togetherness and laughter and joy is so important.
We also co-sponsor events like The Cookout that provide opportunities for fellowship, but also for discussing difficult topics like mental health and sharing strategies for work-life harmony.
Cobb: We're also looking toward the future, looking at being a one-stop shop for individuals who are in need of professional development resources. So we're trying to create a platform, a vehicle, that has a direct correlation to the success that's already taking place, and also aligns itself with the success that our members want to achieve.
I'm a huge advocate for resource placement. We have to carve out seamless ways for individuals to access the wealth of knowledge out there, to glean the resources they need to be successful.
How has AAFSO enriched your lives?
Cobb: It's definitely enriched my life by enabling me to connect with phenomenal people within the university network. I'm always excited by the individuals in the network that AAFSO has allowed me to plug into. On a personal level, AAFSO runs concurrent with the things I do throughout the community as well.
Sims: I attribute AAFSO to my longevity here so far. Being able to make those connections, being able to do work that I'm passionate about, is so important to me. I am a mother of five grown children and grandmother — "Mimi" — of 10. When I think about the legacy we get to create in the world, the chance to create a better space for them, I'm knocking on every door. AAFSO gives me the opportunity to feel like I am impacting the future here at NC State. I do consider myself a change agent, and so it also gives me an opportunity to learn about the rich African-American and Black history here at NC State while also addressing the challenges that need to be overcome today.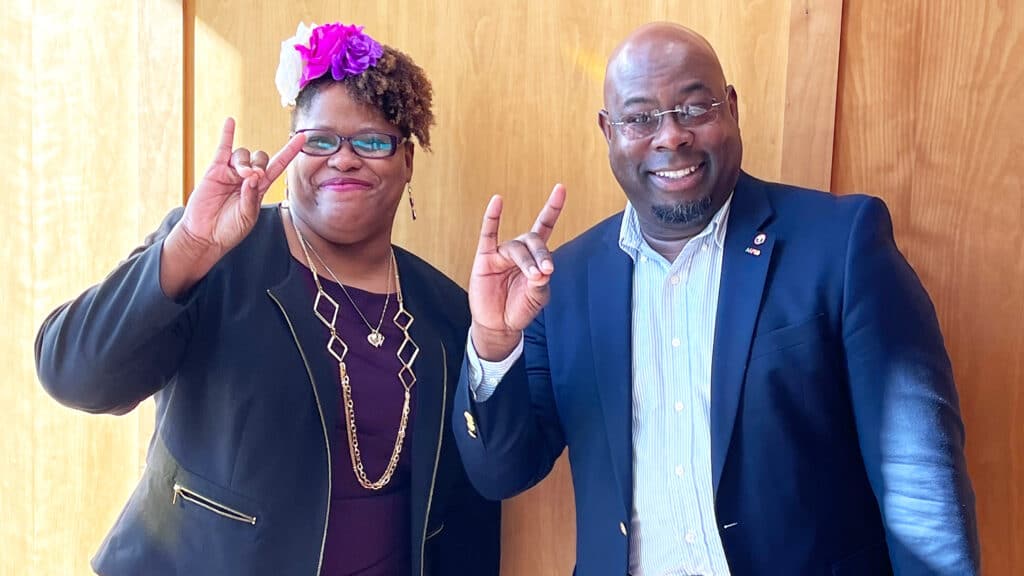 What are your hopes for the organization's future?
Cobb: I'm extremely excited about what's to come because we are in a position to champion and align ourselves with the university's strategic goal for diversity, equity and inclusion. We want to champion inclusion and belonging in everything we do, but we also want to provide the technology resources and ideas that will help our faculty and staff see tangible results.
Sims: My hope is that as we are contributing our time to this, we're not only enhancing our experience, but we're also looking to improve the experience of those people who are just joining the university. They need to know that there's a contingency of people who understand their experience, who are celebrating all that we are, all that our culture brings, and trying to make sure that we are bringing things forward with excellence and intentionality.
Cobb: So the circle keeps growing as we add more voices.
Sims: We have members who are not African-American, and we welcome everybody to the space. It's for folks who want to learn more, to get an opportunity to experience cultural competency in a different way. So the more that folks are able to join in the conversation and understand what's going on on our side, the better.
We don't consider it allyship, but we use the term "accomplices." We want accomplices, we want folks who are going to get alongside us and say 'We want to see that change right along with you, we want to do the work with you.'
And then again, for those who are of African-American descent, we want to get out there at celebrations like Juneteenth and literally eat the food, dance the dance and celebrate all that we have here at NC State.
Cobb: As the saying goes, many hands make light work. As we continue to build those bridges and as we continue to authentically support one another, I'm confident that the work should actually get lighter and eventually become a baked-in standard operating procedure.
Our work is not happening in a silo. Through relationships with our campus partners, we are learning about how their plans align with the work we do with AAFSO and also how this work supports the "Wolfpack: 2030" strategic goal to champion a culture of equity, diversity and inclusion — all the way out to 2030 and beyond.