Faculty and Staff
Professor, Alumni Awarded Science and Technology Policy Fellowship
Professor Jason Delborne and NC State alumni Morgan DiCarlo, William Casola and William Murray have been selected for a prestigious fellowship with the American Association for the Advancement of Science.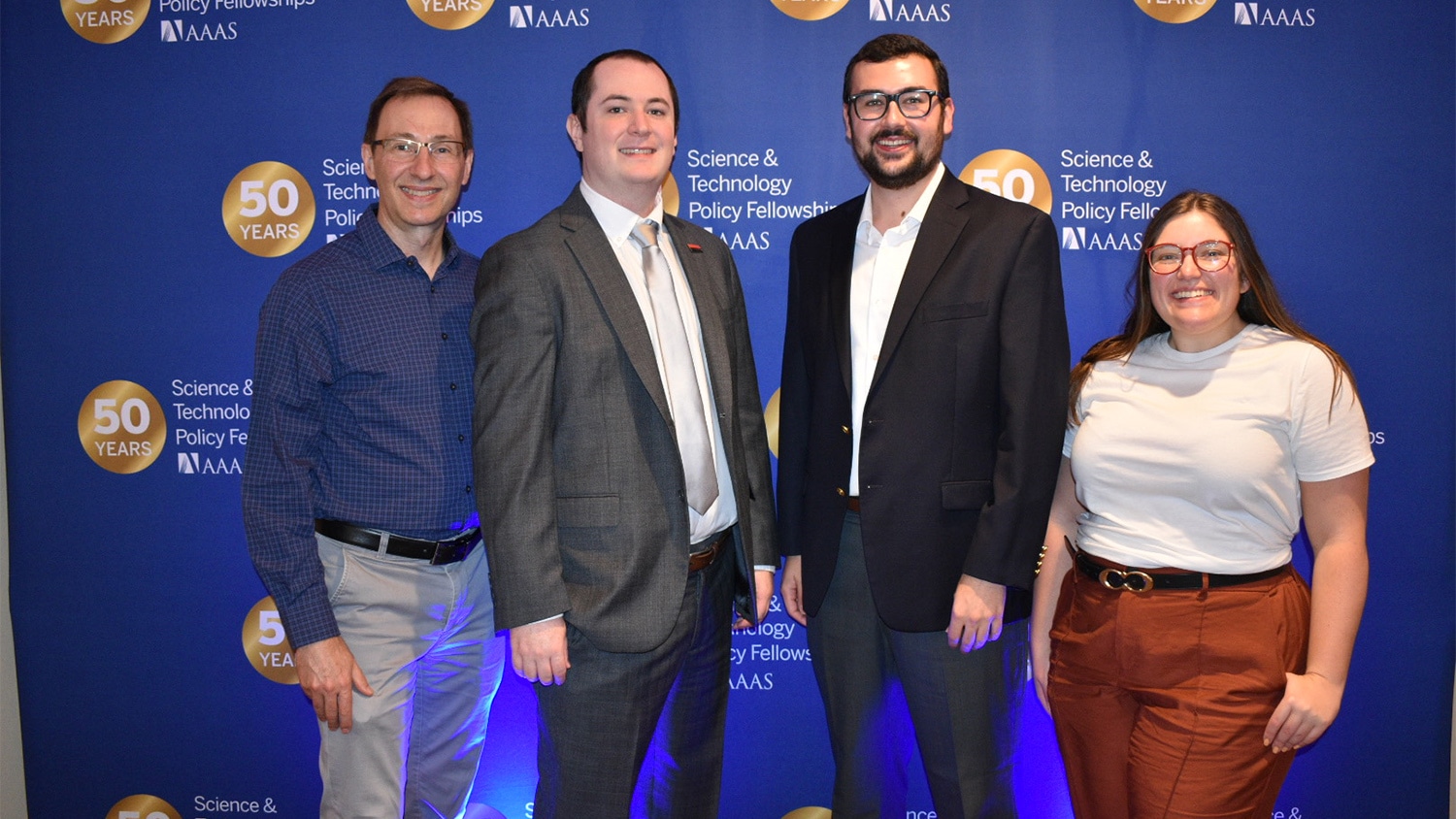 The American Association for the Advancement of Science (AAAS) has announced that Jason Delborne, professor of science, policy and society in the Department of Forestry and Environmental Resources and the Genetic Engineering and Society Center, as well as NC State alumni Morgan DiCarlo, William Casola and William Murray have been selected as members of the 51st class of the Science and Technology Policy Fellowships (STPF) program. STPF fellows are chosen from a select group of scientists to engage in a one-year immersive educational opportunity to gain hands-on experience in the public policy arena while using their expertise to help confront major societal issues on behalf of the U.S. federal government.
Fellows will learn first-hand about federal policymaking and implementation. They will also gain invaluable skills in communication, diplomacy, collaboration and consensus-building.
About the Fellows
Among the 276 highly trained STEM professionals selected, Delborne will serve as a staff scientist in the National Nanotechnology Coordination Office (NNCO) under the White House Office of Science and Technology Policy. The NNCO strives to convene the nanotechnology community across university, private and public sectors to share information, engage the public and promote responsible innovation. This assignment builds on Delborne's career of research and teaching about the social, environmental and political dynamics of emerging technologies.
"I've had the privilege of serving on a number of national and international expert panels that contribute to policymaking, but this fellowship offers a different level of engagement," Delborne said. "I'm thrilled for the challenge of adapting my experience as an academic to the policy environment, and when I return to NC State I hope to increase the policy relevance of my research program and teaching."
DiCarlo's fellowship is with the Environmental Protection Agency, where she will serve as a translational science and climate change research fellow in the Office of Research and Development. DiCarlo completed her Ph.D. in civil engineering at NC State; her research focused on community dynamics during water-related hazards. She is also a licensed professional engineer in North Carolina and a TEDx speaker.
"Being a part of this fellowship gives me the exciting opportunity to continue to develop professionally, while applying my graduate training to launch an impactful career addressing water and climate challenges at the federal level," DiCarlo said.
Casola will spend a year serving as an arctic science policy fellow with the National Science Foundation's Office of Polar Programs. A conservation social scientist by training, Casola completed his Ph.D. and B.S. in fisheries, wildlife and conservation biology at NC State. His doctoral research explored how visitors use and value wildlife management areas in North Carolina. Most recently, he completed his postdoctoral training in the School of Forest, Fisheries and Geomatics Sciences at the University of Florida.
"I am thrilled to be a member of the 2023-24 class of Science and Technology Policy Fellows," Casola said. "I'm excited to build upon the skills and experience I gained at NC State and hope to make a meaningful contribution to arctic science and policy."
Murray was selected for the STPF program through the American Nuclear Society's Glenn T. Seaborg Congressional Science and Engineering Fellowship and will serve as a scientific adviser for the U.S. Congress beginning in January 2024. Following his completion of NC State's master of nuclear engineering program in 2019, Murray joined General Electric and served in a variety of technical roles through the company's prestigious Edison Engineering Development Program and currently works as an advanced reactor systems engineer for GE in Pittsburgh, Pennsylvania. His industry experience brings a unique perspective on how science policy affects technical product design and broader business decisions.
Murray shared why he accepted the fellowship. "Our ability to innovate with new developments in science and engineering is founded on support from federal policy," he said. "I am excited to both share my insight from working in the industry and to learn more about the policymaking process from legislative experts in the halls of Congress."
About the Program
The 2023-24 fellowship class is sponsored by organizations including AAAS, the Moore Foundation and partner societies. Of the 276 fellows chosen, 38 will serve in Congress, one will serve at the Federal Judicial Center and 237 will serve in the executive branch among 19 federal agencies or departments. This year, among the 38 fellows in Congress, six are members of AAAS' special AI Rapid Response Cohort — experts in artificial intelligence and related areas recruited to help confront pressing issues such as privacy, intellectual property rights, employment and innovation in the field.
The STPF program supports evidence-based policymaking by leveraging the knowledge and analytical mindset of science and engineering experts, and it trains leaders for a strong U.S. science and technology enterprise. Fellows represent a vast array of disciplines, backgrounds and career stages. After the fellowship, many remain in the policy arena working at the federal, state, regional or international level, while others pursue careers in academia, industry or the nonprofit sector.
Founded in 1973, the STPF program celebrated its 50th anniversary earlier this year. At the end of their service, these fellows will join a select corps of 4,000-plus program alumni who are equipped to solve problems with a unique set of science policy skills and acumen. STPF is also launching a new alumni network this year to stimulate and support collaboration among them to further the STPF mission of supporting evidence-based decision-making in U.S. public policy.
Visit www.aaas.org/stpf to learn more about the AAAS Science and Technology Policy Fellowships.