Faculty and Staff
A Leader Passes: Remembering Chancellor Larry Monteith
Chancellor Monteith oversaw a dramatic expansion in NC State's research enterprise, bringing the university to the threshold of the 21st century.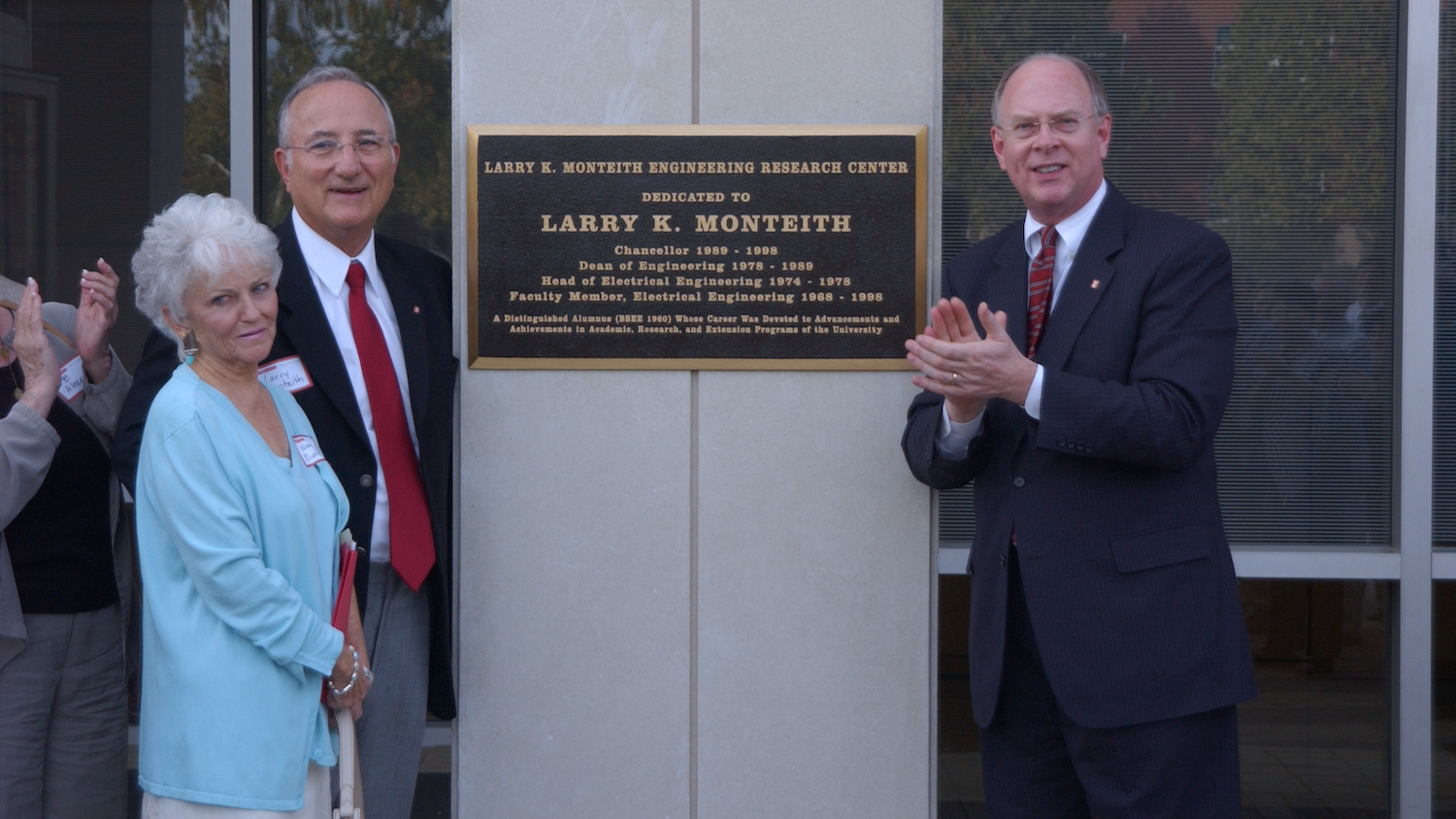 Chancellor Larry Monteith devoted his academic career as an electrical engineering professor, a College of Engineering dean and the 11th chancellor of NC State to advancing the university's role in graduate research and its expansion as a research institution.
Following a long decline in health, Monteith died peacefully at his home Thursday, according to his family.
"Larry Monteith loved this place," said Chancellor Randy Woodson, NC State's current chief executive. "What he really wanted more than anything else was to see NC State become a research powerhouse, which goes back to his time as dean of the College of Engineering. I am glad that he was able to see this goal achieved."
Monteith served as chancellor from 1989 to 1998 and was the second NC State alumnus to be named the full-time permanent leader of his alma mater, following in the footsteps of Col. John Harrelson (1934-1953).
Monteith led the university through turbulent times and some difficult transitions, then stepped away when he believed the hurdles he faced as leader were cleared. Among the many things in his lasting legacy was increasing research funding nearly 77 percent, from $170 million in his first year to almost $300 million in his last.
"We, as a university, have achieved great accomplishments, and many more remain ahead," Monteith said when he announced his retirement on Sept. 16, 1997. "But we are today at a smooth stretch of the road in our rise to the peak, and the best time to change drivers is when you have reached a smooth stretch in the road."
There were changes, big and small, during Monteith's tenure as the university increased its degree offerings, expanded its number of colleges and improved its academic standing. When he succeeded Bruce R. Poulton in 1989, one of his first acts was to fire popular men's head basketball coach Jim Valvano because of a two-year NCAA probation.
In 1991, he instituted the university's first fall commencement, conferring degrees upon more than 1,900 graduates at Reynolds Coliseum. Two years later, he banned smoking in all indoor facilities on campus, a bold move for an institution that for decades had helped develop advances in the growing of tobacco, North Carolina's top cash crop.
He advanced NC State's participation in the development of the Centennial Center, the off-campus basketball/hockey arena that became PNC Arena.
'He Just Loved the University'
"He had some difficult times here, there is no question," Woodson said. "I spent a lot of time with Chancellor Monteith, and not once did he ever discuss the challenges he faced. He never wore that on his sleeve, and he was never remorseful for the decisions he had to make.
"He just loved the university and wanted to see it and its students be successful."
After four years of service as an aviation electronics technician in the United States Navy, the native of Bryson City, North Carolina, enrolled at NC State in 1956, earning a Bachelor of Science in electrical engineering in 1960.
He later earned his master's (1962) and Ph.D. (1965) from Duke. While in graduate school, he first worked for Bell Laboratories on the Telstar communication satellite and then as a research assistant in the Solid State Laboratory at the Research Triangle Institute. He returned to NC State in 1965 as an adjunct assistant professor and was elevated three years later to associate professor in the solid state microelectronics division of the Department of Electrical Engineering. He did not leave the university until his retirement in 1998, serving as a professor, a department head (1974), dean (1978) and chancellor (1989).
He was succeeded by NC State's first female chief executive, Marye Anne Fox.
During Monteith's time as dean, the College of Engineering steadily rose into the top 30 among all engineering schools, and the college saw a major increase in its members of the National Academy of Engineering.
When he took over as the university's top administrator, there was only one building on Centennial Campus. He oversaw plans that turned the new campus into a national leader in public/private research, and he began the development of what became the Lonnie Poole Golf Course, the Dorothy and Roy Park Alumni Center and the StateView Hotel.
He significantly changed the office of the provost and added the First-Year College, a chapter of the Phi Beta Kappa honor society and the Park Scholarships program. Six-year graduation rates jumped from 59 percent to 67 percent.
Two of his most significant accomplishments included improving NC State's research libraries and establishing the College of Management.
To further honor his reputation as a leader in graduate education, the $45.5 million Engineering Graduate Research Center on Centennial Campus was renamed the Monteith Research Center in his honor by the Board of Trustees. In 2015, he was inducted into NC State's Electrical and Computer Engineering Hall of Fame.
Monteith's funeral will be held Friday, Nov. 10, at Raleigh Memorial Park, with visitation from 2-3 p.m. and funeral from 3-4 p.m.