Order of Long Leaf Pine to Walden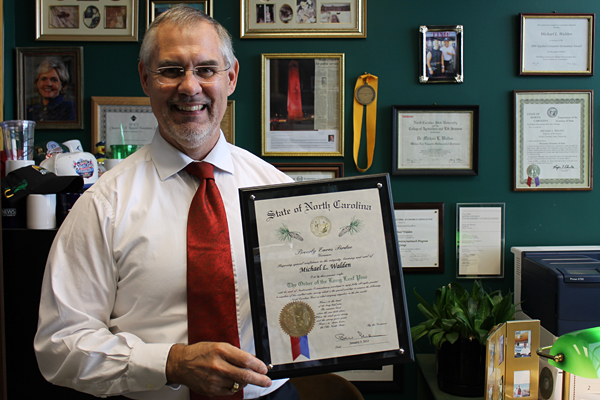 It is difficult to imagine a more deserving recipient of North Carolina's Order of the Long Leaf Pine award than Mike Walden, William Neal Reynolds Distinguished Professor of agricultural and resource economics and N.C. Cooperative Extension economist.
The award, which is given by the North Carolina governor (in this case outgoing Gov. Bev Perdue) recognizes a proven record of service to the state, including contributions to the community, exemplary career efforts and many years of service to the recipient's organization. The award was presented during an economic outlook conference sponsored by the Cary Chamber of Commerce. Gale Adcock, a member of the Cary Town Council, presented the award to Walden on behalf of Perdue.
Initiated in 1965, the Order of the Long Leaf Pine is one of the highest state awards a person can receive.
State's Top Economist
Walden has been explaining economic issues and concepts throughout his 30-plus-year career. When radio, television and newspaper reporters want a coherent comment on an economic story, they call Walden. In addition to interviews, Walden gives approximately 80 formal talks each year to a range of audiences on economic issues. That's what he was doing last week at the Cary conference, explaining his economic outlook for the coming year.
For much of his career at N.C. State — nearly a quarter century — Walden has been writing articles he calls You Decide. Every two weeks, You Decide is emailed to media outlets and others interested in economic issues. The articles provide a balanced, informative account of an economic issue or concept. Spiraling gas prices? Competing political agendas aimed at dealing with the national debt? Tax policy? The Federal Reserve? Walden looks at all sides of these issues and, as the title suggests, lets his readers decide where they stand.
Walden also records a five-days-a-week radio spot called Economic Perspective. Like You Decide, Economic Perspective explains the economic issues that impact our lives every day.
Walden also prepares a North Carolina Economic Outlook twice a year and teaches an introductory course on agricultural and resource economics. The economic outlook looks at the economy statewide and regionally for the next six months.
He is also the author of a book titled North Carolina in the Connected Age: Challenges and Opportunities in a Globalizing Economy. In 2011, Walden was honored with the Award for Excellence in Public Service given by the board of Governors of the multi-campus University of North Carolina.