No Worries for New Teachers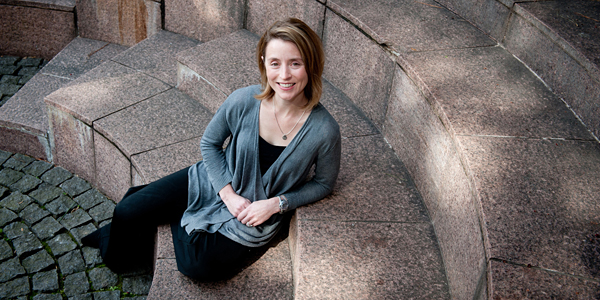 New teachers fret a lot. They worry whether their students will like them, walk over them, question their credibility or worse—learn nothing worthwhile. In her 12 years directing teaching assistant development in the Department of Communication, Professor Deanna Dannels has coached hundreds of new teachers and hears these very concerns.
In her new book, "Teaching out Loud: The Essential Guide to Managing Teacher Communication Concerns," Dannels shows that even expert teachers have concerns. But any worries about communication can be overcome by understanding the research, learning from mentors and tackling their fears.
"Those first classes a new teacher faces can be terrifying," Dannels says. "My book offers anecdotal insight, research and reflective exercises to help turn communication worries into strengths—to help teachers learn to trust themselves."
Worry Stones
The book, published by Oxford University Press this fall, is organized around eight communication concerns, including building credibility, managing anxiety, negotiating power, engaging students, acknowledging difference in the classroom and providing feedback. The book also addresses taboo topics like navigating relationship dynamics—how to respond if a student develops and expresses a crush.
"It happens. And not talking about it is the worst thing you can do," Dannels says.
Unlike other instructional resources that can be stodgy and dry, each chapter begins with a case study describing a new professor with a specific concern. Peer professors also weigh in, similar to how Dannels mentors new teachers in her office.
Dannels calls these concerns "worry stone questions" after the beautiful stones she collects from Ocracoke Island on the Outer Banks. She keeps a hand-carved wooden bowl brimming with flat, shiny stones in her office so each new teacher she mentors can select one.
Each chapter also includes research addressing the concern. For example, the credibility chapter discusses studies that explain why credibility matters: Students who perceive professors as less credible are potentially less engaged in the course content.
And each chapter concludes with a take-home message so readers can see the worry differently. With the book now complete, Dannels feels happy having such a valuable resource with useful insights to share.
"Writing this book has been wonderful—hugely rewarding and an absolute joy," she says.