5 Questions With Lev Grossman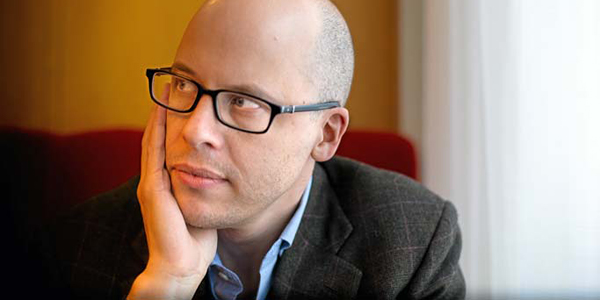 Lev Grossman's parents are both college professors, so when he entered the doctoral comparative literature program at Yale, it looked like he was fated to follow in their footsteps. But Grossman left Yale without finishing his dissertation and became a freelance journalist instead, writing for a wide variety of publications including the Wall Street Journal, the New York Times and Salon. With his freelance career going gangbusters, Grossman seemed to have landed, but right away he set out on another path: writing novels that chronicle the mysteries of nerddom.
Grossman's first novel, "Warp," is about a person who has trouble distinguishing between "Star Trek" and reality. His second novel, "Codex," is about uncanny linkages between a legendary 14th-century book and a strange computer game. But it was his third novel, "The Magicians," that catapulted him onto the New York Times bestseller list and onto bookshelves in 22 countries.
"The Magicians" and its sequel, "The Magician King," are the first two novels in a trilogy about a college of magic, the people who study there and the magical land they have adventures in. The books are suffused with an adolescent's longing for magic to be real, which fans of "Lord of the Rings" and the "Chronicles of Narnia" may understand; but it's grounded by the mature realization that nothing comes for free, in this world or any other, and actions always have consequences, whether or not you're willing to pay the price. The third novel in Grossman's trilogy, "The Magician's Land," will be published in August.
Grossman is coming to NC State as part of the North Carolina Literary Festival, which will take place at the Hunt Library April 3–6. He will speak in the library's auditorium at 7:30 p.m. Thursday, April 3.
In an interview this week, Grossman talked about trends in literature, the effects of having a day job and the connection between magic and religion.
You're part of a relatively new trend of authors using the techniques of literary fiction — carefully crafted sentences, deeply nuanced characters, resonant thematic concerns — to tell stories that are fantastical. I'm thinking of writers such as Susanna Clarke, Jonathan Lethem, Alice Sebold and Justin Cronin. How did you wind up creating this hybrid fiction?
The short answer is by reading Susanna Clarke. Her novel "Jonathan Strange and Mr. Norrell" came out in 2004, and it lit my hair on fire. Clarke was doing things with fantasy, technically and emotionally, that I didn't know you could do. The first Word file for "The Magicians" shows a creation date — I checked — of June 19, 2004. So I pretty much put down Clarke and started typing.
But I was also aware that, as you say, this was a trend — a movement, even. I'd read Neil Gaiman's "American Gods,"  Kelly Link's "Magic for Beginners" and George R.R. Martin's "Game of Thrones" (which was still just a cult hit), among others, and I thought: This is what's happening in fiction right now. This is where exciting things are happening. This is where I need to be.
You're a best-selling novelist, but you're also a book critic for Time magazine. How does your work as a critic affect your work as a writer?
It doesn't, or not as much as you'd think. It's my day job. It's certainly a great vantage point from which to observe what's going on in contemporary fiction. As a critic I can survey the landscape and see what people are doing well. Then I steal it for my own books.
I was struck by the unexpected importance of religion and folklore in "The Magician King" when there was little or none of that in "The Magicians." What motivated that shift?
It's funny, because I grew up in a very unreligious household. Very. I have no religion at all. So I come at religion as about as much of an outsider as you can be in Western civilization. But I've read a great deal of mythology — those stories are strange, primal workings — and it all makes its way into the book one way or another. And just as a practical matter, once you start following magic up the food chain, if you go high enough you're bound to hit a god eventually.
Can you say anything about what kind of book project will be next for you, after the "Magicians" trilogy comes to a close?
My agent would kill me. But I have about a half a draft of a new novel.
The theme of the 2014 North Carolina Literary Festival is "Discover the Future of Reading." What do you think the future might hold for the reading public? 
I've thought about this a lot. We're in a very strange, fragmented time. For 2,000 years literature was physically contained by the handwritten codex — the bound book — and then for 500 years you have the printed codex, and now suddenly you have this explosion of digital formats: different hardware, different marketplaces, different platforms, all driven in part by this crazy for-profit land-grab. It took four centuries for civilization to transition from the scroll to the codex, so I think it'll be a while before things stabilize, and when they do they'll stabilize in a more complex configuration than we had before.
But you know what? When the dust settles, I think the paper book will still be the emperor of it all. Not for sentimental reasons — though I'm plenty sentimental about books — but because it's superior technology. It's the platform for which novels evolved, and books are still the hardware they run best on.