Research and Innovation
New Nanomedicine Improves Stem Cell Therapy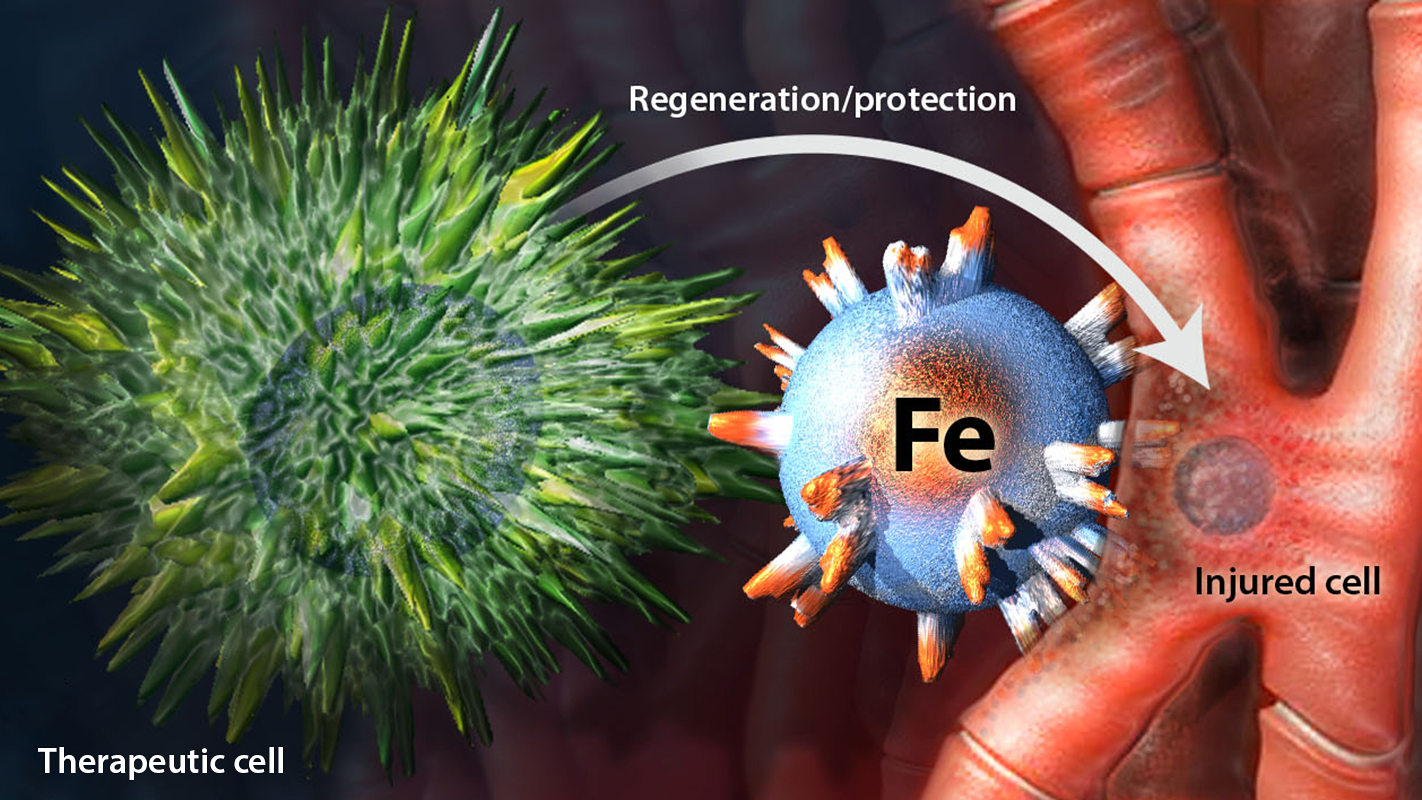 A targeted nanoparticle created by researchers at North Carolina State University and the Cedars-Sinai Heart Institute may help heart attack patients regenerate healthy heart tissue without using donated or processed stem cells. This new nanomedicine could also alleviate some of the difficulties involved with stem cell therapy, including treatment delays and invasive procedures.
The particle, a "magnetic bi-functional cell engager" called MagBICE, consists of an iron platform with two different antibodies attached. These antibodies have different functions – one locates a patient's own stem cells after a heart attack, and the other grabs injured tissue, allowing MagBICE to act as a matchmaker between injury and repair crew. The iron platform makes MagBICE magnetically active, allowing physicians to direct the particles to the heart with an external magnetic field. The iron platform also enables magnetic resonance imaging (MRI).
Ke Cheng, associate professor of regenerative medicine at NC State, and his colleagues at Cedars-Sinai Heart Institute tested MagBICE in rats and found that the particle was effective in redirecting stem cells in the blood to the injured heart. Additionally, MagBICE was easier and faster to administer than current stem cell therapy products.
"MagBICE optimizes and amplifies the body's own repair process, which means we don't have to worry about patient rejection of donated stem cells, or delay treatment while a patient's stem cells are being processed, purified and prepared," Cheng says. "The drug can be offered to patients immediately after blood vessels to the damaged areas are reopened and can be given intravenously, which isn't possible with stem cell therapy."
The researchers' results appear online in Nature Communications. Co-authors include Taylor Hensley from NC State, Ryan Middleton, Baiming Sun, Weixin Liu, Geoffrey De Couto and Eduardo Marbán from Cedars-Sinai Heart Institute, and Deliang Shen from First Affiliated Hospital of Zhengzhou University, Zhengzhou, China. Cheng worked on the development of MagBICE while at Cedars-Sinai.
-peake-
Note to editors:  An abstract of the paper follows.
"Magnetic antibody-linked nanomatchmakers for therapeutic cell targeting"
DOI: 10.1038/ncomms5880
Authors:  Ke Cheng and Taylor Hensley, North Carolina State University; Eduardo Marbán, Ryan Middleton, Baiming Sun, Weixin Liu and Geoffrey De Couto, Cedars-Sinai Heart Institute; Deliang Shen, First Affiliated Hospital of Zhengzhou University, Zhengzhou, China
Published: Online in Nature Communications
Abstract: Stem cell transplantation is a promising strategy for therapeutic cardiac regeneration, but current therapies are limited by inefficient interaction between potentially beneficial cells (either exogenously transplanted or endogenously recruited) and the injured tissue. Here we apply targeted nanomedicine to achieve in vivo cell-mediated tissue repair, imaging and localized enrichment without cellular transplantation. Iron nanoparticles are conjugated with two types of antibodies (one against antigens on therapeutic cells and the other directed at injured cells) to produce magnetic bifunctional cell engager (MagBICE). The antibodies link the therapeutic cells to the injured cells, whereas the iron core of MagBICE enables physical enrichment and imaging. We treat acute myocardial infarction by targeting exogenous bone marrow-derived stem cells (expressing CD45) or endogenous CD34-positive cells to injured cardiomyocytes (expressing myosin light chain). Targeting can be further enhanced by magnetic attraction, leading to augmented functional benefits. MagBICE represents a generalizable platform technology for regenerative medicine.