Campus Life
Film Brings Cherokee Language to Life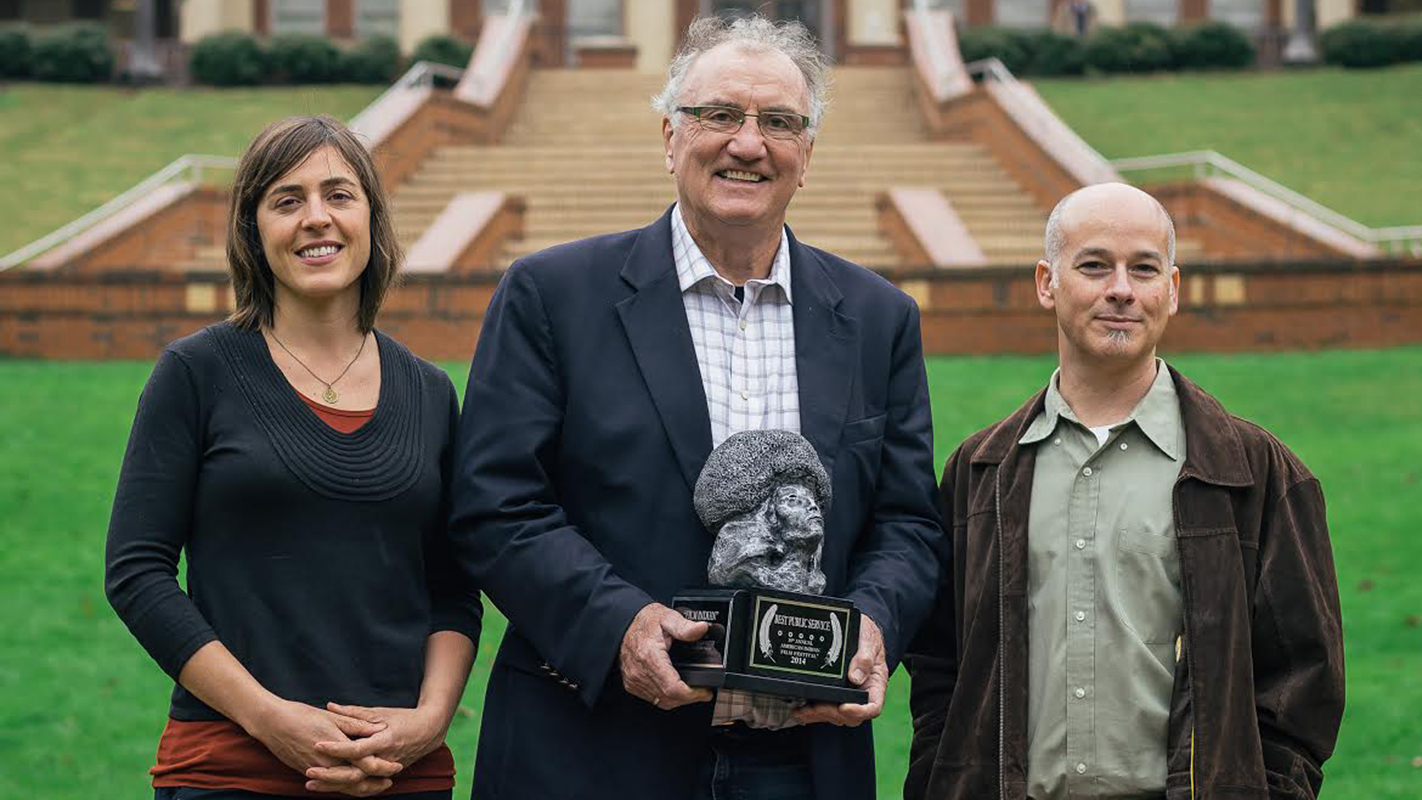 The Cherokee language has been spoken for three millennia in the Appalachian highlands of western North Carolina, but if current trends aren't reversed, Cherokee will soon go extinct. Of the 13,000 members of the Eastern Band of Cherokee Indians, only about 250 people are native Cherokee speakers who grew up speaking Cherokee as their first language in the home — and that number decreases every year as more of them pass away.
The Cherokee tribe is taking steps to preserve their language, but it's an uphill battle. NC State's North Carolina Language and Life Project has produced a film documenting the tribe's efforts and sounding a call to save the language. First Language: The Race to Save Cherokee will premiere at the North Carolina Museum of History on Friday, Nov. 21, at 7 p.m. First Language won the award for Best Public Service Film at the 2014 American Indian Film Festival. The film is available for purchase online.
Walt Wolfram, William C. Friday Distinguished Professor of English at NC State, founded NCLLP in 1992 as the first statewide language research and outreach project in the nation. NCLLP's research — much of which is funded by the National Science Foundation — has focused on topics such as African-American speech, language change in the urban South and American Indian Englishes. Outreach projects have included museum exhibits on Ocracoke Island and in Robeson County, a volunteer-run informational exhibit at the state fair in Raleigh and a number of documentary films, including Mountain Talk, Spanish Voices and now First Language.
Seed of an Idea
The seed of First Language was planted when Wolfram and his chief collaborators on the film, video producers Danica Cullinan and Neal Hutcheson, went to western North Carolina a couple of years ago to do research on the English spoken by Cherokee speakers.
"We asked them what we could do for them in return for helping us with our research, and they asked us if we'd do a small five-minute video piece on their immersion school," Wolfram says. The tribe runs a Cherokee language immersion school where students ranging in age from preschool through fifth grade speak nothing but Cherokee.
"That small five-minute piece naturally evolved into a much longer piece," Wolfram says of the hour-long film. "It takes time to contextualize the endangerment and imminent death of a language, plus the efforts to counteract that danger."
The film documents those efforts, which include summer language camps, cultural education in tribal schools and the language immersion school, among other programs.
Collaboration with Cherokee Community
Wolfram says one of the things that makes First Language special is that the filmmakers brought associate producers on board who are members of the Cherokee nation.
"Our associate producers screened three versions of the film for the Cherokee community, asked the community to give feedback, and brought that input back to us," he says. "And that process had a lot of influence over what we did. For instance, in the first version we didn't have much spoken Cherokee, but they wanted us to put a lot more in, so we did. It was a very collaborative effort."
The sequences of spoken Cherokee are another element that distinguishes First Language from other documentaries about endangered languages or North Carolina culture.
"As far as we know, no film ever made has as much spoken Cherokee in it as this one," Hutcheson says. "And the interviews we did for it probably doubled the amount of recorded Cherokee that has ever existed."
The filmmakers are making those recordings available to the Eastern Band of Cherokee Indians as a cultural legacy to enhance the tribe's overall efforts to preserve their language.
"An important theme of the film is what the Cherokee are at pains to explain to people like us: It's not just a language," Hutcheson explains. "Cherokee also expresses a worldview and a culture and a way of life. If you lose the language, you lose those things too."