Campus Life
Lab Grades Green Building Potential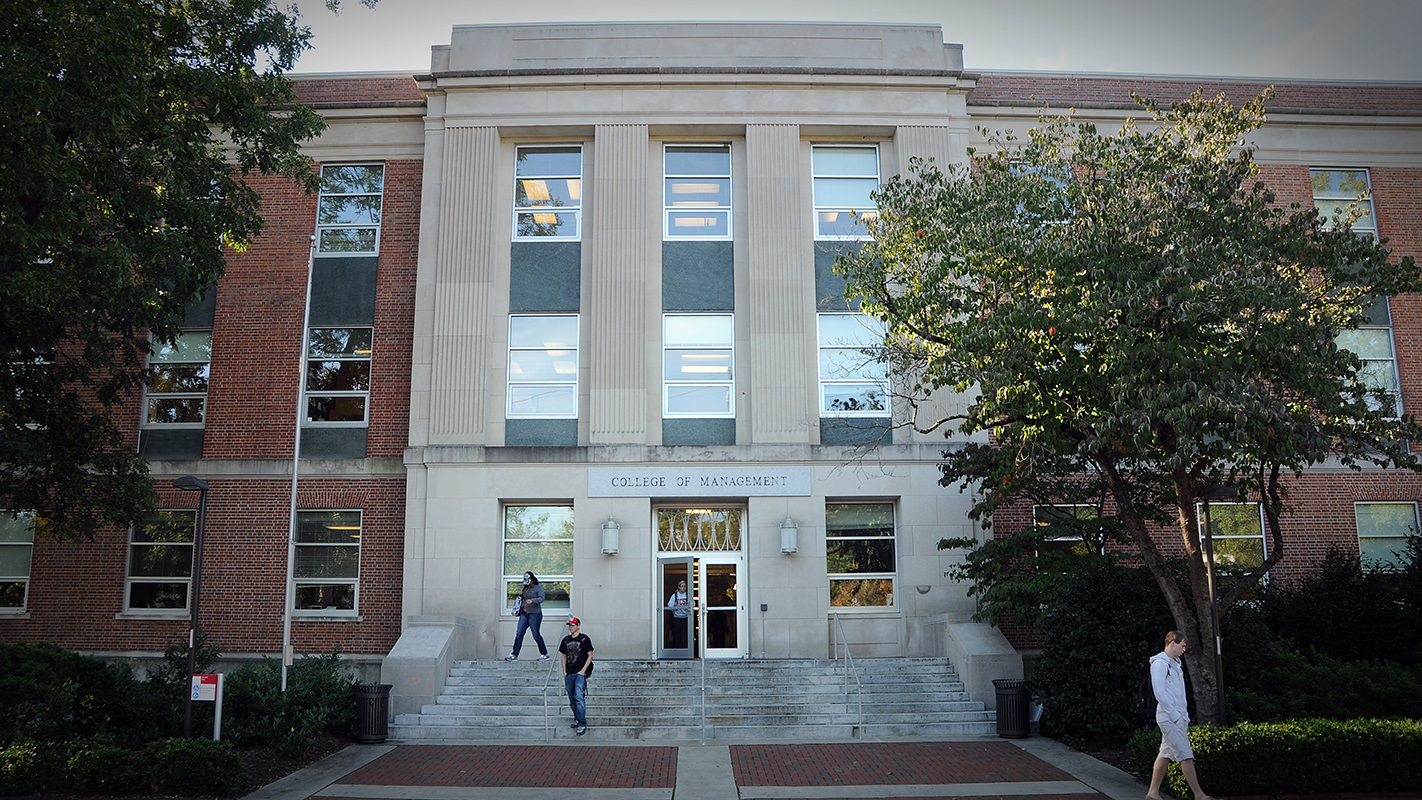 Sure, you could learn about sustainable buildings in a textbook. Or you could learn while doing and improve your college campus at the same time.
This past fall, 25 NC State undergraduate and graduate students participated in a new interdisciplinary course that provides real-world experience in upgrading campus facilities for utility savings and long-term sustainability.
Nelson Hall became a living lab for sustainability education as students evaluated the building's operations, maintenance and potential to earn LEED (Leadership in Energy and Environmental Design) certification from the U.S. Green Building Council.
"The class really embodied NC State's [Think and Do] mantra. It was very hands-on. It was nice to see our work going toward something real and tangible," said architecture student Kevin Diamond. "We were actually making a difference."
As part of the semester-long LEED Lab course offered by the College of Design, students conducted surveys with building occupants, evaluated the building's landscaping, calculated the percentage of daylight available inside the building, developed cost estimates for the 148,360 square-foot building to be powered by renewable energy, and performed a waste audit, which revealed that 77 percent of the building's waste is recyclable or compostable.
"This experiential learning course was designed to boost student skills, experience and career marketability while fulfilling the university's commitment to sustainability," said Traci Rose Rider, a course co-instructor and  the coordinator of the Design Initiative for Sustainability and Health in the College of Design.
To earn LEED certification, a building must earn a specific number of credits for various aspects of sustainable design and operations. As students in the course learned about available credits, they evaluated whether Nelson Hall had the potential to qualify for the credit.
"We were tasked with researching the credits, coming up with action plans, and coordinating with professionals to solve problems we faced," said environmental technology and management student Jacob Seyle. "The ability to work with students from varying disciplines, apply critical thinking skills and engage in a professional project that improves our university was very rewarding. [This] has been my favorite course at NC State."
While several other universities offer a similar course, NC State's was the nation's first to implement an interdisciplinary approach with students from the College of Design, College of Engineering and the College of Natural Resources.
"The interdisciplinary nature of this class got me out of my comfort zone and allowed me to understand how to work effectively with people of differing expertise, [which] will serve me well in my career," said environmental technology and management student Riley Harwood.
Another career bonus: students in the class earned the project experience required to take the LEED AP exam, a professional certification in green building.
The occupants of Nelson Hall also benefited from the course, which prompted NC State's Facilities division to install LED lighting, occupancy lighting sensors, water-saving dual flush toilets and a real-time energy use electronic dashboard donated by Schneider Electric.
Built in 1938, Nelson Hall is home to the Poole College of Management and was selected as the course's focus building in part because of the college's growing Sustainability Initiative.
"The LEED Lab course helped us drive progress in three of our primary goals for the initiative: to support the development of courses that integrate sustainability topics, to create experiential learning opportunities that provide students with real world project opportunities, and to support the university's sustainability goals when it comes to our operations," said Jessica Thomas, who directs the initiative.
After receiving the students' final report — that one-third of the points required for LEED certification have already been met — Poole College leadership, in collaboration with Facilities, will evaluate the feasibility of renovations that would enhance the efficiency and sustainability of Nelson Hall.
"Beyond identifying the potential for national sustainability certification, the students in this course started a conversation about best practices in sustainable building maintenance and operations on campus. They made a big impact," said Liz Bowen, a course co-instructor and program coordinator in the University Sustainability Office. "They made a big impact."