Service and Community
Our Three Winners Fund Announced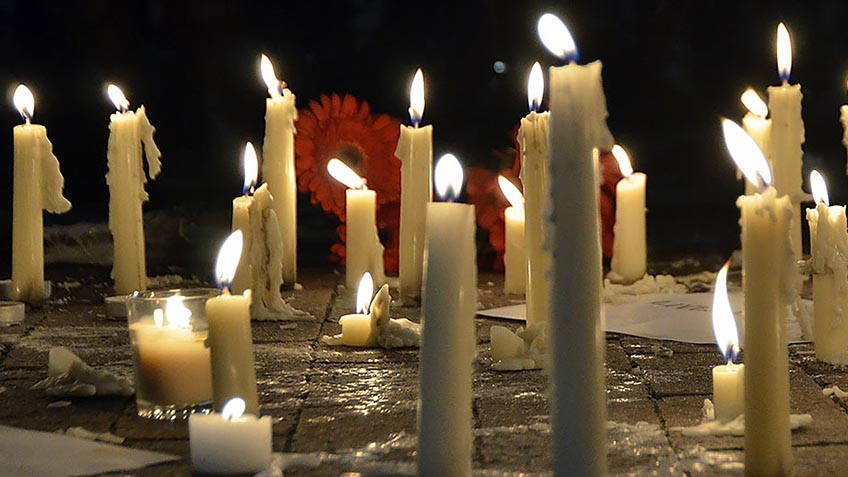 An outpouring of support has flowed into Raleigh from all over the world since the promising lives of three exceptional members of the Wolfpack family were cut short last week.
To honor the example set by married alumni Deah Barakat and Yusor Abu-Salha and sophomore architecture student Razan Abu-Salha, NC State is creating an endowed scholarship fund in their memories.
Support the Our Three Winners Fund
Gifts to the fund endowment will honor Deah Barakat, Yusor Abu-Salha and Razan Abu-Salha by enabling future NC State students to carry their legacies forward.
Chancellor Randy Woodson announced Friday that the endowment, called the Our Three Winners Fund, will award scholarships in the three students' names through the Poole College of Management, the College of Sciences and the College of Design, in perpetuity. NC State will seed the endowment with initial funds and additional contributions can be made online. The scholarships will be awarded to students distinguished for their leadership, service and creativity — traits that defined the three lost members of the university community.
"Deah, Yusor and Razan exemplified the best of NC State and will forever serve as role models for our student body," Woodson said. "Each was not only an outstanding student, but individually and as a family they lived their lives bringing joy to others, helping those in need and making the world a better place."
The endowment fund was announced at a news conference Friday at the Park Alumni Center by Woodson and members of the families affected by the shooting that garnered worldwide coverage.
"This is our first blessing, our first moment of happiness after the tragedy," said Mohammad Abu-Salha, father of Razan and Yusor.
Three Bright Lights
Tributes streamed in from across the nation and around the world, but words and remembrances from local friends and family of the three Raleigh natives who attended hometown high schools and their hometown university provided comfort to the families.
Deah, a graduate of Broughton High School, earned a degree in business management from the Poole College of Management before enrolling at UNC-Chapel Hill's School of Dentistry. Sisters Yusor and Razan graduated from Athens Drive High School and enrolled at NC State. Yusor graduated in December with a degree in biological sciences from the College of Sciences and was set to join her husband at UNC's dental school in the fall. Razan was a sophomore majoring in the College of Design's architecture program.
In prayer vigils in Chapel Hill and Raleigh and on the "Our Three Winners" Facebook page started by Deah's brother and fellow NC State graduate Farris Barakat, friends and family remembered the three bright lights from the NC State community for their dedication to service and their promotion of peace through Muslim and interfaith worship communities. Many stories, testimonies and videos have made it clear that Deah, Yusor and Razan lived their lives dedicated to helping others in need and bringing joy to everyone around them.
"Deah, Yusor and Razan made a tremendous difference in our community and across the globe in their short time on this earth," Woodson said. "We hope to always remember and honor their lives through the Our Three Winners Fund.
"We also intend this scholarship to be a forever reminder that NC State must always hold as a core value a respect for diversity in all its forms and strive to maintain an environment where everyone feels safe, respected and valued."
A Legacy of Service
The reach of the three students' shortened lives was both local and global, through their work with Habitat for Humanity of Wake County's Interfaith Build, their work with the homeless of Durham and Deah's planned service trip to Turkey this summer to provide free dental services to Syrian refugees.
They even captured the attention of one of basketball's biggest stars, Golden State Warriors guard and Davidson alum Steph Curry, Deah's favorite basketball player. At last weekend's NBA All-Star Game and in his winning performance during the Three-Point Shooting Contest, Curry wrote on his shoes #CurryFORDEAH and #RIPDEAH.
"Once I got to know his story and who he was, it seemed right to honor him and his family, to let them know we are thinking about him and give them some kind of peace and comfort," Curry said. "I wanted to use this platform to share their story."
Although the families of the three outstanding young people are seeking justice for their deaths, more than anything they want people to remember the three for the good they did, not the hate that ended their lives. NC State's Our Three Winners Fund is intended to find future students who will continue the good that Deah, Yusor and Razan were committed to doing.
"The message that we want to share is spread love, spread awareness, because these three people were nothing but love and kindness," said Deah's older sister, Suzanne Barakat, a San Francisco physician. "I'm sure they would want you to continue that for them."
Razan Abu-Salha, sophomore, College of Design
"In the spirit of celebrating a life and a legacy, she will leave with us that gentle spirit and the determination to make this a better place for everyone. There is no better legacy than that. It's that legacy that will help us be more creative and more determined."
— Marvin Malecha, dean of the College of Design
Deah Barakat, NC State alumnus; student at UNC-Chapel Hill School of Dentistry
"He wanted to be a beacon of light for people, and he really was. Even death couldn't stop all the good that he was doing."
— Mohammad Moussa, Deah's friend and fellow NC State alumnus
Yusor Abu-Salha, NC State alumnus; admitted to UNC-Chapel Hill School of Dentistry for fall 2015
"I remember when she got engaged, she ran into my office to show me her ring. She'd stop by to talk about an article she read, her wedding plans, her classes. She was quietly intelligent and humble. She was empathic."
— Lisa Parks, associate professor of biological sciences
How to Give
Contributions can be made securely online at go.ncsu.edu/ourthreewinners. Checks made out to Our Three Winners fund may be sent to: Our Three Winners, Campus Box 7474, Raleigh, NC 27695-7474.
For all other inquiries about honoring the lives and legacies of Deah, Yusor and Razan, contact donor relations or call 919-513-8192.