Campus Life
Grad School Celebrates Student Success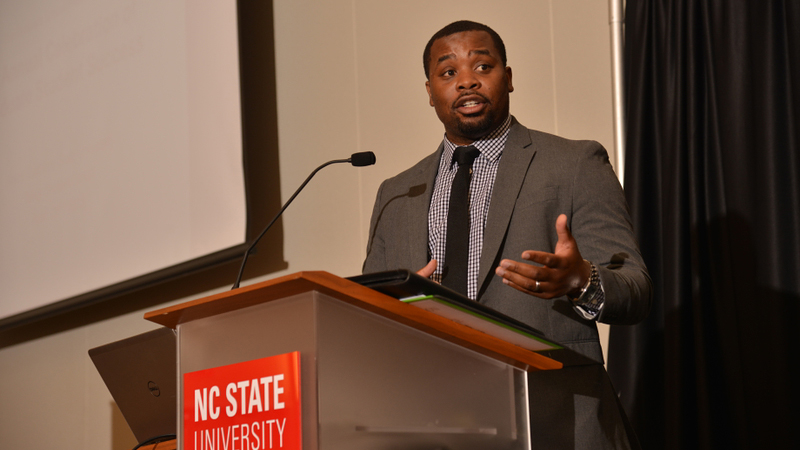 As the school year ended, the Graduate School recognized more than 100 graduate students and postdoctoral scholars who participation in the Preparing Future Leaders professional development programs and the Thesis and Dissertation Support Services programs.
The Celebration of Graduate Student Success honored participants who completed the Certificate of Accomplishment in Teaching program, the STEM & Annual Writing Partnership, the Mentoring and Teaching Practicum, the Preparing the Professoriate program and the Dissertation Institutes. More than 100 colleagues, friends, family, faculty and staff members attended an ice cream social to celebrate NC State's commitment to excellence in professional development for graduate students.
Preparing Future Leaders is the Graduate School's inclusive community where emerging innovators learn to excel. PFL's mission is to inspire the life-long leader in all graduate students. The PFL Leadership Team offers evidence-based programs, support and coaching that guide graduate students through the best practices of leadership. This community exemplifies creative engagement, reflective practice and multidisciplinary collaboration. Since 2007, PFL has delivered 727 educational events to more than 16,000 participants.
Thesis and Dissertation Support Services empower graduate students to finish their degrees by helping them understand the process of writing a thesis or dissertation. The TDSS Leadership Team provides workshops, seminars, Dissertation Institutes, an online Dissertation Completion Community and personal coaching, all grounded in principles of scholarly writing. The mission of TDSS is to support students across every discipline of the university with our multi-disciplinary approach to academic writing instruction.
Antonio Bush, a graduate of NC State's College of Education and alumnus of Preparing Future Leaders, served as the keynote speaker for the event. Bush participated in PFL's first Ambassador Program, where he helped promote PFL's story across campus. In his remarks, he shared tips for succeeding in graduate school: Write your own definition of success, create a "power circle" of those who support you, and take care of yourself.
"When I think about success," Bush said. "I realize that it's not about me. It's never about me. It's about what I can do with my triumphs, victories, failures and position that will be of benefit for others either directly or indirectly.
"PFL was definitely a part of my power circle. PFL was a collection of people who I know were, at the time and to this day, still committed to my success."
Provost Warwick Arden congratulated the students and postdocs who participated in the PFL and TDSS programs.
"You are our next generation of leaders in the academy, in industry and in our communities," Arden told the honorees. "Many of you are already shaping the future with your commitment to teaching, research, leadership and service. You are critical to the success of NC State."
Graduate School Dean Maureen Grasso recognized the participants for their commitment to success and their dedication to professional development.
"Graduate students play a vital role in the key missions of NC State: you teach, you research, you mentor and you lead," Grasso said. "The Graduate School provides a variety of programs and resources to support your professional development while you do this essential work."
For the complete story and list of honorees, visit the website: pfl.grad.ncsu.edu/2015/05/join-us-as-we-celebrate-our-awardees
Learn more about the Graduate School's Preparing Future Leaders initiative and Thesis and Dissertation Support Services online.