Faculty and Staff
Real-World Entrepreneurs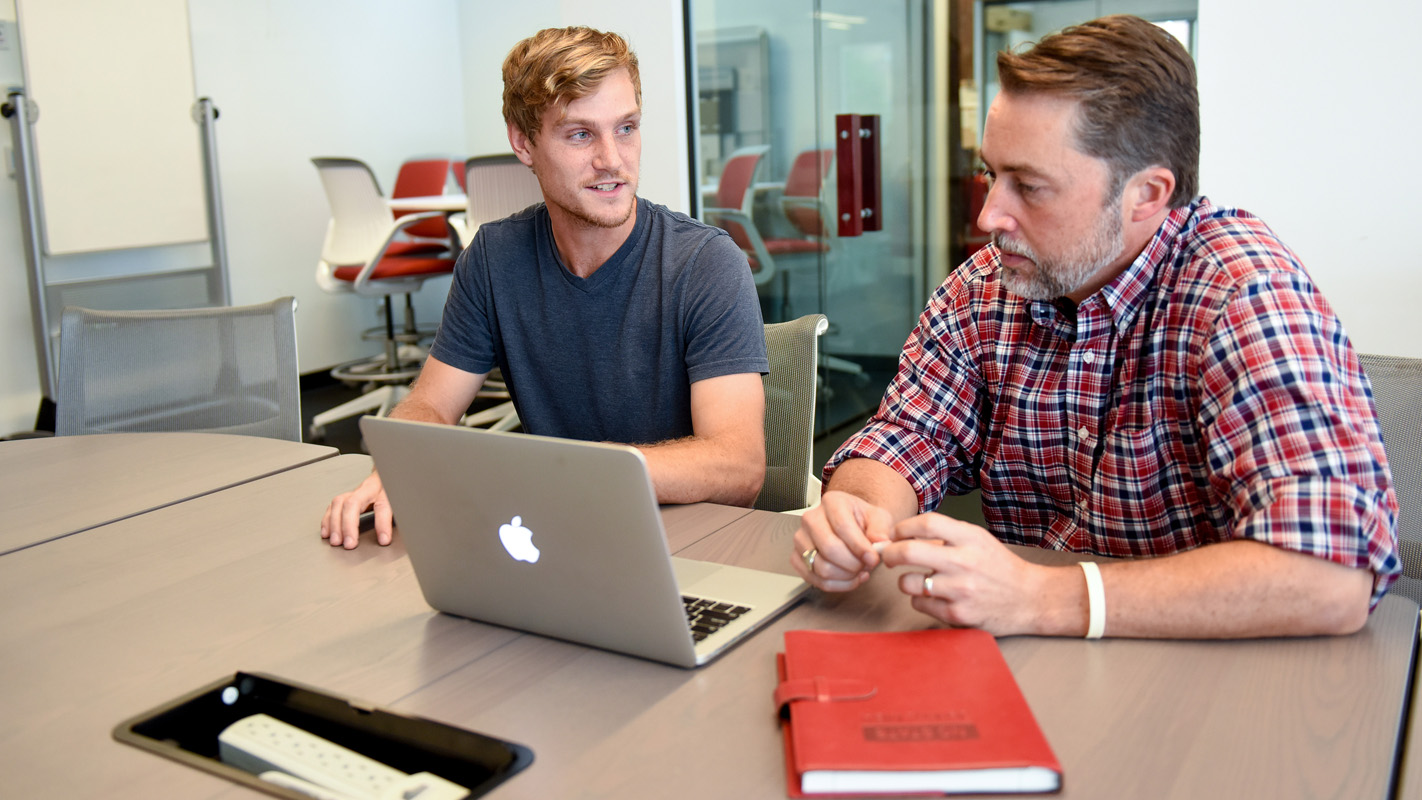 In a light-filled renovated loft in downtown Raleigh's trendy warehouse district, entrepreneurs of every stripe — software developers, educators, marketers and more — rub shoulders with business coaches and technology consultants who can help them bring their ideas to life. And thanks to the Poole College of Management's Entrepreneurship Clinic, some of those entrepreneurs are NC State undergraduates receiving an unparalleled experiential education in what it takes to launch a successful startup.
"The Entrepreneurship Clinic operates on the same model as a teaching hospital, but instead of putting the student next to a doctor or nurse, we're putting them next to an entrepreneur," says Lewis Sheats, director of the clinic. "Instead of putting them in an operating room, we're putting them in a real business. That gives them an experiential education, which makes their business ideas a lot stronger. Before we had the clinic, students who took our entrepreneurship classes came up with concepts that were stuck in a college bubble: Let's open a bar on Hillsborough Street, or let's sell textbooks online.
"But when we started putting them in real companies, they started to get real-world concepts."
Sheats approaches the topic of entrepreneurship both as an educator and as an entrepreneur himself. After earning a degree in finance from NC State and an MBA from Campbell University, he started his own company and turned it into a success. That made him a good choice to co-teach a senior-level entrepreneurship class at NC State, which college faculty invited him to do in 2003. Co-teaching went so well that a year later he was asked to teach the class by himself.
"At that time, I was exiting my company, so I said okay," he says. "I fell in love with teaching."
Over the next several years, as Sheats took on more classes, he started revamping the college's entrepreneurship curriculum to make it more experiential.
"I realized we needed much more of an experiential component because I kept seeing the same three problems for our entrepreneurship students who wanted to start their own businesses," he says. "They didn't have strong concepts to launch. Their networks weren't well developed. And they had no money.
"We were putting them in a position where they needed to go out and develop all three of those resources before they could launch. It's not necessarily our goal for all of our students to launch a business, but for those who intend to do that, we want them to be well-prepared. The rest of our entrepreneurship students need to be great team members to support a launch."
A Clinical Model
Sheats' clinical model of entrepreneurship education started to take shape in 2008, when he developed a class called Managing the Growth Venture. Students in the class worked on real business projects that real companies brought to them.
"We had good success in that class, both for the students and for the companies," he says. "We were adding real value to the companies, and at the same time we were giving the students real practical experience, not just theoretical knowledge. Plus we were helping them build their networks before they graduated."
Soon Sheats became leader of the undergraduate entrepreneurship program and began laying plans for an off-campus clinic that would allow students to work directly with entrepreneurial businesses in a professional setting. Those plans came to fruition in January 2015 with the launch of the Entrepreneurship Clinic, which is located in HQ Raleigh, an office facility that offers co-working space, office suites, meeting rooms, community events for entrepreneurs and short, flexible leases, to meet the fast-changing needs of entrepreneurs and startups.
"HQ Raleigh has 27 offices and 200-plus members, so we're embedded in the entrepreneurial community just by being here," Sheats says. "You can invite entrepreneurs to campus, but after they're done giving their talk and answering questions, they leave. But when students are here in the clinic, they're in contact with entrepreneurs constantly. It's neat being in the common area and watching students strike up conversation with entrepreneurs so naturally over coffee. They're part of this community. And that means their network can grow on its own, which leads to an internship or business funding or a job."
Companies that need help with a project can submit an application to the Entrepreneurship Clinic (the application is available online). Applicants that are accepted will be paired with teams of faculty-supervised clinic students who will work on the applicant's project for a semester or a year.
"Not all the applicant companies are accepted," Sheats says. "We want our students to learn about thinking big, so that means we want companies that are high growth and scalable. We also want companies at a certain stage in the life cycle of the venture. In the classroom, we already do a good job of teaching how to get from idea to launch, so for the clinic we want companies between launch and raising money. The clinic is the best way for a student to learn about that phase."
A  Downtown Incubator
Most of the clinic's client companies are members of HQ Raleigh. Others come from American Underground, a similar entrepreneurial office space in Durham, and from NC State's Technology Incubator on Centennial Campus.
One of the clinic's clients is BEE Downtown, a Durham nonprofit founded by NC State alumna Leigh-Kathryn Bonner. The firm's mission is to combat colony collapse disorder — a malady that has honeybee populations on the decline worldwide, with potentially disastrous implications for the crops that depend on these pollinators — by getting businesses to install beehives on their rooftops. A team of clinic students is helping BEE Downtown develop more effective ways to reach potential clients.
Another client company, FilterEasy, runs a subscription service for residential air filters. FilterEasy approached the clinic to get engineering students to work with business students to develop specialized sizes of air filters for a wider range of customers.
59 Projects Completed
Since the Entrepreneurship Clinic launched in January, students have worked more than 2,400 hours on projects for more than 90 companies, and they've completed a total of 59 projects. The clinic is currently working on 42 more projects, with an additional 14 on a wait list.
The majority of the clinic's students are working there as part of their coursework in senior-level entrepreneurship classes in the Poole College of Management. Others are working under the auspices of the Engineering Entrepreneurs Program in the College of Engineering, and still others volunteer their time so they can learn from the experience and build their network.
If history is any guide, time spent in the clinic is time well-spent, Sheats says. "Of the 12 students who worked here through their MIE 419 course in spring 2015, six of them graduated, and three of those graduates got hired, either by the company whose project they worked on or by a direct connection to the clinic," he notes.
For instance, the clinic was working with a company named Practichem that was trying to develop a sales model similar to the one used by the car company Tesla. A student working on the Practichem project went to Tesla and interviewed someone there about their sales model. After she graduated, Tesla hired her.
And the other three spring 2015 graduates?
"They didn't even look for jobs because they all launched their own companies instead," Sheats says.
David Lee Kincheloe, a senior business administration major in the Poole College of Management, has been working in the clinic since it opened in January.
"It's great to work clinic hours at HQ Raleigh because you can be around the network and all the different entrepreneurial minds," he says. "That experience gives you better perspective and useful ideas to help you launch your startup."
At the beginning of the year, Kincheloe and a partner came up with an idea for a tennis instruction company; aided by what they learned in the clinic, they were able to get New Era Tennis up and running within a single semester.
"This is a great program," he says.
A Year of Success
After a little less than a year, the Entrepreneurship Clinic is off to a strong start. When asked what the future holds for the clinic, Sheats emphasizes the value of having a diverse variety of students involved with the program.
"We've already established connections with the College of Engineering, and ultimately I want this clinic to be open to any student on campus, from any major, who has a driving interest in entrepreneurship," he says. "It's a personal goal of mine to knock down the walls between disciplines. That's one of the strengths of being part of NC State: Because of the range of fields represented here, we can build teams that other universities can't."
Sheats has also been working with St. Augustine's University in Raleigh to get some of their students involved in the clinic. "We want them to have access to these resources, and at the same time we want our students to work with a diverse set of team members," he says.
The clinic is also building a mentoring network to help create a stronger network for students. "We're throwing away the old model of a professor assigning you a mentor and saying 'good luck,'" Sheats explains. "Mentoring is usually a linear value from mentor to student, but we're trying to make it reciprocal, and also more of an amoeba shape that's built completely around social events. Our first mentoring event was a happy hour for people to just mingle and meet. The next one will be a coffee social combined with a 'speed-dating' format. In the first half of the event, students will move from table to table to meet people. The second half is people mingling, so they can talk to someone longer if they want."
Reach the Entrepreneurship Clinic at theeclinic@ncsu.edu. Students and companies who are interested in the clinic can find more information online.