Campus Life
From Campus Life to Mountain Time
It's the last day of May at NC State, and the sun seems to pause in the sky as it warms the red brick courtyard in front of Pullen Hall. It's also the last official day on campus for longtime administrators Tim and Deb Luckadoo. They arrive at the building simultaneously, one through the front door, the other through the back, smiling and waving to each other down a long hallway.
That's an apt metaphor for their professional lives. Since they met and married more than 30 years ago at the University of Georgia, the Luckadoos have pursued separate careers in higher education while maintaining an inseparable bond, strengthened by their commitment to helping students succeed.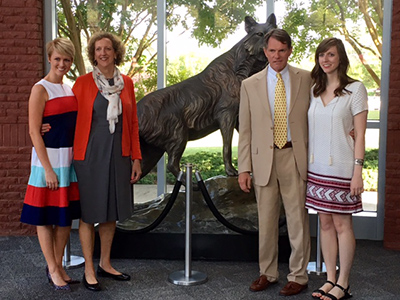 They've approached that work from different angles since they arrived at NC State in the fall of 1992. Tim has served as vice provost for campus life, while Deb has been director of campus activities and, more recently, director of staff diversity. Now, at the end of careers spanning four decades, the couple is making plans for retirement.
"We worked 40 years; now we're going to play 40 years," Deb says as she joins her husband at a conference table in his office.
Tim sketches out a few of the details, including their plans to fix up a cabin they own in western North Carolina. It's a simple, rustic getaway situated in a place called — believe it or not — Luckadoo Mountain.
"It's where my dad's family settled in 1787," he explains.
An Enduring Legacy
The Luckadoo legacy at NC State doesn't include naming rights, but it may prove to be just as enduring. Together, they've led and supported numerous efforts to enhance the campus community — academically, socially and physically.
Tim spearheaded a doctoral support group that has helped 49 students complete their Ph.D.s, worked to modernize student housing and renovate Greek Village, served on the committee that developed Wolf Plaza and helped launch the Learning and Living Village program.
"When I arrived on campus, only three residence halls were air-conditioned, and none had sprinkler systems," he says. "Today, 100 percent are air-conditioned and 100 percent have sprinklers."
He notes that the renovation of Greek Village is fueled by an investment of more than $100 million, much of it private funding.
"Student housing is night and day compared to 20 years ago," he says.
Advocating Diversity
For her part, Deb was one of the driving forces behind the creation of the GLBT Center in 2008, helping educate university officials about the unwelcoming climate for gay, lesbian, bisexual and trans students at NC State at the time.
At a campus forum to discuss the initiative in 2007, she recalls, a counselor told the audience that LGBT youth have a higher rate of suicide than other youth. At that moment, students opposing the center broke into applause.
"That was a turning point," she says. After that, university officials discussed "when" the center would open, not "if" it would.
At the helm of campus activities for 14 years, Deb helped launch Wolfpack Welcome Week and the Common Reading Program, and she led efforts to enhance parent and family services.
As director of staff diversity for the past five years, she has been an uncompromising advocate for diversity and inclusion among faculty and staff.
"We don't have many faculty of color, and even fewer tenured faculty of color, and that number gets smaller and smaller the higher up you go," she says. "Diversity in our staff is concentrated at lower levels among service workers and administrative support workers. We as a university need to continue working on diversity at all levels — faculty, staff and students."
It's a big task, she acknowledges, and just one among many challenges facing NC State and other institutions of higher education.
"It's not like the work is ever done," she says. "You can't clear your desk at the end of the day. That's just not going to happen."
She pauses, remembering that it's the last day of May.
"This is the exception," she says, smiling. "The last day of your last job."