Campus Life
Gridders Get a Grypper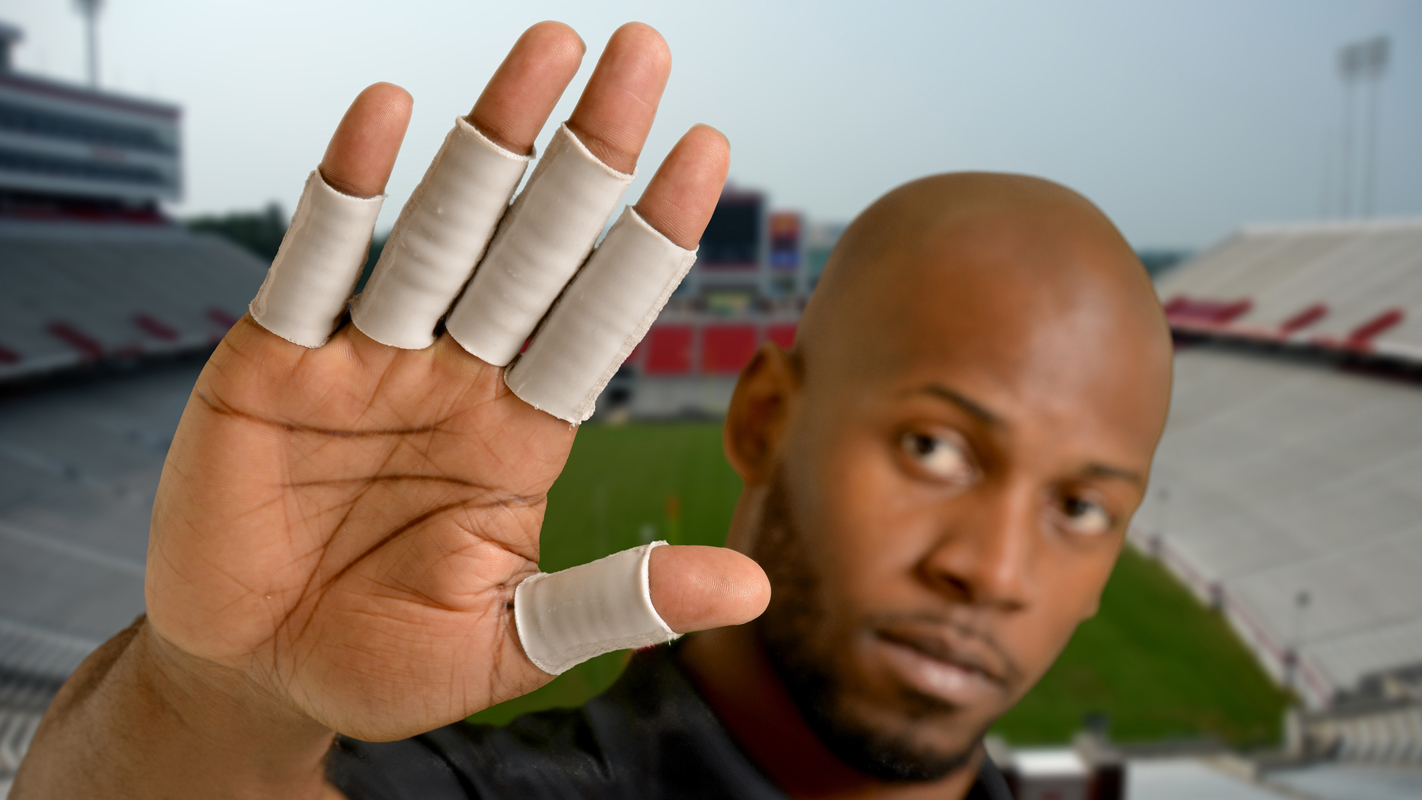 As senior design project locations go, standing on the sidelines of Carter-Finley Stadium during the Kay Yow Spring Football Game was about as good as it gets for three College of Textiles seniors.
What made the April 9 game even more special for Shannon Tart, Desirae Scruggs and Jamie McLean was seeing former and current Wolfpack players wearing Gryppers, a set of 10 finger sleeves that are the brainchild of former NC State football players Jamelle Eugene and DaJuan Morgan.
The two players have been working on the product—designed to be replacements for annoying full-handed gloves and one-use athletics tape—for a couple of years now, but the result of their initial manufacturing process was not what they were looking for. So they partnered with the College of Textiles' senior design program—the capstone project for textile engineering and textile technology majors, under the  direction of Russell Gorga and Jess Jur—to find new solutions.
This year, there were 21 design projects, many of which were sponsored by well-known national companies and institutions, such as athletics apparel-maker Under Armour, NASA, Hanesbrands and Firestone. Each group competed in a year-long competition on their projects, with the six winners announced at the end of the spring semester.
Gryppers, however, is a small, locally owned company that needed help immediately.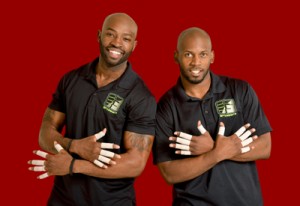 That's where Tart, Scruggs and McLean came in. The three students spent the entire 2015-16 academic year researching new materials, new manufacturing processes and other ways to improve on the original product's shortcomings, with the hope that those improvements will let Eugene and Morgan take the new version of Gryppers to market this summer.
The students used a knitting machine to create a seamless tube made of multiple performance materials, considered some 96 different yarn patterns (with 20 different prototypes), slathered on gallons of silicones and other tacky compounds to create unique grip pads for each individual sleeve and came up with several supply-chain strategies to take to Eugene and Morgan.
They had their final prototype ready on April 26, and the football entrepreneurs couldn't have been happier with the results.
"What we've created [in Gryppers] is a multi-sport product that allows users to optimize grip and tangibility unlike any other product on the market," Eugene says. "Our patented compression technology stabilizes finger ligaments, offering better support and overall control. The whole concept is to be a bridge between what gloves are for gripping, but with the protection and freedom of movement of taping.
"It also protects against cuts, abrasions and blisters."
Eugene, whose sports management degree included a concentration in entrepreneurship, came up with the idea for innovative sleeves while on a flight to California. Knees squashed under a tray table, he sketched out some ideas on a napkin. He took them to Morgan, his former roommate who was finishing his three seasons in the NFL, and HQ, the downtown Raleigh entrepreneurial hub that helps new companies get off the ground.
"I fell in love with it as soon as I saw it," Morgan says.
The two friends figured they could leverage their knowledge of athletics into creating a product that would be more convenient and more cost effective for all tactile sports. Both moved to Raleigh and worked closely all year with the three students on multiple versions of their idea.
The new and improved idea is catching on. After graduating in May, Tart and Scruggs continue to work for Gryppers. In early June, the company received a $50,000 grant from the NC Idea Foundation to help take the product to market.
Eugene and Morgan hope to hit the wholesale market this summer and see their dream-come-true idea on the field this fall.
They won't be selling just to football teams, however. Gryppers can be used in any sport where digital dexterity and manipulation are needed to replace smelly, sweat-soaked gloves or time-consuming tape.
"The idea behind Gryppers is to have something that is breathable and compressible," Morgan says. "They give protection and they don't restrict the range of motion. We've put a lot of thought into the product, based on our years of experience as players."