The Abstract
This Is What Science Looks Like at NC State: Scott Vu
Editor's Note: This post was written by Scott Vu, an alumnus of NC State's College of Engineering several times over. The post is an entry in an ongoing series that we hope will highlight the diversity of researchers in science, technology, engineering and mathematics.
Protein.  What comes to your mind when you think of the word?  A juicy steak?  A shake after your workout?  The chains of amino acids that compose almost everything around you?
My name is Scott Vu, and I graduated from NC State with a Ph.D. in Biomedical Engineering. I also received triple Bachelor of Science degrees in Computer Science, Electrical Engineering and Computer Engineering from NC State.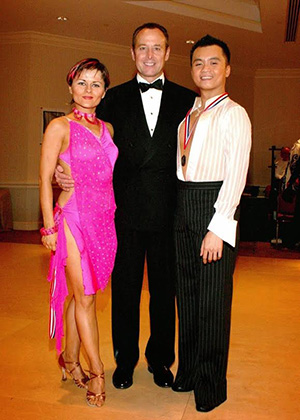 I am also the co-founder and CEO of RiboWiz Scientific, an NC State spin-out company working to simulate and modulate protein synthesis to maximize protein production for different biotechnology industries. Or to put it simply: RiboWiz helps biotechnology companies operate more efficiently, saving them time and money. Our mission is to help clients successfully produce high-value, difficult-to-make recombinant proteins, e.g. biologics, vaccines, antibodies, enzymes, pesticides, for the treatments of cancer, AIDS, diabetes and other diseases and also for the advancement of agriculture and biotechnology. [Note: you can read more about Vu, and how his research led to the creation of RiboWiz, here.]
But I have learned so much from NC State beyond its impressive engineering and entrepreneurship program.  When I was a teenager, new to NC State, my Computer Science professor, Tiffany Barnes, prodded me into NC State's ballroom dance club: Dancing with Wolves. Inspired by world championship dancers and coaches, I trained while I studied, learning from world-class dancers, reaching the highest levels of competitions, and winning many awards at the National level. As for the dances, I focused on Latin dance: samba, cha cha, rumba, paso doble and jive; gaining experience in teaching and judging competitions in addition to my focus on the competitive aspect of ballroom dancing known as DanceSport.
DanceSport helped me to: develop creativity, social skills and the ability to think on the spot – an aspect vital to succeed in entrepreneurship; competitor-analysis skills in reading my opponents on the floor – helping me to assess the market as RiboWiz enters the business world; and networking expertise in finding high-level competitors and coaches to help me grow as a dancer – assisting me in reaching out to the entrepreneurship community to find mentors and also reaching out to industry giants to find connections and customers.
NC State University fosters and gives opportunities to students to be well rounded individuals in every field – from technical to social to entrepreneurship!  I encourage you to take chances, go to that club that you are eyeing, make the best of your years here, and even try ballroom dancing!
The Dancing with Wolves club offers ballroom dancing lessons for beginners. Visit their website at dwwballroom.com.