Spotlight on College of Textiles Dean David Hinks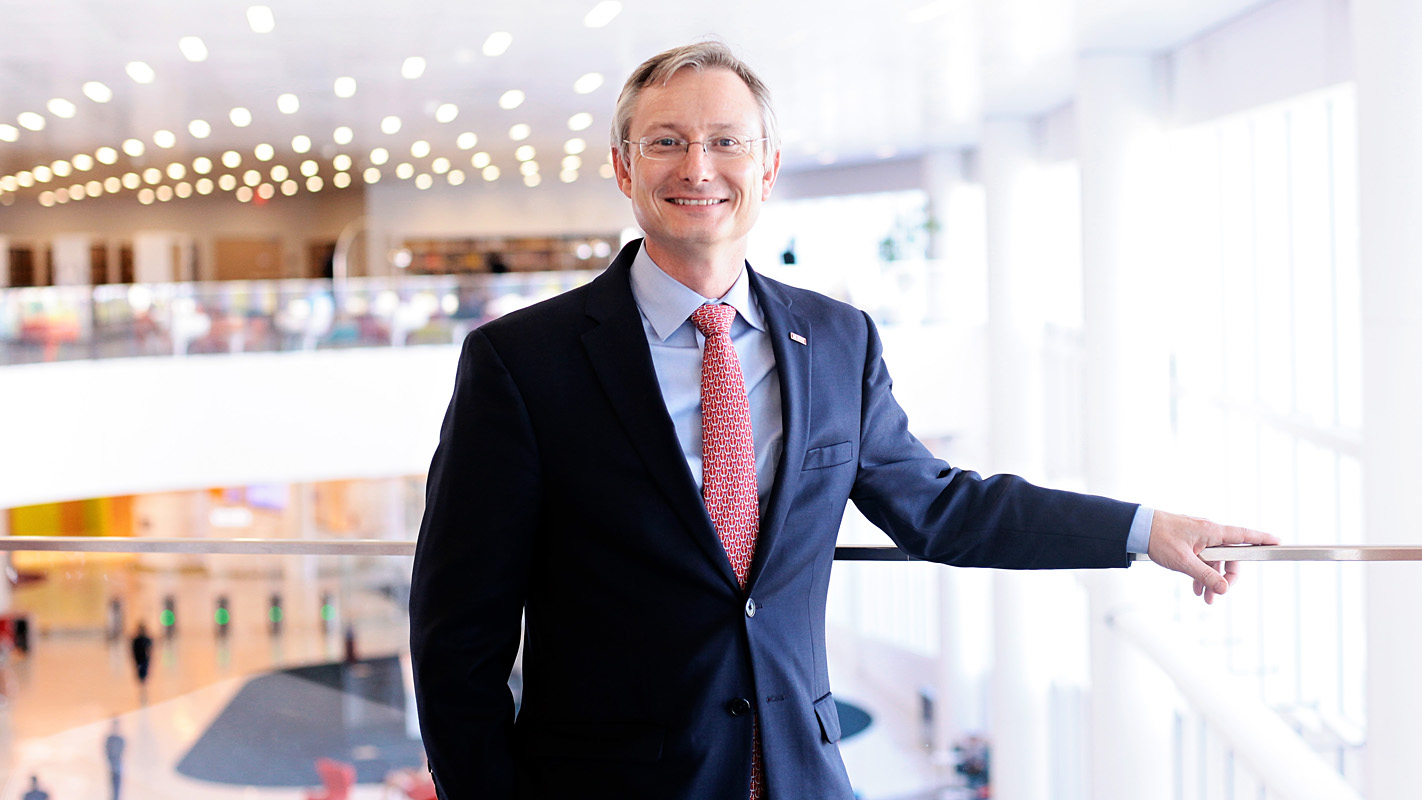 David Hinks became dean of the NC State College of Textiles in January 2016 after serving as its interim leader since July 2014. During his time as dean, he has helped establish a clear vision and strategic goals for the college. We recently spoke with Hinks about the college's strategic progress and what he's looking forward to this year.
What lessons from your first year as dean will inform your decision-making and engagement with faculty, staff and students in the coming year?
There are two key lessons I have learned serving as dean of the College of Textiles, the recognized world's leading institution in textile education, discovery, innovation and service:
1) Seek out and listen to mentors.
No matter who we are or what responsibilities we carry, we all can benefit from experienced, compassionate, thoughtful and ethical mentors who can help us see the big picture, provide objective support and give us confidence in our actions.
2) Be open to change and challenge the status quo.  
Both higher education and the textiles industry are entering a period of converging disruption; this disruption brings both challenges and unique opportunities from which we can reap major rewards if we align a strategic vision with a bold and creative "Think and Do" approach. By listening to our stakeholders and mentors, we can make informed choices to build a strong future for our students, staff, faculty and the citizens of the great state of North Carolina.
What success(es) are you most proud of from your first year as dean?
For any forward-leaning higher education institution to be successful, it must make a sincere commitment to create a welcoming, open and diverse community that is committed to equity and excellence.
The college leadership team and I are pleased to have been able to strengthen both our quality and diversity and are committed to continuing on this path.
Recently, we've established approximately average equity in salary between female and male faculty members at all ranks. Also, both of our academic departments have become more diverse and the ratio of female to male faculty members has increased. I also take pride in the many ways our faculty and staff support a resurgent textiles industry as evidenced by research and technical service contracts of more than $14 million; a record number of enrolled graduate students; and an historic number of companies attending our annual career fair.
How do you plan to build on the success of last year?
​In the past year we completed a major revision to our college's strategic plan that defines new investments in programs, staff, faculty and infrastructure. This year, we are implementing that plan to bring unprecedented philanthropic, corporate and government support to our creative students, renowned faculty and our remarkably dedicated staff. We intend to be a leader in an the upcoming capital campaign to support key education, research and service initiatives including expansion of service learning programs and enriching experiences​ here and abroad.
We will continue to grow our faculty and have established exciting new staff positions that will advance our educational and research missions. For the first time, we have a dedicated instructional developer to help maximize our faculty's impact and effectiveness in on-campus and online education programs. We have also invested in a college research proposal developer to help faculty and staff win grants that in turn will support our students. We also plan to hire an individual to oversee development of a new Student Life Center, an initiative to provide enhanced leadership and personal and professional development opportunities to our students. ​
What is your role in creating a dynamic and high-achieving college?
My role as dean is to provide a clear vision and direction and ​an expectation for meaningful collaboration and excellence. I also believe it is my responsibility to empower our ​faculty, staff and students by providing adequate resources and infrastructure. This is achieved by ​engaging​ our supporting partners in providing opportunities and resources to our talented students, faculty and staff.
​As dean, how do you support faculty and students in their academic careers?
​As dean, I take very seriously the need to listen to faculty, staff and students' ideas, needs and concerns, as well as those of our industry stakeholders. I then work continuously to provide resources and opportunities to both our current and future talent in ways that align with a bold strategic vision. ​I also recognize the need to be adaptable in our rapidly changing society and environment.
Learn more about how Dean Hinks and the College of Textiles provide a science-based education that develops new leaders, supports industry and advances textiles research.