To the Stars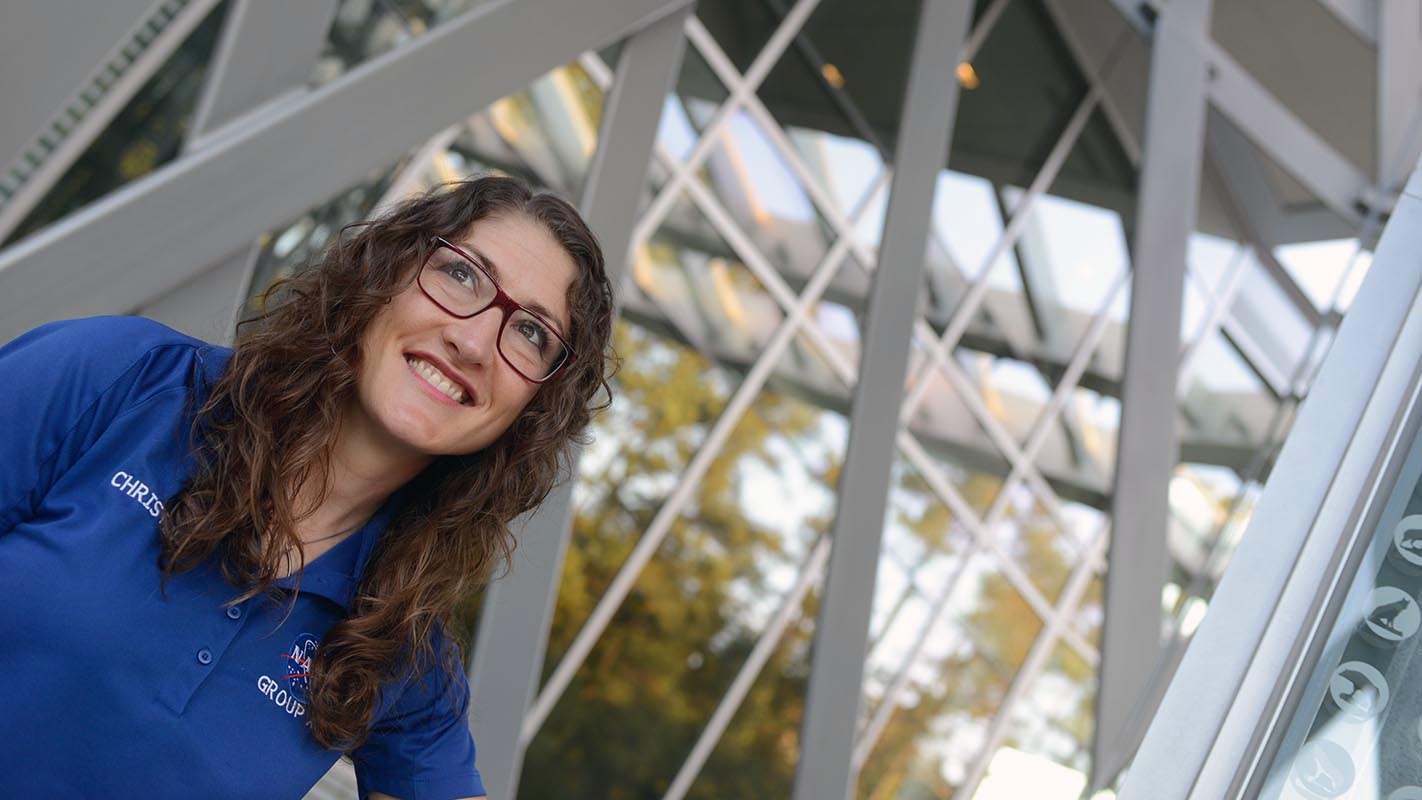 It's an essential astronaut skill: the ability to focus simultaneously on the mundane task at hand — tightening a bolt on the side of a space station, for instance — and its place in the big picture — your mission's aim to advance science and get you back home in one piece.
In the three years since she started NASA's Astronaut Training Candidate Program, alumna Christina Hammock Koch has added a lot of new skills, including speaking Russian and flying a supersonic jet.
But the Jacksonville, N.C., native has always had that crucial ability to focus on the moment without losing sight of the long game.
As a child, Koch dreamed of becoming an astronaut. A summer at Space Camp in Huntsville, Ala., reshaped her plan to get there. During an appearance at Talley Student Union this past winter, Koch recalled being shown a checklist of essential skills and experiences for a future astronaut.
"I thought that living your life according to a checklist wouldn't be worthy of someone who could have the responsibility to actually become an astronaut," she says. "So I decided then and there to live my life according to my interests and passions. Down the road, if I looked at the experiences that I had gathered, and I thought that I really could contribute to the human spaceflight program as an astronaut, I would apply."
That philosophy led her to NC State and a diverse set of experiences. Some, like double-majoring in physics and electrical engineering or interning for a summer at NASA, checked the traditional boxes for future astronauts.
Others, like being a staff photographer for the student newspaper or volunteering with social justice organizations, strayed outside those boxes.
Through them all, Koch focused on the moment in front of her but kept a future in space travel in mind.
Encouragement from mentors like Stephen Reynolds and John Blondin, both Alumni Distinguished Undergraduate Professors of Physics, and Cecilia Townsend, director of undergraduate advising in the Department of Electrical and Computer Engineering, kept her on both tracks.
"I told my advisors that I wanted to be an astronaut, and they never discouraged me," she says. "They found opportunities for me that were within the space field and encouraged me to go after it."
One of those opportunities was a summer undergraduate research experience in Blondin's astrophysics lab. That summer of hands-on work opened new doors.
"The fact that I could do something that sounded so foreign to someone from eastern North Carolina was profoundly significant," she said. "It set me off on a trajectory of having self-confidence in new situations."
After earning bachelor's degrees in physics and electrical engineering, as well as a master's in electrical engineering, Koch eschewed the military and pilot school, two traditional routes to the astronaut program. Instead, she spent two years working as an engineer with NASA before joining the United States Antarctic Program in 2004.
That role and one with the National Oceanic and Atmospheric Administration took her to some of most remote places on earth: the South Pole (twice), Greenland, Alaska and American Samoa. Those experiences were apt preparation for the vastness of space.

2yrs ago…@VicGlover and I had our first spacewalk training run. Astronauting just got real. #astronautcandidateTBT pic.twitter.com/iUtpd9oIgi

— Christina H Koch (@Astro_Christina) July 28, 2016
Koch graduated from astronaut training program in 2015. Since then, she's split her time between the present — doing her day job at Johnson Space Center in Houston and touring the country to raise awareness of the space program – and the future —practicing spacewalks and keeping in top physical shape.
It's a long path from eastern North Carolina to outer space. Koch is so close to her destination, but she still may not get there. Not every astronaut makes it into orbit.
Wherever her path leads, Koch has stuck to the choice she made decades ago as a Space Camper.
"The most important thing to me was following the things I was passionate about," she says. "I knew if I was going to get (to space), it was going to be because I excelled at the things I was passionate about."
Koch returns to Raleigh this week to receive the College of Sciences' Distinguished Alumnus Award. She's previously been inducted into the Department of Electrical and Computer Engineering Hall of Fame.