Service and Community
Pack Builds a Block for Raleigh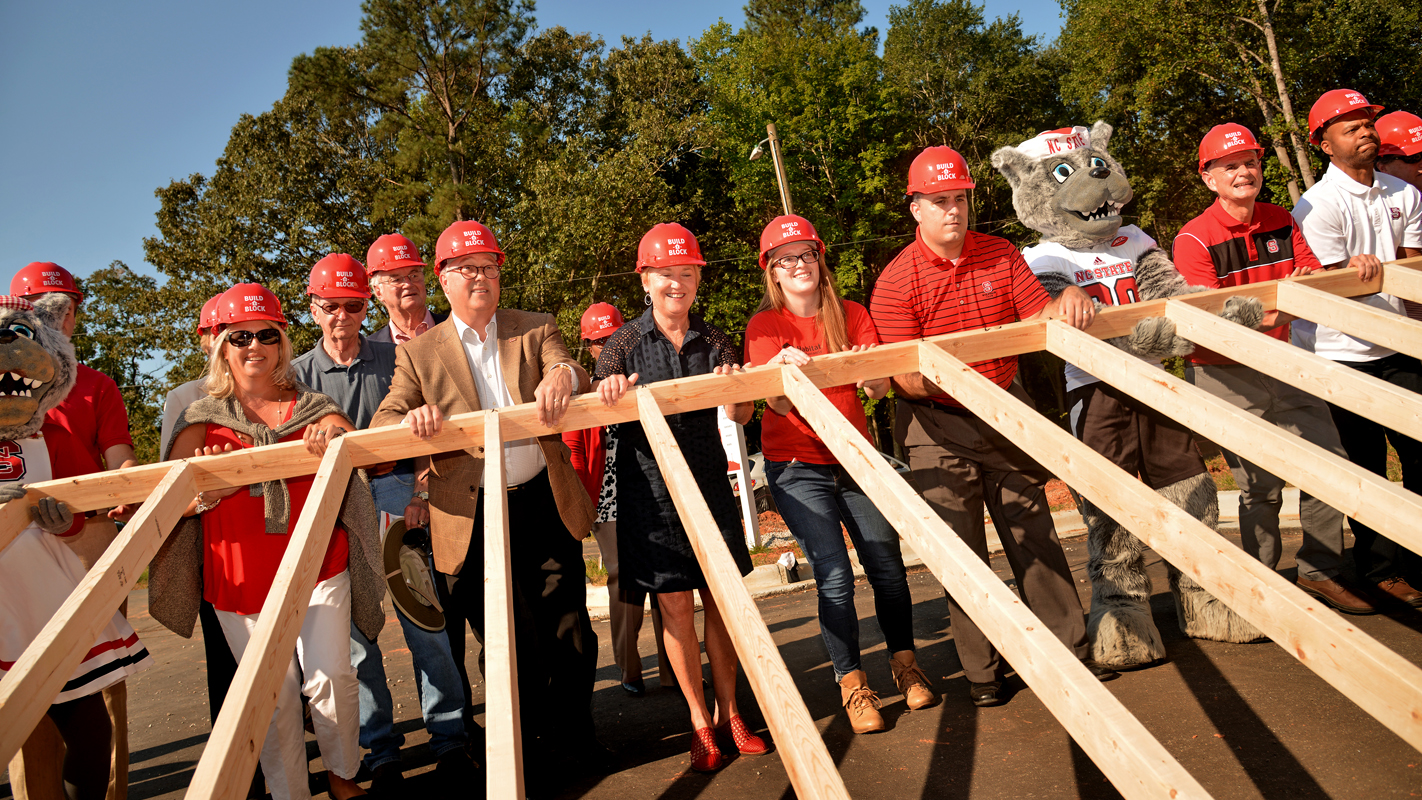 When Clare Jordan started NC State's Habitat for Humanity chapter 25 years ago, her volunteer list had one name on it: hers.
So Wednesday morning, as Jordan was joined by Chancellor Randy Woodson, Mr. and Ms. Wuf, and dozens of members of the Build-A-Block red-ribbon organizing committee to break ground on what will be the largest Habitat build ever associated with a U.S. college chapter — using more than 10,000 volunteers to build 11 townhomes on the edge of Raleigh, at a cost of $715,000 — she was just a little overwhelmed.
The 1991 graduate with a degree in English sat with her daughter, Katie Gray Altmann, a current junior in industrial design, at Wednesday's wall-raising to listen to remarks by Woodson, former Raleigh mayor and NC State alum Smedes York, athletics director Debbie Yow, textiles graduate student Sarah Paluskiewicz and Wake County Habitat for Humanity CEO and president Kevin Campbell.
Jordan still clearly remembers the program's humble beginnings, when she recruited friends majoring in architecture and engineering to help her construct the first of 22 homes built by NC State students, staff and faculty, with some $300,000 raised over the last quarter century.
"I just can't believe it," says Jordan, who is now a professional fundraiser for a charitable organization in Winston-Salem. "It's just tremendous. I'm glad my school is rallying around such a big project and undertaking this commitment."
The neighborhood where the build will take place is located just off Lake Wheeler Road, about a mile from Centennial Campus. Students, faculty and alumni groups can sign up through Habitat Wake's Build-A-Block site to volunteer.
Work will begin immediately on the first five houses and will continue through the fall semester. Campus chapter volunteers participated in Wednesday's wall-raising, and the NC State wrestling and gymnastics teams will be among the first of 14 varsity teams who have signed up to work on the project in the fall and spring, as part of the athletics department's Platinum Hammer sponsorship of the project. Other platinum partners are the campus Habitat chapter and the MetLife Foundation.
"This is such a great day for NC State," said Woodson. "We have 34,000 students and 10,000 members of faculty and staff. That is a lot of hands we can put to work on this project." Woodson and his wife, Susan, are serving as the co-chairs of the Build-A-Block effort.
"One of the things that we do at universities is try to help our students understand what it means to be part of the communities where they live after they graduate," he said. "Habitat for Humanity provides a great outlet for them to give back to the community where they live."
About half of the necessary funds to complete the 11 homes has been raised so far, and fundraising for the other half is ongoing, according to York. Shack-A-Thon, the NC State Habitat chapter's annual fundraising project, is slated for Sept. 19-23 on the Brickyard.
For now, however, volunteers are needed to get the homes built.
"We have a lot of people who can swing hammers," Woodson said.