Athletics
Reynolds Reopens in Grand Style
The Reynolds Coliseum renovation, now complete and ready to unveil to an eager public Friday night, concludes the first joint venture between the university and athletics department by restoring and refreshing an iconic campus building.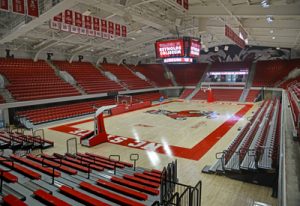 The $35 million project, funded with $20 million from athletics and $15 million from the university, has been open to the campus community for a couple of weeks now, but it will be on display in full glory on Friday evening at the Reynolds Coliseum Grand Reopening Gala. Tickets are available for $75 for adults and $30 for children.
Featured at the event will be time to peruse the NC State Walk of Fame and History the enshrinement of six new members in the NC State Athletic Hall of Fame.
Also included in the day's events is the unveiling of Coaches Corner, a student-led initiative to memorialize four legendary basketball coaches: Naismith Basketball Hall of Fame inductees Everett Case and Kay Yow and the coaches who won NCAA championships, Norm Sloan and Jim Valvano. The statues will be unveiled at 1 p.m. at the north corner of Reynolds adjacent to the Talley Student Union.
The weekend, including Saturday evening's home game against Old Dominion at Carter-Finley Stadium, is a tribute to Reynolds' unique place as a one of the most important buildings ever built by the state of North Carolina.
"With Reynolds being one of the nine Hallowed Places on campus, it was important to keep the historic structure intact," said university architect Lisa Johnson. "We didn't want to drastically change the building, but update it for modern uses, to provide a contemporary feel but not lose sight of its history."
Working with deputy athletics director for internal operations Michael Lipitz, who was the chair of the Reynolds Coliseum Renovation Building Committee, representatives from the campus community shared in the responsibility of updating "The House that Case Built" into a multifunction facility for future generations of fans, faculty, staff and alumni.
The basketball court shifted to the south end, seats were arranged closer to the playing surface and air conditioning was added for the first time in the building's 67-year history. It will serve as the permanent home for NC State's ROTC programs and women's basketball, gymnastics, wrestling and rifle, and a regular home for campus events such as the upcoming Staff and Faculty Appreciation Day on Sept. 26 and other employee and alumni activities.
"It's amazing how close it came to what we imagined," said Bill Davis, an architect and project manager with NC State's Capital Project Management department, which oversaw the 16-month renovation. "I think there was a lot of visioning and a lot of hope that things would turn out as they did, but with an old building you never know what might happen during demolition and during construction. You might find something or something might happen during construction.
"We didn't have any of that."
For Debbie Yow, a North Carolina native and sister of longtime women's basketball coach Kay Yow, renovating Reynolds into a modern facility was high on her list of priorities when she became athletics director in 2010. It was not exactly in disrepair, but little had been done to modernize the building through the years and it was still essentially the building that was set up for men's basketball, which left for the Entertainment and Sports Arena (now PNC Arena) in 1999.
"When I first got here, Reynolds was at a crossroads," Yow said. "Could we implode it and replace it or could we fix it? For me there was no choice: this is Reynolds Coliseum, one of the most awesome facilities ever built on a college campus."
Pairing funds from athletics and campus projects, a budget of $35 million was sufficient to make all necessary improvements to the competition area and leave an even grander Grand Hallway to house the NC State Athletic Hall of Fame, a row of stainless steel wolf sculptures and multimedia displays that highlight university and athletic legacies. All windows were also replaced and the exterior of the building was given a thorough facelift, giving it a newer feel to go along with the adjacent Talley Student Union, which reopened in 2014, while still keeping the original look from 1949.
"The co-location of Reynolds and Talley will offer a unique venue for some larger campus events," Johnson said.
According to Davis, Reynolds is now set up to last for many more generations of NC State students, staff, alumni and the Raleigh community to enjoy, with a tip of the hat to its past and a wide open canvas for the future.
"It really is set up to perform long into the future," he said. "I don't think there is anything that has to be done that we didn't do."