At first glance, the James B. Hunt Jr. Library has no shortage of style. Inventive integration of technologies, bold application of shapes and hues, and striking contemporary architecture capture visitors' attention and provoke their curiosity. The building is compelling and disruptive by design.
But a closer look at the Hunt Library's most eye-catching and celebrated features reveals meticulous planning and ongoing, forward-thinking development of the space. It's obvious that innovation, collaboration and sustainability are the driving factors behind the research center that has become the new face of NC State.
Turning the Page
For proof that this is a new kind of library, most look no further than the bookBot. The Hunt Library's state-of-the-art automated shelving system can store up to 2 million volumes, and robots retrieve any book requested through the virtual browsing program in just five minutes. Massive windows and a popular hands-on demonstration give visitors a glimpse of the action in Robot Alley.
"People like the bookBot because it's neat, but it's actually essential for the library," says Chris Tonelli, director of communication strategy for the NCSU Libraries.
The bookBot was the Hunt Library's answer to students' and faculty members' most common request — more space. This high-density organization model sorts books by size, rather than subject. The method maximizes storage capacity and allows the library to concentrate its considerable collection into one-ninth the area required by traditional bookstacks.
By employing a cutting-edge robotic book delivery system, the Hunt Library has left ample room for students and faculty to immerse themselves in technology such as interactive computing, multimedia creation and large-scale visualization. And having so much of the building's footprint dedicated for people, rather than stacks, has allowed the library to provide a wide variety of collaborative spaces. They include nearly a hundred group study rooms, a venue for practicing presentations and quiet reading lounges housing recent engineering, computer science and textiles journals, as well as books published by NC State faculty.
Sitting Pretty
Visitors enter the Hunt Library into an airy, three-story lobby. From every angle, bright colors, unusual forms and high-style elements compete to be observed and analyzed. Even with so much to to take in, one design choice always seems to stand out.
"The chairs are always a topic of conversation," says Tonelli.
There are around 80 different types of seats throughout the Hunt Library, in about as many varieties as one could imagine. Near the turnstiles, there's a winding wooden bench that the library's youngest guests enjoy using as a tunnel. In the game room on the third floor, there are plastic stools resembling giant tops that tip and rotate as users shift their weight. Many of the building's lounge chairs have accompanying footstools, because students are encouraged to get comfortable — even if that means putting their feet up.
"We hope everyone can find a nook or cranny in the library that fits their work style," adds Tonelli. "This is such a diverse campus in terms of approaches, personalities and cultures — and we want everyone to feel like they have a place here."
The chairs of the Hunt Library have received a great deal of acclaim. They're mentioned in several of the awards the library has received. A group of industrious and enthusiastic graduate students created a detailed blog in their honor. And Gwen Emery, director of library environments for the NCSU Libraries, penned CHAIRHUNT, a user's guide to the library's chairs describing their beautiful sculpture, essential facts and historical significance.
It may seem impractical for the NCSU Libraries to have chosen iconic pieces like the Egg Chair, the Shell Chair and the Womb Chair by designers such as Arne Jacobsen, Hans Wegner and Eero Saarinen. But the selections are well-made, time-tested designs that reinforce the library's inviting atmosphere — and which will require less maintenance and fewer replacements over the years.
Future Perfect
The Hunt Library's irregular, angular silhouette — without a brick in sight — is unlike any other structure on campus. The building's facade hints at the future direction of NC State. Yet the most modern aspects of the space are its environmentally sustainable and technologically flexible elements.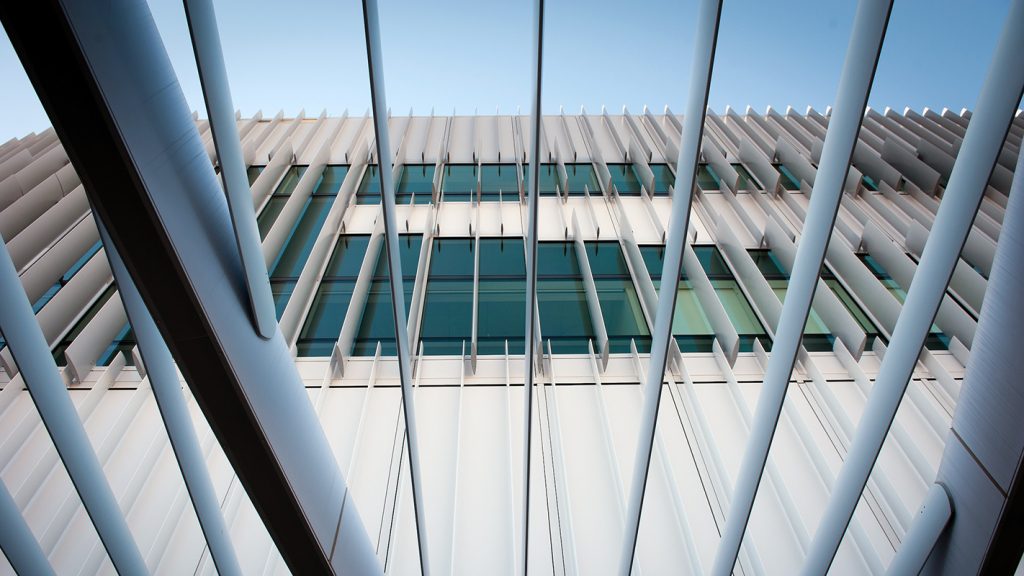 The library has a Leadership in Energy and Environmental Design (LEED) Silver certification. Natural light floods in through special windows that reduce heat gain. External aluminum fins also help to control temperature and glare. Additional features include a chilled beam and radiant panel HVAC system, rooftop solar panels that help to supply hot water to the building and efficient plumbing fixtures to reduce water usage. About one-third of the materials used in construction were recycled.
Aside from the obvious eco-friendly decisions made, the Hunt Library was carefully designed to adapt to the rapid pace at which technology evolves. The ceilings and floors in the high-tech spaces are hollow, so components can be moved in and out as demands change.
"Technologies need refreshing," says Tonelli. "That's the fun part about collaborating with students and faculty. In addition to our expectations for how people will use the library, they invent new ones. Our users are a constant source of ideas and innovation."

Based on those conversations, virtual and augmented reality projects are up next for the Hunt Library. While there are already devices available for visitors to check out and use on their own, the library has plans to provide designated areas and workshops for those technologies.
"We can't rest on our laurels," says Tonelli. "Our users need for us to stay a step ahead."