Faculty and Staff Giving
Honoring a Legacy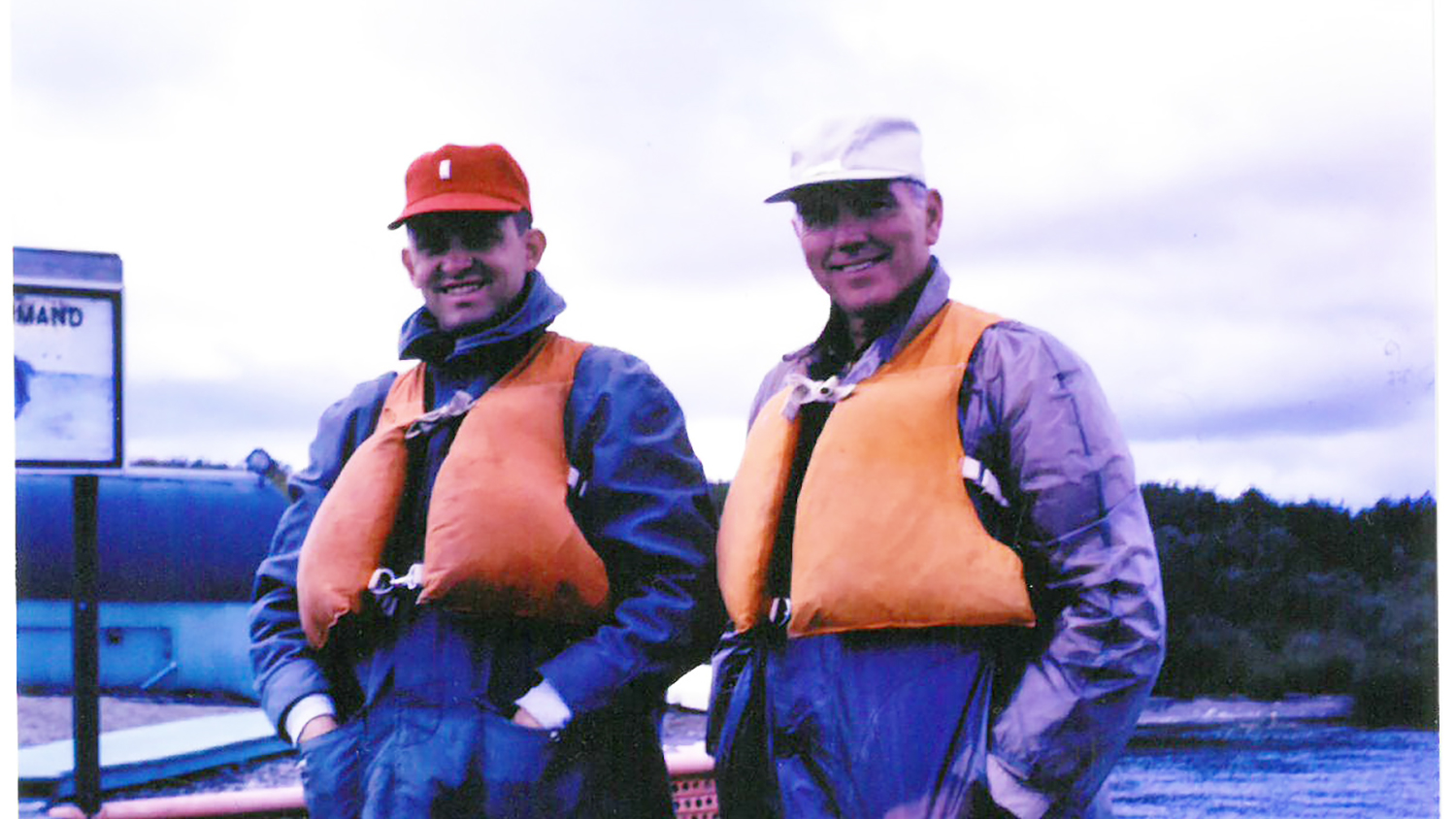 As the longtime director of NC State University's Caldwell Fellows program, Gerald Hawkins seemed to take all of his students under his wing. Now, many Caldwell alumni are joining forces to bolster the program and honor the legacy of Hawkins — who retired more than a decade ago — by raising funds for his namesake endowment.
"Gerald is an inspiration and mentor to many Caldwell Fellows physicians, business leaders, researchers, clergy and other community leaders from most of North Carolina's counties and in countries around the globe. His loyal and passionate support of the program continues to this day," said Tom Laundon, a Caldwell Fellows alumnus who earned a degree in industrial engineering in 1974.
The Caldwell Fellows program traces its roots back to the late 1960s. Today's fellows participate in intensive leadership development programming — including seminars, retreats, experiential learning events and leadership training. They also receive an annual scholarship. Students from any major are eligible to apply for the program during their first year as an undergraduate at NC State. About 25 fellows are selected each year from an applicant pool of around 300.
Friends and Caldwell Fellows alumni established the Gerald G. Hawkins/Caldwell Fellows Endowment after Hawkins, who also is an NC State alumnus, retired. The fund recognizes his influence over generations of Caldwell Fellows while supporting current students.
However, the Hawkins endowment fell short of the threshold to be considered a fully funded Caldwell Fellows endowment. When NC State's $1.6 billion Think and Do the Extraordinary Campaign launched last fall, Laundon and Caldwell Fellows alumni from near and far came together and decided to push to get the Hawkins endowment, which provides programmatic support for Caldwell Fellows, beyond $250,000.
Now, they would like others to join the effort.
"How could we not honor Gerald by fully funding the endowment in his name and honoring his servant leadership in perpetuity?" Laundon asked.
It wasn't difficult to find supporters who value Hawkins' influence on their lives to make gifts and pledges in his honor.
There's Jim Arnold, a Caldwell Fellows alumnus who arrived at NC State in 1970 from his small hometown in Virginia. The university seemed overwhelming to him at first.
"Dean Hawkins helped me navigate NC State in those initial days and pushed me to try new experiences and shoot for the stars in my career objectives," said Arnold, who earned a bachelor's degree in statistics in 1974. "He arranged various broadening and challenging summer internships for me."
Arnold went on to study at Harvard Business School, to which Hawkins encouraged him to apply. The Caldwell Fellows program and Hawkins' mentorship helped lead to a career that took Arnold to Japan, Hong Kong and Shanghai — where he currently lives.
"Looking back on my life, I put him in the same category as my parents in terms of providing me the highest example to try to emulate in my life," Arnold said.
Then there's Sheila Abercrombie. She graduated from NC State in 1988 with bachelor's degrees in applied mathematics and economics. She said Hawkins is beloved by generations of Caldwell Fellows alumni.
"During my undergraduate years, I spent many hours in his office seeking wise advice. He is a wonderful mentor, role model and educator," Abercrombie said. "He always found time for me, and he has kindly kept up with me through the years. I can only imagine how many students he influenced and helped."
Janice Odom, the current and only other director of the Caldwell Fellows program, said she keeps in close contact with Hawkins. She isn't surprised by the passionate alumni support.
"This is not an outlier by any means," Odom said. "The whole history of this program has included efforts like this one, people just stepping up and giving what they can to support it. I think it's amazing. It's about the most grassroots thing you can imagine. If you want a picture on this campus of what a land-grant effort looks like, we've got it."
Barry Ellington, a Caldwell Fellows alumnus who graduated in 1986 with a bachelor's degree in electrical engineering, said Hawkins helped broker his first internship with a telecommunications company, leading to a lifelong career. He is also the father of two Caldwell Fellows — one alumnus and one current.
Ellington vividly remembers meeting with alumni as a Caldwell Fellow and learning about the importance of investing in the future.
"My ability to give back now is only possible because of the generous gifts of the many alumni who helped establish great programs like the Caldwell Fellows long before I arrived on campus," he said. "To me, giving to provide future generations of NC State students these kinds of opportunities is a privilege. It is also an unbeatable investment in our future."
Odom credits Hawkins with the path the Caldwell Fellows program has taken through the years.
"I think it's a real embodiment of him: humility, authenticity, open mindedness and a real commitment to putting leadership to work for the good of others," she said.
This post was originally published in Giving News.