Service and Community
Beautiful Pairings: A Lifetime Commitment to Art and Design
When the new Gregg Museum of Art & Design opens its doors this weekend, its first visitors will owe a debt of gratitude to a couple who have helped make the museum a reality — and who have made art and design their life's work.
Artists and collectors Robert Keith Black and J. Ormond Sanderson Jr. have supported the Gregg with a $3.44 million planned gift, the largest in the history of Arts NC State. Their donation will ultimately fund the Gregg's exhibitions and acquisitions, but Black and Sanderson have also made significant cash contributions to help with the museum's grand re-opening.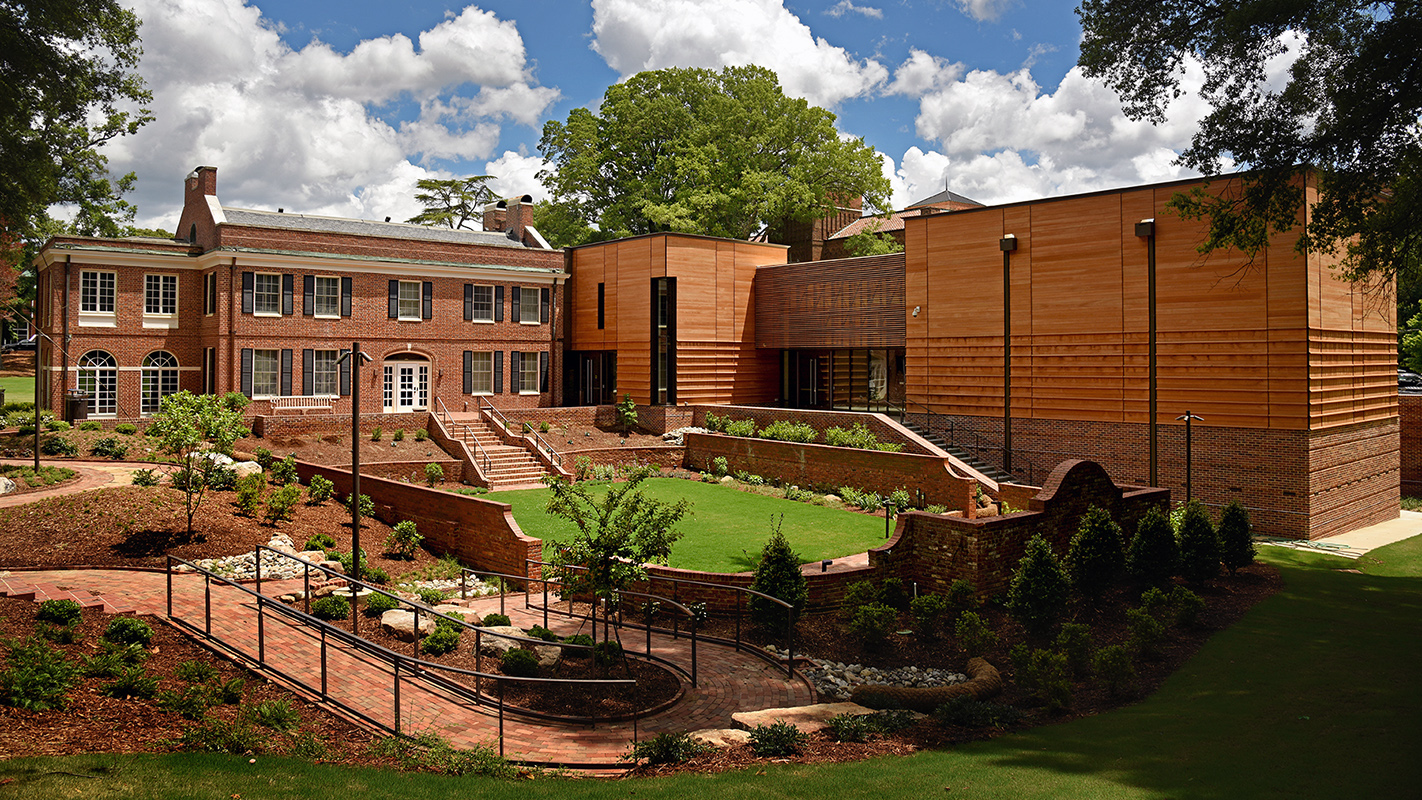 "It's a pleasure to be able to say that the Gregg Museum of Art & Design now has a permanent home on our campus," says Chancellor Woodson. "This extraordinary place will serve as an educational resource for every student at this university and for the wider community. We are indebted to the vision and generosity of Robert Black and Ormond Sanderson Jr. in supporting that mission."
"Because of their confidence in us, we wake up each day eager to see what we'll be able to achieve next," says Roger Manley, the museum's director.
Black attended NC State before studying design at Parsons School of Design in New York City and the University of Georgia. Sanderson earned his degree from the University of Michigan School of Music — and took a pottery class at NC State. The couple first met as teachers at Atlantic Christian College (now Barton College) in the late 1950s; today, they reside in Burlington, NC, surrounded by the art they have created and collected across a shared lifetime.
"We've always had an interest in trying to promote design and to educate people," says Sanderson, referring to Straw Valley, the one-time dairy farm the two men lovingly converted into a gallery and arts community hub, and which they ran together for decades.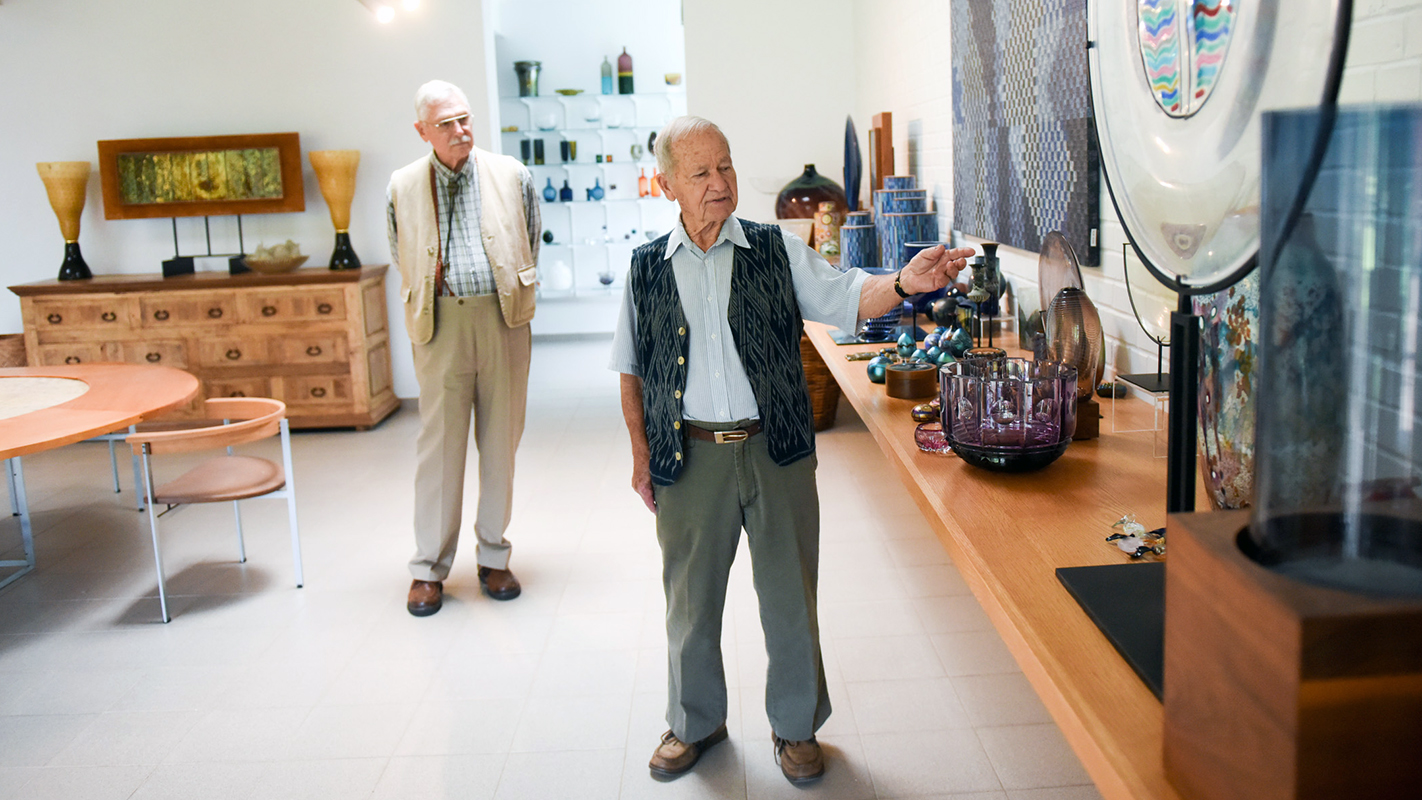 It was through their gallery that they first met Charlotte Wainwright (then Charlotte Brown), who served as the Gregg's curator and director until her retirement in 2009. When Wainwright introduced Black and Sanderson to the Gregg, they discovered a place that mirrored their own beliefs about the value of elegant design.
"The Gregg's collection differs from that of other museums in that is emphasizes beautiful, well-designed objects, some of which may be practical and can add greatly to the quality of life," says Black.
"The range and diversity sets it apart from other museums," adds Sanderson. "[It is] unique in the respect of relating art, technology and design to one another, and in many instances emphasizing their mutual dependency, a relationship of the utilitarian to the aesthetic."
The Robert Keith Black and J. Ormond Sanderson Jr. Endowment will provide support for:
Designing, installing and presenting engaging and diverse exhibitions
Offering thought-provoking programming and publications that build on visitors' experiences with the exhibitions
Acquiring new art for the museum's diverse collection, which currently includes more than 35,000 objects
The Gregg Museum of Art & Design re-opens to the public with a community celebration on Saturday, Aug. 26, beginning at 10 a.m. An exhibition of the donors' own work is planned for early 2018 in the gallery that bears their names.
"Art and design have been my life," says Sanderson. "It's very gratifying to be able to support education through the arts. When one looks at development in the scientific and engineering fields, it becomes apparent that art, design, science and engineering are inexorably entwined, and this is why the Gregg's purpose is so meaningful and relevant."
The Gregg is one of the first extraordinary places to be completed as part of NC State's Think and Do the Extraordinary Campaign, the most ambitious fundraising effort in our university's history.
Donors such as Black and Sanderson are setting the pace for philanthropic support of the arts at NC State — and it is their hope that this gift will inspire generations of NC State students to think and do anew.
"People who come to the Gregg and see these various exhibits may be encouraged to go and do something a little different," says Black. "We view the Gregg as a vehicle of opportunity to encourage and support the advancement of education through the media of art and design — revealing the relevance of the one to the other."