Academics
Meet NC State's Extraordinary New Student Class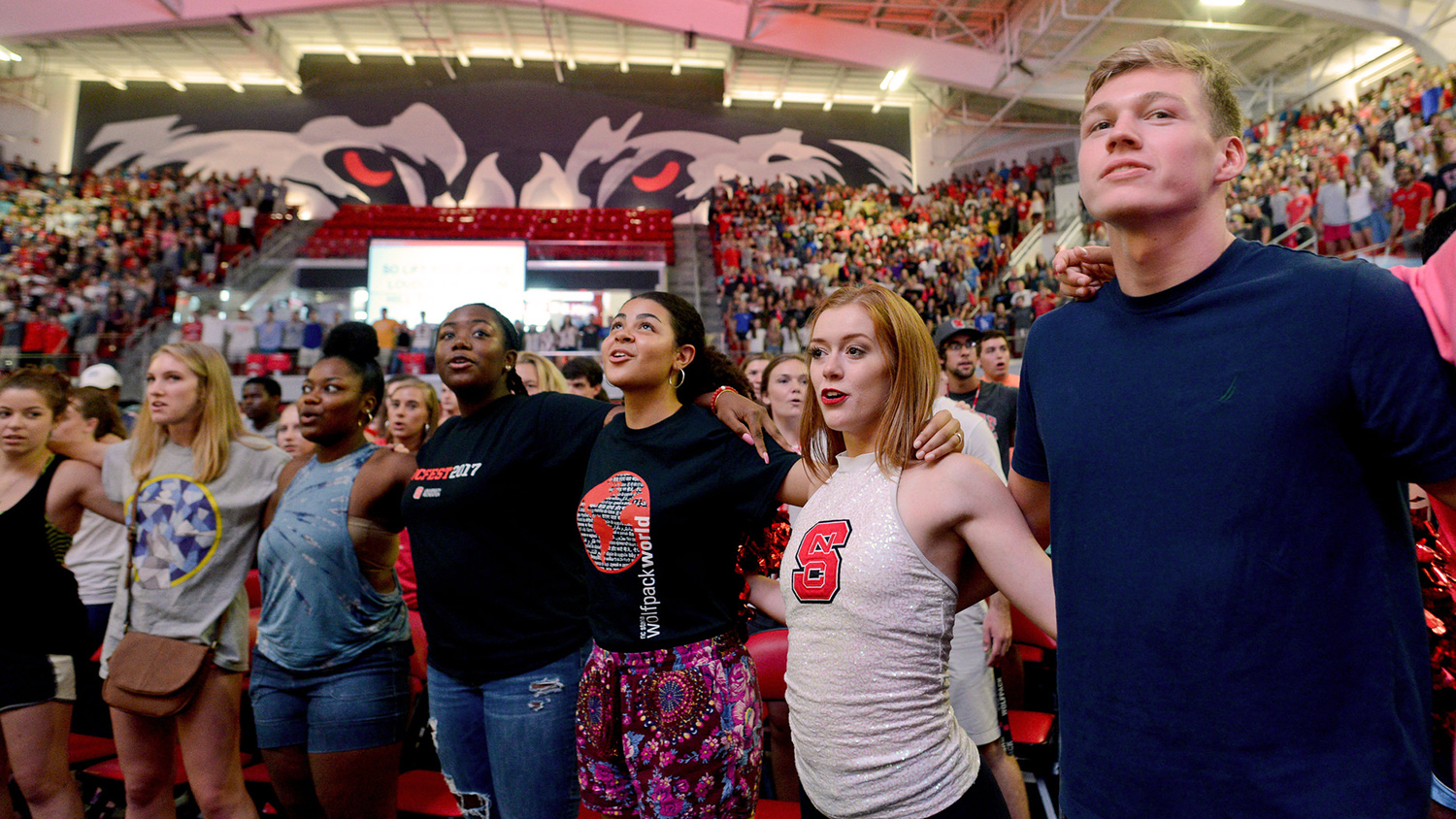 Thousands of new students joined the Wolfpack in recent weeks. An incoming class of 4,658 freshmen is bolstered by 1,275 talented transfer students, each of them ready to Think and Do. By several metrics, this new wave of students is the strongest academic intake ever at NC State.
Our university continues to be a superb investment for those students: NC State is ranked as the best college for your money in North Carolina by Money magazine, No. 8 in value among public universities nationwide by U.S. News & World Report and No. 18 in value for in-state students among public universities by Kiplinger's.
This year's freshmen represent 98 of North Carolina's counties, 41 of the nation's 50 states and 43 countries around the globe. More than a thousand of them come to us from rural counties in this state, and 514 are first-generation college students. 30% of the total class comes from underrepresented minority backgrounds.
Attracting Top Talent
NC State continues to enroll high achievers from across the state and nation, with the overwhelming majority of incoming students ranked in the top 20% of their high school class. Nearly half placed in the top 10%, and 206 were valedictorians or salutatorians. The average weighted high-school GPA for enrolled students was 4.54; the average SAT score was 1308, up from 1218 just five years ago.
Top students are more likely to graduate on time. As NC State's graduation rates rise, so does our capacity for new students. This year, we're enrolling hundreds more freshmen and around 100 more transfers than in 2016. Through our new Spring Connection program, another 450 students will join us in early 2018, and 97% of them will be North Carolina residents.
Bringing in Bright Minds
Transfers students are key to NC State's success: Their academic excellence and diverse life experiences make them vital contributors to our student population. One in five NC State graduates begins life on our campus as a transfer student.
This year, 1,275 new transfers will join us from 291 institutions of higher education, more than half of which are North Carolina community colleges. Those students hail from 83 North Carolina counties, 32 states and 20 countries worldwide. They arrive at NC State with an average transfer GPA of 3.29 and an average of nearly 60 college credit hours.
Supporting Outstanding Students
The first-year class of 2021 and transfer class of 2019 will both benefit from a wealth of merit- and need-based scholarships at NC State. This year, the university awarded 698 scholarships to 592 incoming students.
The Goodnight Scholars Program — a full-ride need- and merit-based scholarship created by NC State alumni Jim and Ann Goodnight — accounted for 60 of those scholarships. The program awarded scholarships to 50 first-year students from 28 North Carolina counties. Together, those students had a 4.8 average weighted GPA and 1330 average SAT score. Fall 2017 also marks the program's introduction of its new transfer scholarship, which was awarded to 10 transfer students from seven North Carolina community colleges.
The scholarship, which is valued at $19,500 per year, supports students majoring in a science, technology, engineering, mathematics (STEM) or STEM education who hail from low- or middle-income North Carolina families.
One of the commitments of NC State's Think and Do the Extraordinary Campaign is to create and support more scholarships for more students. Private funding is essential in providing extraordinary opportunities for North Carolinians — and attracting even more of the best and brightest young minds to our campus.
(All figures current as of Aug. 16, 2017. Enrollment figures current as of Sep. 6, 2017.)