Campus Life
Lights! Camera! Apprehension!
The sold-out audience rose to its feet in applause. The electric atmosphere made my heart pound as I joined hands with my castmates for a breathless final bow. The crowd was screaming, and I realized I was completing a journey I would never forget.
It all started last November. I wanted to perform in Hairspray, a musical theater production at NC State. As a new empty-nester, I had created a "leap list," — goals to help me jump forward in life — and this was on it.
"I dare you to audition," I told myself. "Life is not a dress rehearsal. This is the only moment there is."  
I had not been on a stage in 38 years. Would I make a fool of myself? Would I fail? Could I handle rejection? Those questions haunted me, but I decided to go for it.
The audition included singing, dancing and acting. The dance cues were a new language for me. I tried to hide behind the other aspiring cast members, about a hundred college students, as we moved to "You Can't Stop the Beat." When the song ended, we stood on stage in the spotlight as the directors discussed us. "No. 31, move up front," one said.
My stomach flipped as I looked down at the 31 on my chest. I slowly inched up two rows and stopped, breaking out in a sweat.
"All the way up, 31."
And there I was in the front row, with no one to follow if I forgot a move.
"Let's run it again. Five, six, seven, eight…."
I knew I could either face my fear or sprint off the stage and never return. The music began, and the two minutes seemed like hours as I stumbled around in my clunky sneakers. But I smiled the whole time. I had done something really scary, and I had embraced my missteps along the way.
After two weeks of preparing for rejection, I saw my name on the cast list. Not only was I in the ensemble as an old lady, I had a spoken part as the high school gym teacher. I was both elated and petrified. Was I young enough? Was I talented, strong, smart, quick, confident and cool enough?
If you've ever felt like an outcast, alone and insecure, you know what I was feeling. When you decide to take a risk, a voice inside your head can either encourage you or warn you to be careful and keep your deficiencies hidden. I made the choice to believe in my own worth and stop comparing myself to others. This was my time.
Skidding in Broadside
Hairspray tells an important story about integration in 1960s Baltimore. It is a sensitive subject. Watching our Wolfpack students sing about "nappy hair" and "ton-o-lards" or spout racist and intolerant views was at times uncomfortable and emotional. They were mature and gracious in their approach, often apologizing after scenes.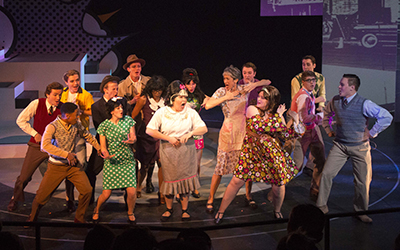 We endured long hours together, exhausted yet energized as we worked toward a common goal. Every night we pushed ourselves to improve and add more life to our roles. It was not easy to stand on stage after four hours and listen to all the things we did wrong — "Marcy, you were wandering around with no purpose tonight." Ouch. But my skin became thicker. I realized I didn't want to settle for "fine." I had to push for "phenomenal."
For the next six weeks, I got home late at night feeling depleted and frustrated with my long learning curve. While my castmates picked up the dance moves quickly, I watched the choreography videos for hours, willing my two left feet to get the steps right. My husband of 32 years — my cheerleader — kept reminding me they had picked me for a reason. My daughter gave me reinforcement over the phone as I drove home each night: "They saw something in you." A support system is vital to surviving life's daunting challenges when you're your own worst critic.
As author and journalist Hunter S. Thompson said, "Life should not be a journey to the grave with the intention of arriving safely in a pretty and well-preserved body, but rather to skid in broadside in a cloud of smoke, thoroughly used up, totally worn out and loudly proclaiming, 'Wow! What a ride!'" And skid I did. This two-month journey taught me things I will incorporate into the career development classes I teach millennials who are just beginning to craft their professional identities. I'm constantly telling students to take on things they've never done and to "fake it" until they know they can meet the challenge. Leaving my comfort zone was terrifying, but I hadn't quit.
Every part of the struggle paved the way to some of the most exhilarating feelings I have ever had. I went from feeling lost, scared, doubtful, frustrated and discouraged to feeling proud, accepted, strong and loved. I had a cheering section of friends and family each night who filled my heart, and I learned that what matters most is the people you love who love you — even when you mess up.