Campus Life
Summer Programs Spark Lasting Interest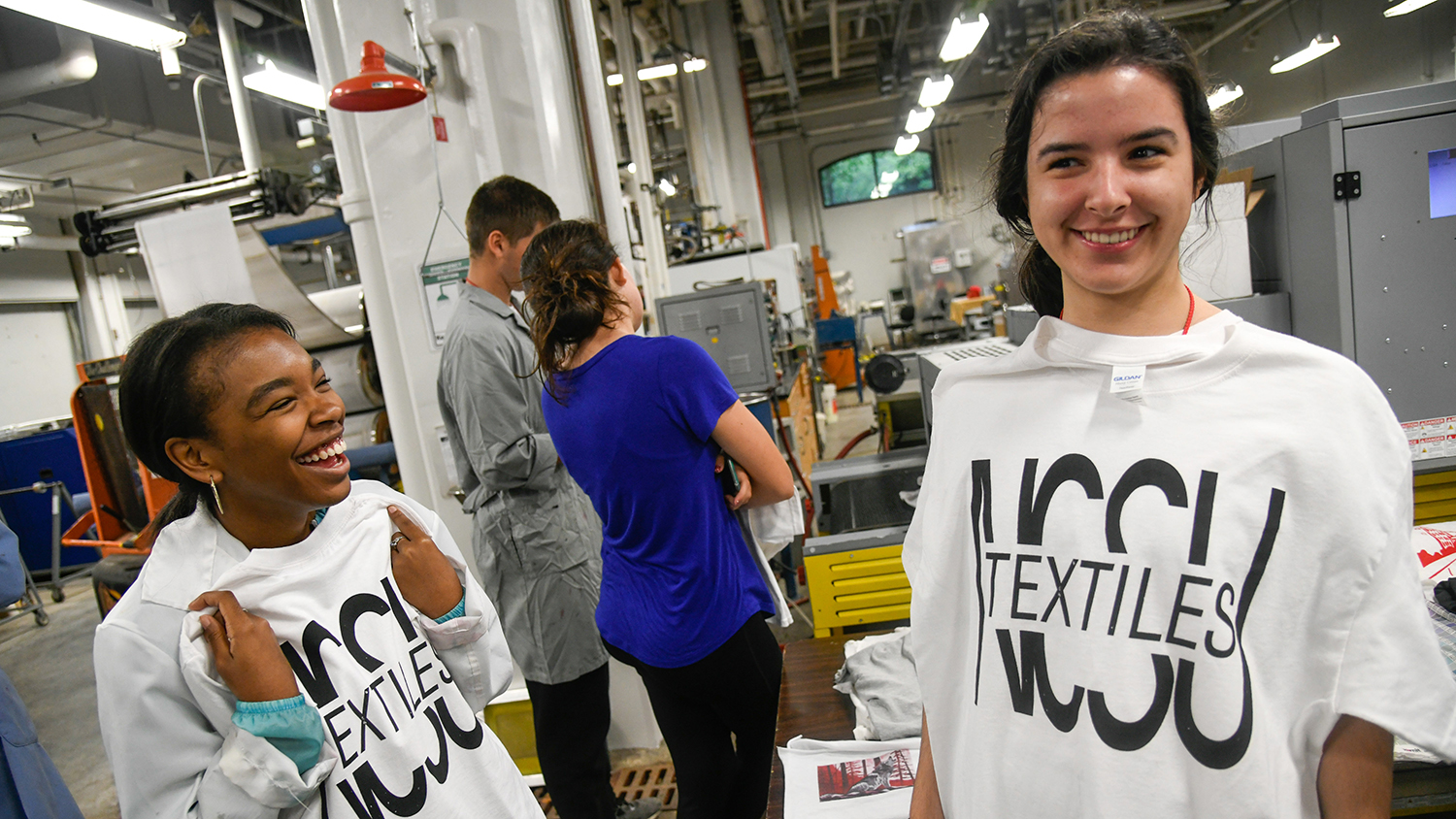 See why summer programs at NC State often go from shorts and sandals to cap and gown.
Every summer, the NC State campus comes alive with an influx of campers from all over the country, and some from even farther. They're here to do everything from studying nano-fibers to designing buildings and dissecting pig hearts. And many of them will become so engrossed in their activities, they'll decide to join the Wolfpack when it's time go to college.
Design Camp
Beneath the arched windows of NC State's Leazar Hall, dozens of students busily sand foam blocks, stopping every few minutes to consult sketches. They're creating models of a proposed transit station for Hillsborough Street, part of this week's theme, "On the Go."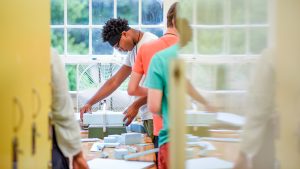 Now in its 38th year, Design Camp offers four week-long residential and day programs in June and July for middle and high school students, and is run by the NC State Design Lab K-12 Education and Outreach program. Design Camp pulls students from all over North Carolina and as far away as China. Scholarships make attendance possible for a diverse mix of students.
All five of NC State's design concentrations are covered in the camp: architecture, graphic design, industrial design, art + design and landscape architecture. Many students leave with a new understanding of the far-reaching impact that good design can have in the world; they delve deeply into the creative process and use the fundamentals of design to think critically and solve problems.
"I started drawing floor-plans in first grade. I've always loved drawing, but at some point I realized I wanted to draw spaces that people could be in," says Sophia Dreps, 16, of Durham, N.C., a 2018 camper who is considering the five year architectural study program at NC State. "I'm also interested in combining elements of buildings I like to create something new."
Students focus on creative challenges and group projects, sometimes working after dinner until 11 p.m. The camp provides a rich, collaborative environment that many students have never experienced before.
"A lot of students come here and aren't even sure what questions to ask, and that's okay. It's a different way of thinking and a very different school environment than what many of them are used to," says Julia Rice, camp director.
There's a real legacy here of campers who go on to attend the college.
Now in her seventh year, Rice is enthusiastic about the camp's future, partly because of the camp's past. On average, more than a quarter of incoming freshman to the College of Design are past camp attendees. All summer program staff are somehow affiliated with the College of Design, whether they are current students, alumni or instructors. "There's a real legacy here of campers who go on to attend the college, who then become counselors and later instructors," Rice says. "You make lasting relationships from day one."
College of Veterinary Medicine
NC State College of Veterinary Medicine Middle School Summer Camp welcomes students from Rocky Mount Preparatory Academy this summer to explore animal health care and get an idea of what a career in veterinary medicine might look like. The camp receives sponsorship through the McKimmon Center for Extension and Continuing Education, part of a collaboration with East Carolina University.
Enthusiastic campers get a closer look at a profession frequently misunderstood to just mean "pet doctor." Many students — and indeed, many adults — know only the basics about veterinary medicine and are delighted to discover NC State's programs include companion animals, equine health, clinical research, pathobiology and a world of career opportunities.
After a tour of the library, meeting with part of the Turtle Rescue Team, and a look at the anatomy lab, students don paper gowns, rubber gloves and safety goggles and stand two-by-two over dozen trays of preserved porcine hearts. Led by lab technicians Dusan Sojourner and Lindsey Cobb, the students take turns with the scalpel, identifying and separating the vena cava with no trace of squeamishness.
Other activities for the week include a visit to the North Carolina Museum of Life and Sciences animal facility and classroom instruction on different zoonotic diseases.
Summer programs are a way for us to continue reaching out and finding new talent.
Now in its tenth year, the camp is championed by Allen Cannedy, director for diversity and multicultural affairs at the college. Cannedy is also responsible for a day-long veterinary careers workshop for high school students and their parents. "Our industry is changing," says Cannedy. "For us to keep pace and realize the full potential of veterinary medicine, we have to strive for diversity of talents and diversity of backgrounds among our students. Summer programs are a way for us to continue reaching out and finding new talent."
Current CVM students serve as counselors, and some, like Terry Stauffer, class of 2022, are former campers themselves. "This camp showed me it was possible to pursue veterinary medicine, and that the potential was there for me," he says.
Summer Textiles Exploration Program
NC State's College of Textiles is one of the best in the nation, but a large number of prospective students don't know what studying "textiles" might entail. Upholstery and curtains? Or nonwoven fibers, chemical dyeing processes, fashion design and business?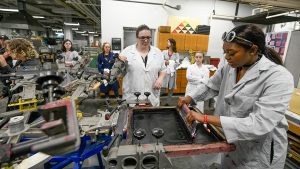 Hoping to answer some of those questions, the College of Textiles offers the Summer Textiles Exploration Program (STEP). Open to high school students between their junior and senior year, STEP hosts four week-long residential sessions where students learn everything from design to business, chemistry and engineering.
"The College of Textiles is hidden gem on campus, and STEP is a great entry point for students to get a foundational understanding for what's taking place in the industry now," says Delisha Hinton, associate director of students services. "It's a clarifying experience."
Many students find out about STEP through interests indicated on their SAT and ACT exams. Others know their passions early. "This is the school that made the artificial artery," says Maryann Neumann, 16, of Morrisville, N.C., referring the creation of an artificial aorta more than 30 years ago by Martin King, a professor of textiles at NC State and a leading expert in biotextiles. "I wanted to come and see how textiles could be made to work with the human body."
Students are placed in project groups based on their interests in a variety of concentrations, like polymer chemistry and textile engineering, and work upwards of 16 hours on a particular project over the week.
STEP is a major recruitment initiative for the College of Textiles, and an effective one, too. Some years, as many as 40 percent of STEP's attendees go on to enroll at the College of Textiles afterwards.
"STEP helped me confirm that the College of Textiles was a good fit for me," says Kiana Bonollo, junior in fashion and textile design. "I was able to make early connections with the faculty and true friendships with other attendees."
STEP provides scholarship opportunities and guidance for the college admissions process, as well as an ACT preparation workshop. Beyond academics, STEP aims to give students the full college experience. Evenings are spent at the dining hall and sometimes the movies. Roommates discuss their projects and hopes for the future late into the night. And everything usually ends with pizza.