The Abstract
Envisioning Research Winners Capture Insights Into the World Around Us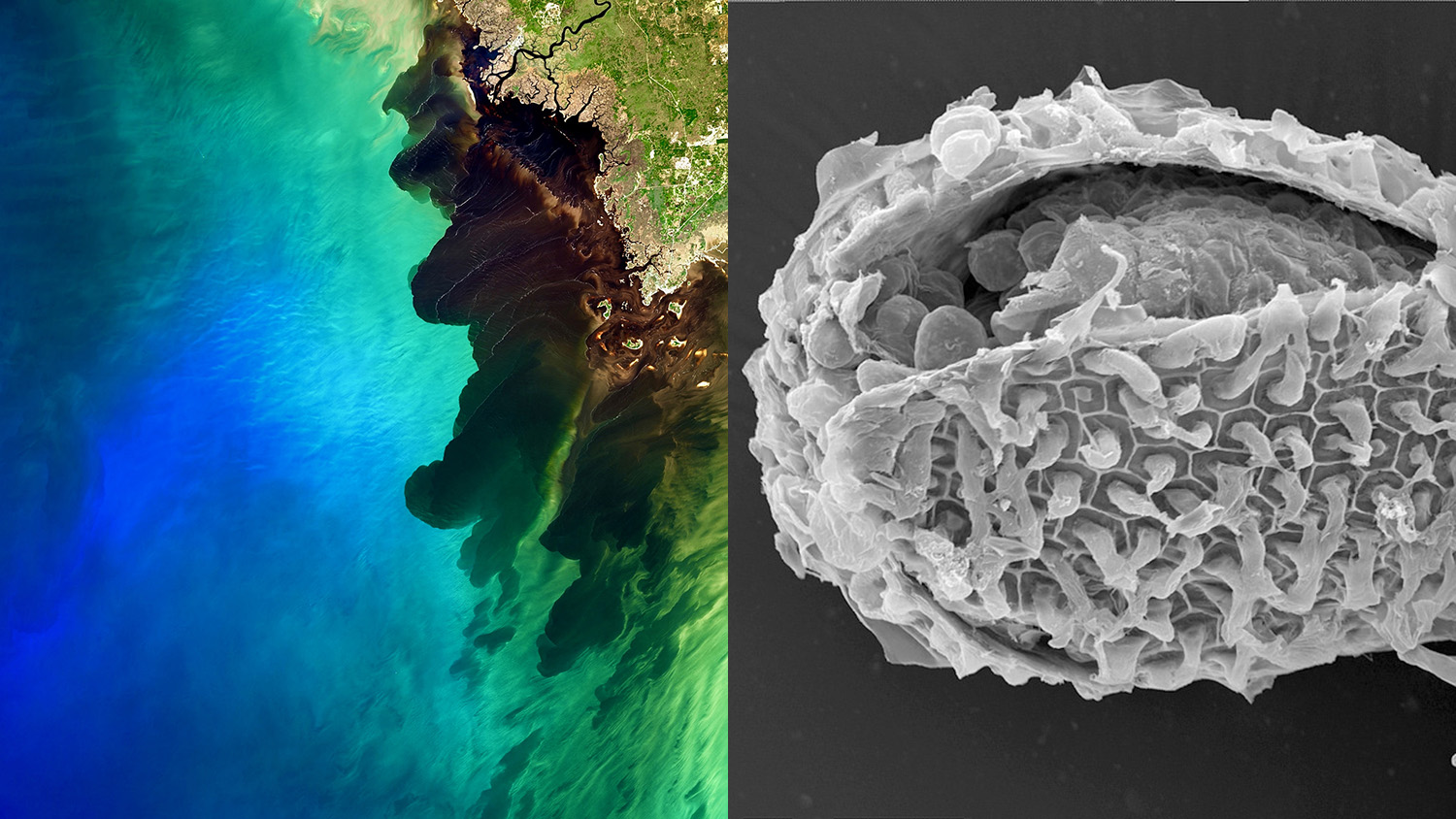 Researchers seek to expand our understanding of the world around us, and it should come as no surprise that this process of discovery yields incredible images. Sometimes, as is the case with seeds that look like alien eggs, these images can highlight the mystery of the natural world even as they yield new insights. And sometimes, as is the case with a gorgeous shot of where the river meets the sea, these images are also beautiful.
The winners of this year's Envisioning Research contest demonstrate the many ways that NC State's research community offer new perspectives on our world. The contest is a collaborative effort by NC State's Office of Research and Innovation, Graduate School, University Communications, College of Sciences, and NCSU Libraries. Envisioning Research was open to faculty, staff, graduate students and postdoctoral researchers.
A complete list of winners, runners-up and honorable mentions is below. You can see high-res versions of each entry, as well as captions about each image, by clicking on a winning entry's name. A slideshow of all the winners and runners-up can be found on Flickr.
Photography
First Place, Faculty & Staff: Alice Alonso, a visiting scholar in the Department of Biological and Agricultural Engineering, for her entry, "A Meeting of River & Sea."
Runner Up, Faculty & Staff: Matt Bertone, an extension associate in the Department of Entomology and Plant Pathology, for his entry "Venus Flytrap Flower: Visiting Fly."
First Place, Postdocs & Grad Students: Mario Simon Pinilla Gallego, a graduate student in the Department of Applied Ecology, for his entry "Impatient Bumble Bee."
Runner Up, Postdocs & Grad Students: Amber Hubbard, a graduate student in the Department of Chemical and Biomolecular Engineering, for her entry "Blooming Lotus."
Honorable Mention, Postdocs & Grad Students: Robert Epps, a graduate student in the Department of Chemical and Biomolecular Engineering, for his entry "Exchange Freeway."
Graphics & Illustration
First Place, Faculty & Staff: Josh Gray, an assistant professor in the Department of Forestry and Environmental Resources, for his entry "A Dry Oasis."
Runner Up, Faculty & Staff: David F. McAllister, a professor emeritus in the Department of Computer Science, for his entry "Stereo Anaglyph."
First Place, Postdocs & Grad Students: Anna Petrasova, a postdoctoral research in NC State's Center for Geospatial Analytics, for her entry "Spatio-temporal Visualization of Active Transportation Patterns."
Runner Up, Postdocs & Grad Students: Vaclav Petras, a postdoctoral research in NC State's Center for Geospatial Analytics, for his entry "Vegetation Distribution."
Microscopy
First Place, Faculty & Staff: Anna Stepanova, an assistant professor in the Department of Plant and Microbial Biology, for her entry "Arabidopsis Seed."
Runner Up, Faculty & Staff: Alan Tonelli, the INVISTA Professor of Fiber and Polymer Chemistry, for his entry "The Universe in Polymers."
First Place, Postdocs & Grad Students: Rashmi Vadlakonda, a graduate student in the Department of Mechanical and Aerospace Engineering, for her entry "Golf Ball."
Runner Up, Postdocs & Grad Students: Jordan Tabor, a graduate student in the Department of Textile Engineering, Chemistry and Science, for her entry "Fiber Fantasy 3."
Honorable Mention, Postdocs & Grad Students: Dennis Lee, a graduate student in the Department of Chemical and Biomolecular Engineering, for his entry "Broad-leaved Toxic Chemical Adsorbents on Fibers."
Honorable Mention, Postdocs & Grad Students: Austin Williams, a graduate student in the Department of Chemical and Biomolecular Engineering, for his entry "Spinodal Decomposition."
Video
First Place, Faculty & Staff: Colin Keenan, Pentair Fellow for 3D Scanning at NC State Libraries, for his entry "3D Scanned Botanicals as Explored in VR."
Runner Up, Faculty & Staff: Darren White, webmaster for NC State's Graduate School, for his entry "Under Fire."
Honorable Mention, Faculty & Staff: Ben Johnson, research assistant in the Department of Marine, Earth and Atmospheric Sciences, for his entry "The Dance."
First Place, Postdocs & Grad Students: Hadel Al Asafen, graduate student in the Department of Chemical and Biomolecular Engineering, for his entry "Cleavage."
Runner Up, Postdocs & Grad Students: Amber Hubbard, graduate student in the Department of Chemical and Biomolecular Engineering, for her entry "Curvature in Competition."
Honorable Mention, Postdocs & Grad Students: Minyung Song, graduate student in the Department of Chemical and Biomolecular Engineering, for her entry "Blooming Heart."