Faculty and Staff
NC State Begins Implementing New ERA System
When Richard Best was a grad student at NC State in the 1980s, he helped shepherd funding applications through the university's approval process. In the distant days before the internet, researchers relied on a system they now call "sneaker net," using students like Best to run paper documents around campus on foot.
"I'd carry proposals to the sponsored programs office in order to get hand-written signatures on them," he recalls. "Then I'd rush to the FedEx box and send the proposals to the sponsors, usually at the very last minute."
Best is still a fixture in the sponsored research office, where he serves as director of compliance. And he's part of a wide-ranging campus initiative to take research administration to the next level. 
The Enterprise Research Administration — or ERA — project is aptly named, promising to usher in a new era for the university's researchers and research administrators, who submitted more than $1.3 billion in proposals last year and pulled in $405 million in research awards.
In the years since Best was a student, research administration at NC State has move largely from paper to electronic systems. The current system features an alphabet soup of components with names like PINS and RADAR.
Over the next few years, several of the homegrown components will be replaced by a centralized system with modules designed to streamline and simplify key research administration tasks, from developing proposals and managing budgets to submitting reports and complying with regulations. 
'We Can Make It Our Own'
The new system comes from industry leader InfoEd Global, whose integrated suite of software products has been used by colleges and universities for over two decades. In fact, NC State researchers already use one InfoEd module, a database called SPIN, to search for funding opportunities.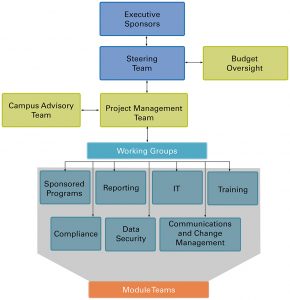 The process of moving to the new system will be done in stages, Best explains, involving numerous campus committees and stakeholders (see chart, inset). Implementation began this month with one of the smaller areas and continues through 2020 with modules for sponsored research, conflict of interest, human subjects compliance, and environmental health and safety. Implementation won't happen overnight. For example, the largest module — sponsored programs — is expected to take 18 months to go live.
"The nice thing about the system is that once it's finished, it's not finished," Best says. "It is a very configurable system. We can make it our own."
The process of implementing the modules will follow a systematic path – also in stages – to ensure that each one meets the needs of researchers and administrators without undue disruption.
It's a tall order, but Best believes it's essential to test and refine the system.
"There will be a period of being able to try it, test it, beat on it, try to make it break and figure out where the flaws are so we can fix it before it goes into production," he explains. "And the college research offices are going to be deeply involved in that."
A Richer Interface
Sherrie Settle, director of sponsored programs, serves on several of the campus teams responsible for selecting and implementing the new ERA system. She says researchers and research administrators will appreciate the new features InfoEd offers.
"The system will support proposal development in a way we haven't been able to with our homegrown systems," she explains. "We expect it will have a richer interface with our financial system so researchers will have more information available to them right on screen from one point of entry."
She notes "change is challenging," but emphasizes that the university will provide training and other resources to help researchers and administrators learn to navigate the new system. 
"When you have tools that you use for years, you develop muscle memory," she says. "Even something as simple as changing a password can be disruptive. And this is a lot bigger than a password change. But I'm confident that once they get to know the system, the campus community is going to see the advantages of it. It will be worth the trip."
Plus, she notes, as an enterprise-level resource, the ERA system will be maintained by the Office of Information Technology, which has staff assigned to set up and configure the modules and help with technical issues and troubleshooting. 
Bringing Everyone Together
Leading that effort in OIT is Jack Foster, director of non-credit systems in Enterprise Application Services. He says the move from homegrown research administration systems to an enterprise system reminds him of NC State's adoption of Gmail and Google apps in 2010, which gave faculty, staff and students a common suite of communication and collaboration tools.
"Right now, we have a lot of disparate systems all around campus doing different things," he says. "One of the goals of this system is to bring everyone together and to have one or a small number of critical workflows."
The project's executive sponsors are Alan Rebar, vice chancellor for research and innovation, and Marc Hoit, vice chancellor for information technology and Scott Douglass, vice chancellor for finance and administration. Rick Liston, assistant vice chancellor in the Office of Research and Innovation, was recently named to lead the implementation of the ERA project.
To learn more about the ERA project, visit the web portal (Unity ID required).