Campus Life
Placing Community at the Center
The impact of NC State's campus community centers is felt far beyond the few hundred square feet they occupy.
The centers prepare students to live, work and thrive in our diverse world. They provide support for underrepresented groups to succeed on campus and finish their degrees here. Above all, they help you find your authentic self and carry it with you wherever you go.
NC State's main campus is home to four community centers: the African American Cultural Center, the GLBT Center, Multicultural Student Affairs and the Women's Center. In 2011, a strategic realignment placed them all under the Office of Institutional Equity and Diversity (OIED). Since then they've seen increased collaboration, collective programming and a renewed focus on intersectionality.
"We're now looked upon as a model for other universities due to our combined power as a unit, blazing a trail and learning as we go," says Elizabeth Snively, OIED's senior communications technologist.
Reggie Barnes, senior director of the centers, says they foster a stronger sense of solidarity across all of NC State: "Our centers are places where people can exist in community with those who share their identities and beliefs — and with those who don't share their identities and beliefs, but want to be in community with them."
According to Adrienne Davis, the centers' associate director, every student should feel welcome, even if they don't identify with the group a particular center serves.
"All centers, and the students, faculty and staff that find a home in them, want allies and accomplices that are willing to push the limits of their own understanding and stand up as advocates," she says.
When students take on these roles, they're also preparing for a diverse global workforce. Companies are seeking employees equipped to learn about and connect with those who are different from them. And the skills the centers impart to students — how to promote inclusivity and critically engage with the world around them — are invaluable.
"You'd be surprised at what you can learn about yourself when you step out of your comfort zone and expand your circle," Davis adds.
Women's Center
Since its founding in 1991, the Women's Center has fostered a community of allies and leaders pursuing gender equity and social justice on NC State's campus. Located on the fifth floor of Talley Student Union, it also serves as a vital outlet for students, according to associate director Janine Kossen.
"It's a place to study, to relax, to sit in community with each other, to get to know each other, to be yourself in a place that feels comfortable and safe," she says.
The center is behind popular events like NC State's Chocolate Festival, where attendees sample local confections and support the Kay Yow Cancer Fund. Its annual Gender and Equity Research Symposium draws in scholars from across the Triangle to present their work. Additionally, the center hosts events shedding light on interpersonal violence during Domestic Violence Awareness Month in October and Sexual Assault Awareness Month in April.
With walk-in support services, the Women's Center can be a first step for survivors of sexual assault to get help. Students dealing with violence — regardless of gender or sexual orientation — will find trained advocates who can lend an ear or walk them through their options.
We tell them, 'I can go with you. I can be your resource. I can be your advocate.'
"There are a lot of resources available on this campus. But for someone who has experienced trauma, that's really difficult to navigate," says Kossen. "We tell them, 'I can go with you. I can be your resource. I can be your advocate.' That has a huge impact on the healing process."
The center also offers events, trainings and workshops that encourage all students to thoughtfully engage with issues of gender, equity and interpersonal violence — and become leaders in the conversation.
One such event, Feminist Fridays, has students develop and lead their own discussions each week. They cover everything from sports to design to engineering — and glean new understanding of how gender and social equity issues shape the world around them.
"It's important to see yourself as a creator and producer of knowledge," says Angela Gay, the center's assistant director. "You have inherent power within yourself to critique, to engage in discourse. You're questioning, challenging and changing systems."
Multicultural Student Affairs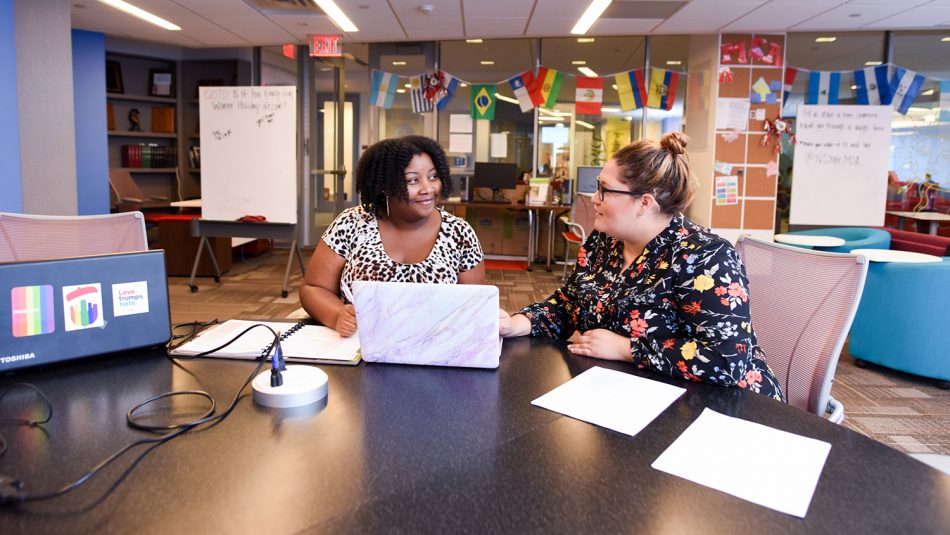 When you're a student from an underrepresented group, finding your footing on a college campus can feel challenging. But knowing there's a community behind you makes a difference. Multicultural Student Affairs (MSA) seeks to cultivate that community — and bolster student success.
"It takes a certain type of spirit to move forward, but it also takes a certain type of village to support you in that walk," says center director Nashia Whittenburg. "That's what we want to do."
From the fourth floor of Talley Student Union, MSA develops programs to promote academic success, retention and graduation of NC State students. While all are welcome in the center, it serves a unique role for underrepresented populations on campus, with an emphasis on African-American, Native American and Hispanic students.
"Here is a space where all of you is appreciated," says Whittenburg. "We want everything that makes you you in this space."
That support network can be critical to a student's success at NC State. It's so important, in fact, that students are encouraged to start building their networks before classes begin. MSA's annual Symposium for Multicultural Scholars is an overnight program that invites incoming first-year and transfer students from underrepresented populations to get acquainted with the center and other resources on campus. Newcomers can also link up with current students through MSA's mentorship program, working together to remove barriers and succeed academically.
We want everything that makes you you in this space.
The center works with units across campus — including the College of Veterinary Medicine, NC State Libraries and the Study Abroad Office — to spread cultural programming. Through a partnership with the Mexican consulate, student staff also work with local spanish-speaking and Latinx communities. And the Read to L.E.A.D. program encourages students to mentor at local elementary and middle schools — with the goal of promoting diversity and equity through literacy.
In the end, seeing students cross the finish line at the Multicultural Graduation Celebration is when the center's work all comes together.
"I want students to leave here with a better insight of who they are and where they want to be," says Whittenburg. "And I want them to know the steps, mechanisms and support systems that can get them there."
African American Cultural Center
At its core, the African American Cultural Center is an academic unit: It's designed to inspire the critical examination and exploration of African-American and other African diaspora cultures.
John Miller IV, the center's program coordinator, believes that when students learn about the history of African diaspora and celebrate African-American culture, they ultimately uncover more about who they are.
"We're building folks who will change the world because they have this foundation of identity; they've engaged with the academic, the historical, the cultural, the social, the spiritual," he says. "They've gained a deeper understanding of the information and how it connects to who they are."
The center helps students build this foundation through a wealth of resources. Spanning three floors of Witherspoon Student Center, it includes an art gallery and a library brimming with more than 7,000 titles. The center — and its commitment to education — drew national attention earlier this month as NC State hosted the unveiling of the United States Postal Services' 2018 Kwanzaa stamp.
Other important events include Harambee — a Swahili word meaning "let's come together" — which kicks off each new school year. The center also hosts campuswide celebrations of Kwanzaa and Martin Luther King Jr. Day as well as a popular African Diaspora Film Series. And the annual Blacks in Wax Live Museum draws visitors from across the state to watch students re-enact pivotal moments in African-American history.
Miller, who graduated from NC State with a bachelor's degree in psychology in 2015 and a master's in higher education in 2017, says the mentorship and community he found in the center changed his life.
"I really found a way in which I could be my student self, my leader self and my black self," he says. "I was inspired to go into higher education because of my experiences here. I saw how this place supported students and I wanted to be that."
"That sense of belonging is a critical component of what we do," adds Moses T. Alexander Greene, the center's director. "I hope [our students] know so much about who they are and they never apologize for their brilliance."
GLBT Center
This February, the GLBT Center marked a decade of serving NC State students of all sexual orientations, gender identities and gender expressions. Overlooking the sunny rooftop garden on Talley's fifth floor, the center is a welcoming environment for students to grow and cultivate their identities during the transitional years of college.
"Our space is for students to build, learn, create, feel safe and get to explore aspects of their identity they may not have yet," says Preston Keith, the center's assistant director.
Each year, students from the center head to Pride in Durham, NC; it's often their first chance to express their identity in a public way with the university and their community behind them. The annual Lavender Graduation serves a similar purpose — and this year saw its largest number of participants ever.
We want students who come to our center to know that we have their back — and the university has their back.
"There are a lot of barriers you have to face as a GLBT student," says Keith. "Being able to graduate is a huge fundamental feat. We want to honor you wholly — by your name and with your pronouns — and talk about your accomplishments."
The GLBT Center also empowers students to take up roles as campus leaders — whether it's through educating their peers, joining student government or being tapped for other leadership roles on campus.
"Our students see themselves for the first time as student leaders when they come to our spaces. We tell them, 'You can make a difference, and you will make a difference,'" says Keith.
The GLBT Center offers more than 50 workshops each year and helps units across campus take part in conversations relating to identity, diversity and advocacy. Staff from the center have also trained corporations, nonprofit agencies and state agencies throughout North Carolina.
Now in its fourth year, the GLBT Advocate Program recognizes faculty and staff who regularly attend workshops and events at the center — and who commit to advocating for inclusive policies and practices.
"Being an advocate is a really powerful thing," says Emily Vanaman, lead interactive media producer for University Communications and Marketing. "It tells people you're someone they can turn to for support. As a person who needs an advocate, how could I not be that for somebody else?"
In affirming the identities of GLBT students and empowering the entire Pack to advocate for equity and inclusion, the center sends an important message.
"We want students who come to our center to know that we have their back — and the university has their back — as they go from the first day of class to graduation day," says Keith.