Here's something funny about Damon Hartman's daughter Hayden, an NC State sophomore in human biology and sports management.
"I'm surprised you remembered my dad," she said earlier this week, as talk turned to Saturday's 12:30 p.m. renewal of the rivalry between the Wolfpack and North Carolina at Kenan Stadium in Chapel Hill.
Few NC State fans could possibly forget the greatest kicking achievement in the 107-game series, which also ranks as one of the great moments in Wolfpack and ACC football history. But Hayden, reared as a displaced NC State fan in upstate New York, didn't know just how much it means to the Wolfpack faithful.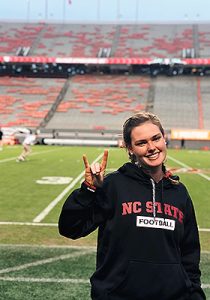 With the score tied 9-9 and time running out in a game that featured 17 punts, three interceptions and nothing but field goals, Hartman lined up for his fourth boot of the game, a career-long 56-yard kick to give Dick Sheridan's Wolfpack its third consecutive victory in the long-time rivalry.
The low-liner kick went between two out-stretched Tar Heels and kept rising until it sailed exactly between the uprights in Kenan's east end zone. Thus began another celebration that stretched down Interstate 40 back to Raleigh.
For Hayden Hartman, it's a nice piece of family lore.
For Wolfpack fans, it's a legendary moment against the school's biggest rival.
Those two things meet this weekend, as the Hartman family returns to the Triangle — and Damon returns to Kenan Stadium for the first time in decades, the place where he kicked the two longest field goals in school history, a 54-yarder in 1988 and the 56-yard game winner in 1990. They will have Thanksgiving dinner, spend some time together and then all go to the game in Chapel Hill, not so much to relive Damon's magic moment from 28 seasons ago, but to see Hayden on the sidelines as a student member of the football team's sports medicine staff at her first State-Carolina game.
"I was born and raised to love football," she says. "I love NC State football. It's definitely how I was raised."
Even from 800 miles away.
The Hartman family began in Rocky Mount, shortly after Damon and his wife graduated from NC State. But they now live in Saranac Lake, New York, not too far from the Canadian border, where Damon is a forester for timberland acquisition Prentiss & Carlisle. He spends most of his days in the Adirondack Mountains, peacefully and blissfully unaware of the blaring news.
His family, however, is full of rabid sports fans. They have always maintained his NC State football season tickets.
His wife Danielle, a manager for head coach Jim Valvano's final basketball team in 1989-90 and a former Wolfpack Club intern, earned a communications degree from NC State and a master's degree in sports management at Georgia State. Their son Bryce, a dedicated Wolfpack fan, is a varsity cross-country skier at New Hampshire.
Hayden, a pre-med student pursuing two undergraduate degrees, returned to her family roots last fall to enroll at NC State, not really knowing exactly where her dad fit into the history of the program. She learned pretty quickly.
"I was at a friend's house watching a game last year and someone missed a field goal," she says. "I heard someone say 'Damon Hartman wouldn't have missed that.' She had no idea who I was. My head sort of snapped back and my jaw dropped.
"That was one of the first times I knew people knew who he was."
In the spring, a friend encouraged her to join the football team's student sports medicine staff, taking care of minor medical needs and promoting safe participation in the game her father played at State from 1988-91.
Few people in the program know she is a football legacy. Henry Trevathan Jr., the team's director of high school relations, is the son of the former Wolfpack assistant coach who coached Damon at NC State. Assistant equipment manager Jimmy Stewart was a student manager for the 1990 team. That's about it.
"I didn't think it was a big deal," she says.
Saturday, in her first State-Carolina game as a member of the football program, she'll get a good idea.
For his part, Damon says don't look his way if the Wolfpack needs him to kick another 50-yarder on Saturday.
"That was a few pounds ago," he says. "The leg doesn't swing the way it used to. My kicking days are over."