Envisioning Research Contest Winners Offer Glimpses of Discovery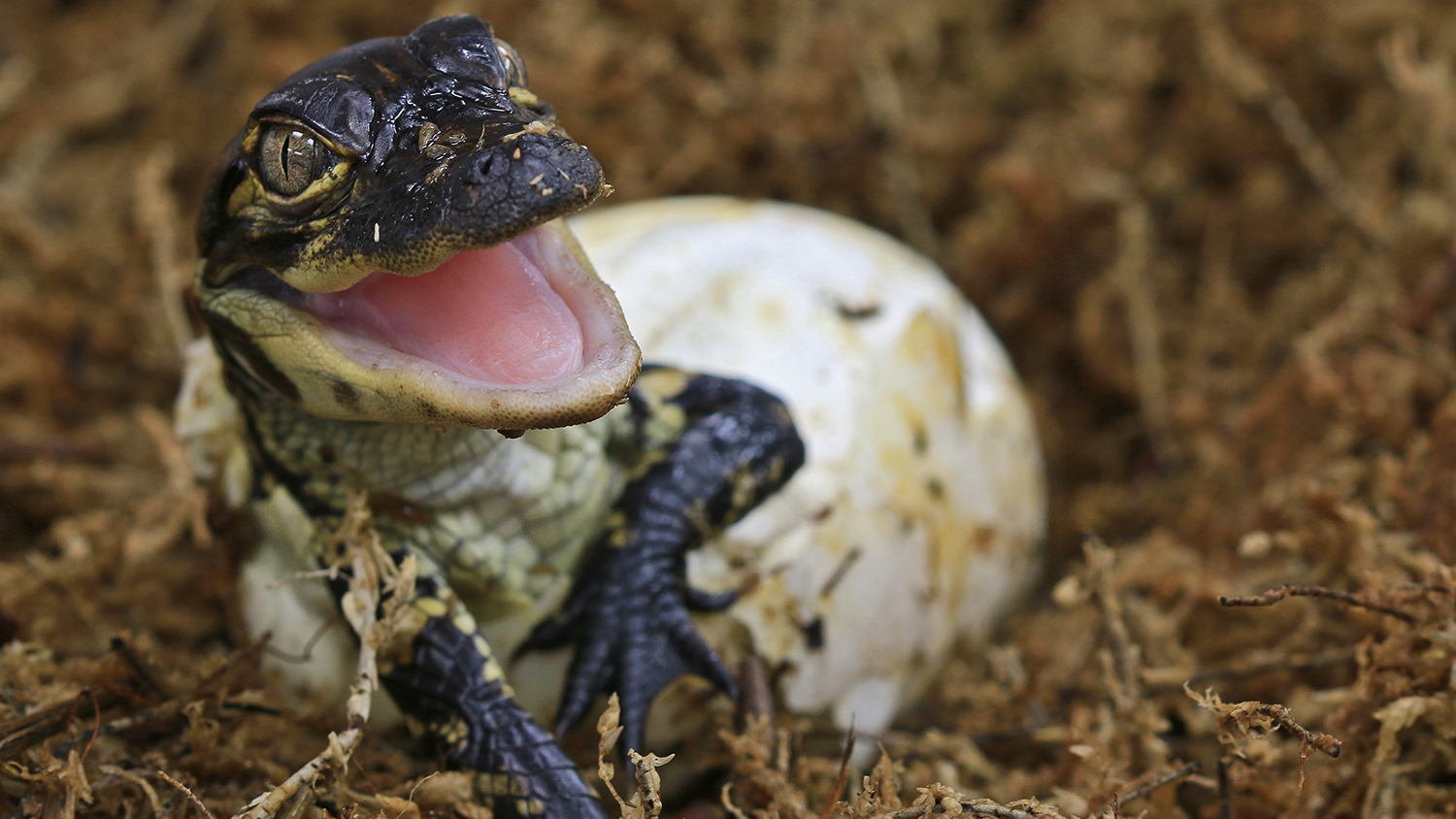 Whether it's a photograph of a newborn alligator or an electron micrograph that captures the details of plant life, researchers use images to not only learn more about the world around us but to help viewers engage with the work of discovery.
The winners of this year's Envisioning Research contest highlight the sheer scope of the work being done at NC State to expand our understanding of, well, everything. The works recognized here address research being done in fields from chemical engineering and plant biology to architecture, linguistics and physics.
The contest is a collaborative effort by NC State's Office of Research and Innovation, the Graduate School, the NC State University Libraries, and University Communications and Marketing. Envisioning Research was open to faculty, staff, graduate students, postdoctoral researchers and undergraduates.
A complete list of winners, runners-up and honorable mentions is below. You can see high-res versions of each entry, as well as captions about each image, by clicking on a winning entry's name.
Graphics & Data Visualization
First Place, Postdocs & Grad Students: Matt Zimmer, a graduate student in the College of Engineering, for "A Bubble Becomes Bubbles."
Runner Up, Postdocs & Grad Students: K. Umesh, a graduate student in the College of Natural Resources, for "Live Vessel Density Map."
First Place, Faculty & Staff: Javier Brumos, a staff member in the College of Agriculture and Life Sciences, for "Hydropatterning."
Runner Up, Faculty & Staff: George Elvin, a faculty member in the College of Design, for "Phenomenological Study for Resilient Coastal Dwelling."
Microscopy
First Place, Postdocs & Grad Students: Taylor Neumann, a graduate student in the College of Engineering, for "Liquid Metal Sunset."
Runner Up, Postdocs & Grad Students: Ogheneovo Idolor, a graduate student in the College of Engineering, for "Bubbles on a Cured Epoxy Surface."
Honorable Mention, Postdocs & Grad Students: Xiaomeng Fang, a postdoctoral researcher in the Wilson College of Textiles, for "Romance of Crystals."
Honorable Mention, Postdocs & Grad Students: Amber Hubbard, a graduate student in the College of Engineering, for "Hawaiian Hibiscus."
First Place, Faculty & Staff: Javier Brumos, a staff member in the College of Agriculture and Life Sciences, for "Pollination."
Runner Up, Faculty & Staff: Richard Spontak, a faculty member in the College of Engineering, for "Shooting Stars."
Photography
First Place, Postdocs & Grad Students: Theresa Guillette, a postdoctoral researcher in the College of Sciences, for "Hello, World!"
Runner Up, Postdocs & Grad Students: Steve Anderson, a graduate student in the College of Natural Resources, for "Regime Shifts of North Carolina's Coastal Freshwater Ecosystems."
Honorable Mention, Postdocs & Grad Students: Qandeel Hussain, a postdoctoral researcher in the College of Humanities and Social Sciences, for "Firewood Collection by a Kalasha Speaker."
First Place, Faculty & Staff: David Suchoff, a faculty member in the College of Agriculture and Life Sciences, for "Unearthing the Mysteries of Grafted Tomato Root Systems."
Runner Up, Faculty & Staff: Erin Baker, a faculty member in the College of Sciences, for "Where Nature and Data Collide."
Honorable Mention, Faculty & Staff: Elsa Youngsteadt, a faculty member in the College of Agriculture and Life Sciences, for "Carpenter Bees Inside a Bench."
First Place, Undergraduate Students: Carmen Mackenzie Cromer, an undergraduate in the College of Sciences, for "A Fossil of One's Own."
Runner Up, Undergraduate Students: Carmen Mackenzie Cromer, for "Song of the Catta."
Video & Interactive
First Place, Postdocs & Grad Students: Christopher Kolb, a graduate student in the College of Sciences, for "Visualizing Fluid Instabilities."
Runner Up, Postdocs & Grad Students: Taylor Neumann, a graduate student in the College of Engineering, for "Liquid Metal Rain."
Honorable Mention, Postdocs & Grad Students: Maria Aleman, a graduate student in the College of Engineering, for "Transverse Oscillating Cylinder Vortex Shedding."
Honorable Mention, Postdocs & Grad Students: Minyung Song, a graduate student in the College of Engineering, for "Voltage-Driven Liquid Metal Flower."
Honorable Mention, Postdocs & Grad Students: Fujun Wang, a graduate student in the College of Engineering, for "Splash of a Water Droplet on a Superhydrophobic Surface."
First Place, Faculty & Staff: Colin Keenan, Staff in College of Agriculture and Life Sciences, for "Holograms & Physical Computing Interfaces Allow for Intuitive and Engrossing Interactions with Valuable Learning Materials."