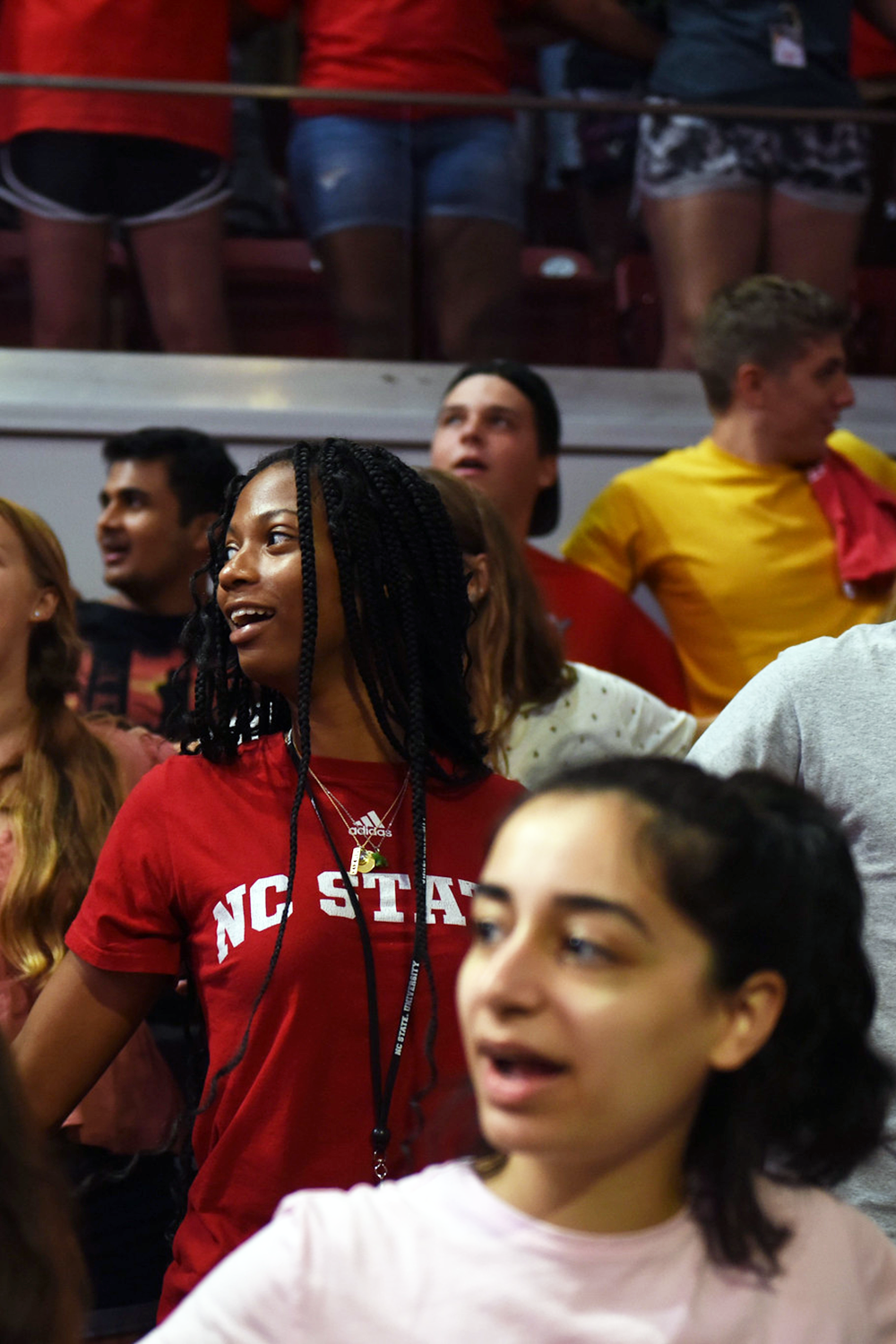 Meet the First-Year Class for 2019
Tipping enrollment over 36,000 for the first time ever, NC State's newest class has landed on campus.
At the start of the new academic year, the energy on campus is palpable. And for those crossing the Brickyard for the first time, it's the start of a brand-new chapter. Classes, clubs, practice, work, rehearsal and study time — it's all happening.
Here's a look at our first-year class for 2019.
---
By the Numbers
This year's cohort represents 97 of 100 counties in North Carolina, 40 different states and 20 countries across the globe.
It's also the first time female enrollment has risen above male, hitting 50.3%. And we continue to educate more North Carolinians than any other public university.
Explore the stats behind this year's class:
4,773 first-year students
30,897 first-year applications
45% acceptance rate
4.29 average weighted GPA
and 3.79 average unweighted GPA
1336 average SAT score
and 29 average ACT score
1,306 enrolled transfer students
31% students from rural N.C. counties
193 valedictorians and salutatorians
50% graduated in the top 10% of their high school class
---
Get to Know Four Newcomers
Between moving in and memorizing class schedules, four new students sat down with us to share their stories. See what they're excited to think and do, what they miss from home and why they chose to join the Pack.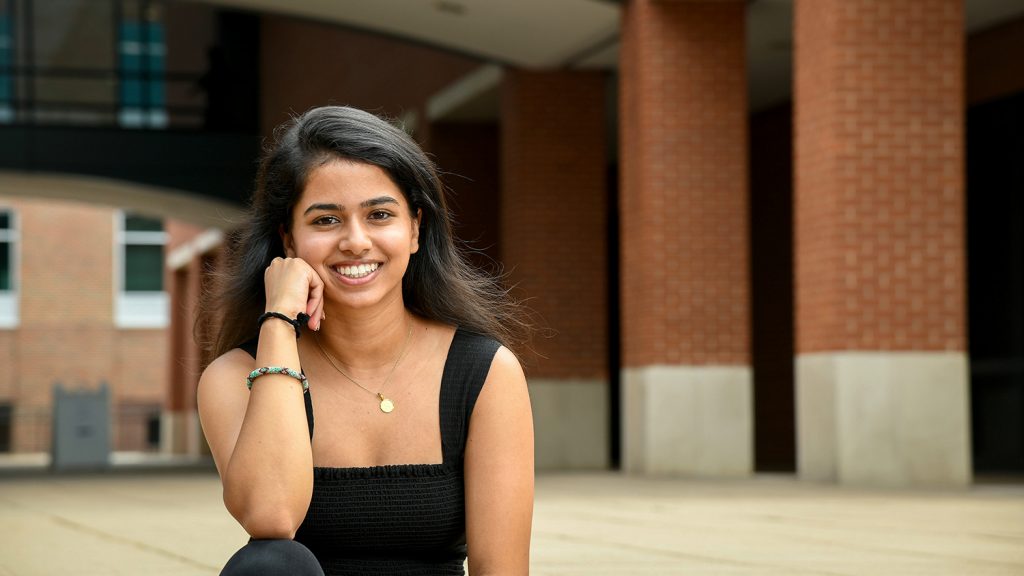 A Tailor-Made Education
Where do fashion, computer programming and entrepreneurship all come together? Ritika Shamdasani believes NC State may be just the place.
The Fayetteville, North Carolina, native founded her own clothing company at just 16 years old. Alongside her sister, she launched Sani, a line of South Asian-inspired occasion wear, in 2017.
"Indian clothing isn't accessible for the modern, multifaceted woman who has grown up in the United States but is of Indian heritage. We decided to start Sani because we saw that need in the market and we wanted to fix it," she says.
Around the same time, Shamdasani also discovered a love for coding, which she parlayed into her next summer's gig: Amazon's first-ever high school intern.
Now, she's ready to explore both of her interests — and meld them together. The incoming Park Scholar plans to major in both fashion and textile design and computer science.
"These are kind of two unrelated passions. But I know at NC State, I can find a way for them to merge because technology is such a big aspect of the Wilson College of Textiles," she says.
During an early-on tour of the college, Shamdasani explored cutting-edge equipment such as 3D printers and body scanners that sparked new inspiration. "It's crazy how intertwined these fields are becoming," she adds.
Now, with world-leading faculty, like-minded peers and resources like the Entrepreneurship Clinic at her fingertips, she's preparing to take her business to the next level.
"It would be amazing to create and print our own fabrics, or use body scanners to take more accurate measurements. Technology is everywhere over here. And I want to figure out how I can use it to improve Sani."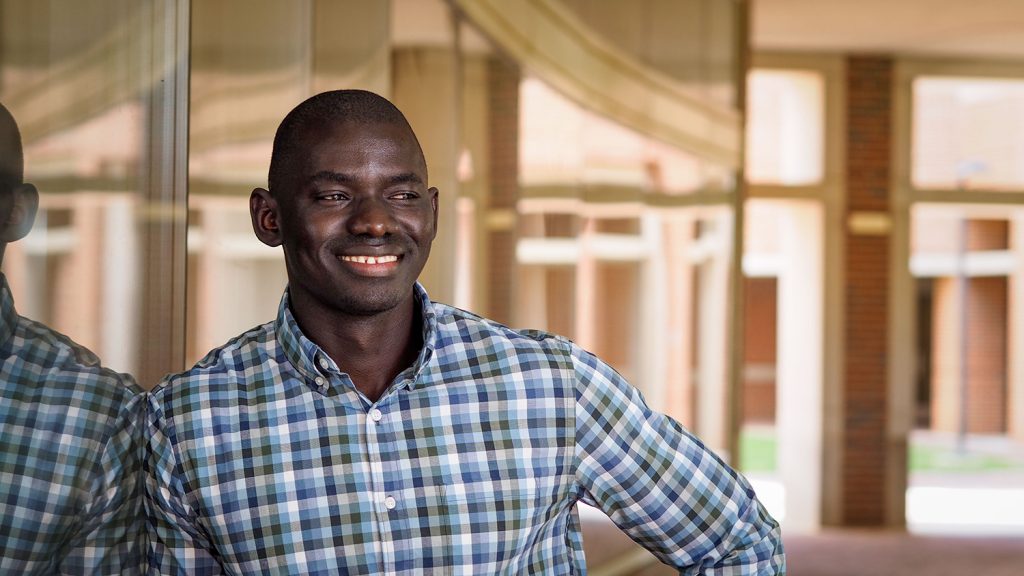 Bright Days Ahead
Balla Ndure has a dazzling smile and a lilting accent, and five minutes after meeting him, he'll offer to show you around his hometown in Gambia in West Africa and cook you his favorite meal, red benachin. "It's essentially fried rice mixed with tomato paste and spices, served with meat and vegetables — cabbage, carrots and eggplant. On the side, we include a sauce made from hibiscus leaves."
Originally from Kerr Ngoyan, a small village in the North Bank region of Gambia, Ndure moved to Raleigh, North Carolina, in 2015 with his wife, whom he met in the Peace Corps while he was working for BEECause, a nongovernmental organization in West Africa.
Growing up in West Africa, he went to grade school with no electricity. "Every building, every classroom, and not a single thing that plugged in. But you look around and everywhere there is sunshine. All day long, for free."
His experiences have inspired him to create scalable and affordable solar energy technologies and, one day, bring them back to his country.
A member of the Goodnight Scholars Program's third class of transfer students, Ndure had a slight learning curve at Wake Technical Community College before coming to NC State.
"In America, there's so much testing. I had to learn how to take tests much better and more often than I was used to."
Test jitters are a thing of the past now, as Ndure begins his first semester in one of the nation's top electrical engineering programs. He plans to concentrate in renewable electrical energy systems and bring his education full circle when he returns home.
Ndure is the first in his family to attend college. He takes great pride in his associate degree from Wake Tech and identifies strongly with the Goodnight Scholars' focus on service and leadership.
As for Think and Do? "I've unknowingly lived by this philosophy my whole life. It makes me think NC State is the perfect match."
Picking Up the Baton
Regan Mitchem has made the three-hour journey to Raleigh from her small community of Vale, North Carolina, every year for as long as she can remember. This time, she plans to stay for a while.
Growing up on her family's blackberry farm, Mitchem was regularly regaled with tales of the Wolfpack by her parents, both alums.
Her father studied crop science and currently serves as an extension agent throughout the state. But here, Mitchem is following in her mother's footsteps; she'll major in animal science and hopes to ultimately attend the College of Veterinary Medicine.
"As soon as I was born, I was bound to be here," she says. "I didn't want to go anywhere else in North Carolina."
At just 5 years old, Mitchem joined her local 4-H chapter and started showing livestock competitively. Her annual trips to attend 4-H Congress or judge livestock at the NC State Fair were paired with campus tours, where she'd explore her parents' former home.
Now with a place of her own in WISE Village, Mitchem is excited to dig deeper into her interests of agriculture and livestock and delve into undergraduate research. But she also has big plans for her eventual return to Vale.
"My mom has a small-animal clinic. She works with our cattle a bit, but I'd like to expand her business into large animals and focus on animal reproduction," she says.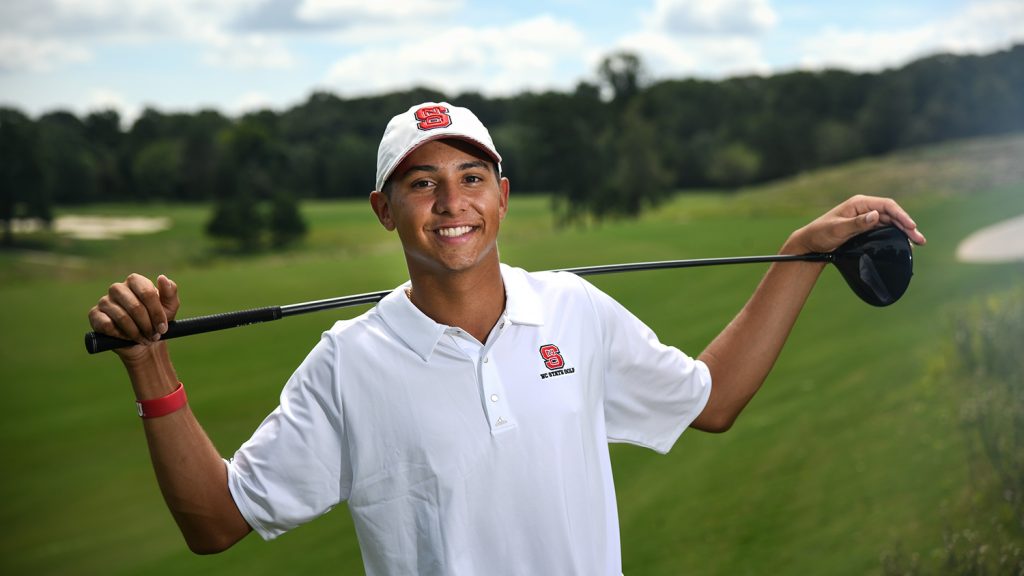 Driven to Learn — and Play
Spencer Oxendine started golfing at age 4 and hasn't looked back since. He already feels at home on Lonnie Poole Golf Course, dipping in and out of the equipment room, trading quips with trainers and lugging clubs around.
Oxendine comes from a large family, part of an established Lumbee Indian community in Fayetteville. He relied on this support network during the stressful try-out and application period. "I had a lot of fun getting recruited, but I also had a lot of support. My whole family was cheering me on."
While NC State was always on Oxendine's radar, the deciding factor was the golf coach. Press McPhaul — now entering his third year at NC State and a Wolfpack golf alum himself — has had a stellar early run, leading the Pack to the NCAA Regionals twice in his first two seasons as head coach and advancing to the NCAA Championships once.
Prior to NC State, McPhaul spent 11 seasons at East Carolina University. When Oxendine met him early at a recruitment event in Greenville, that sealed the deal.
"You know immediately when you meet the right coach," says Oxendine. "I decided, wherever he's going, I'm going." McPhaul moved to NC State, and Oxendine set his sights on Raleigh.
"I committed my junior year of high school. Coach Press called me and asked me to be part of the Wolfpack," Oxendine says. "I was ecstatic. You never forget that phone call."
Oxendine speaks so confidently about his choice to join the Wolfpack, it's hard to imagine him anywhere else. A business administration major in the Poole College of Management, Oxendine will have to use his trademark drive to succeed on and off the golf course.
"I'll be busy, no question," he says. "Coach talks a lot about class time and golf time, so I'm just going to have to balance everything. But I know I can do it," he says. "I've been waiting for this."
---
Passing the Torch
We caught up with students from last year's incoming class, and they offered advice on how to make the most of the first-year experience, from committing to a concentration to making a big university feel a little smaller.
See what they had to say: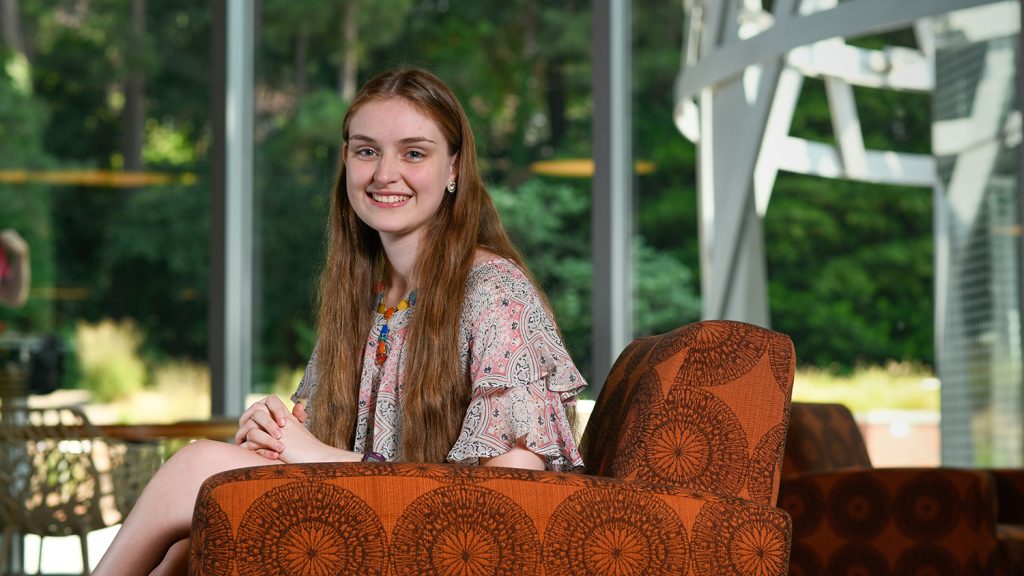 ---