Building Community, Improving Lives
Jack Moorman, chief of the NC State Police Department, retires Oct. 1 after a 32-year law enforcement career dedicated to the safety and well-being of every community he's served.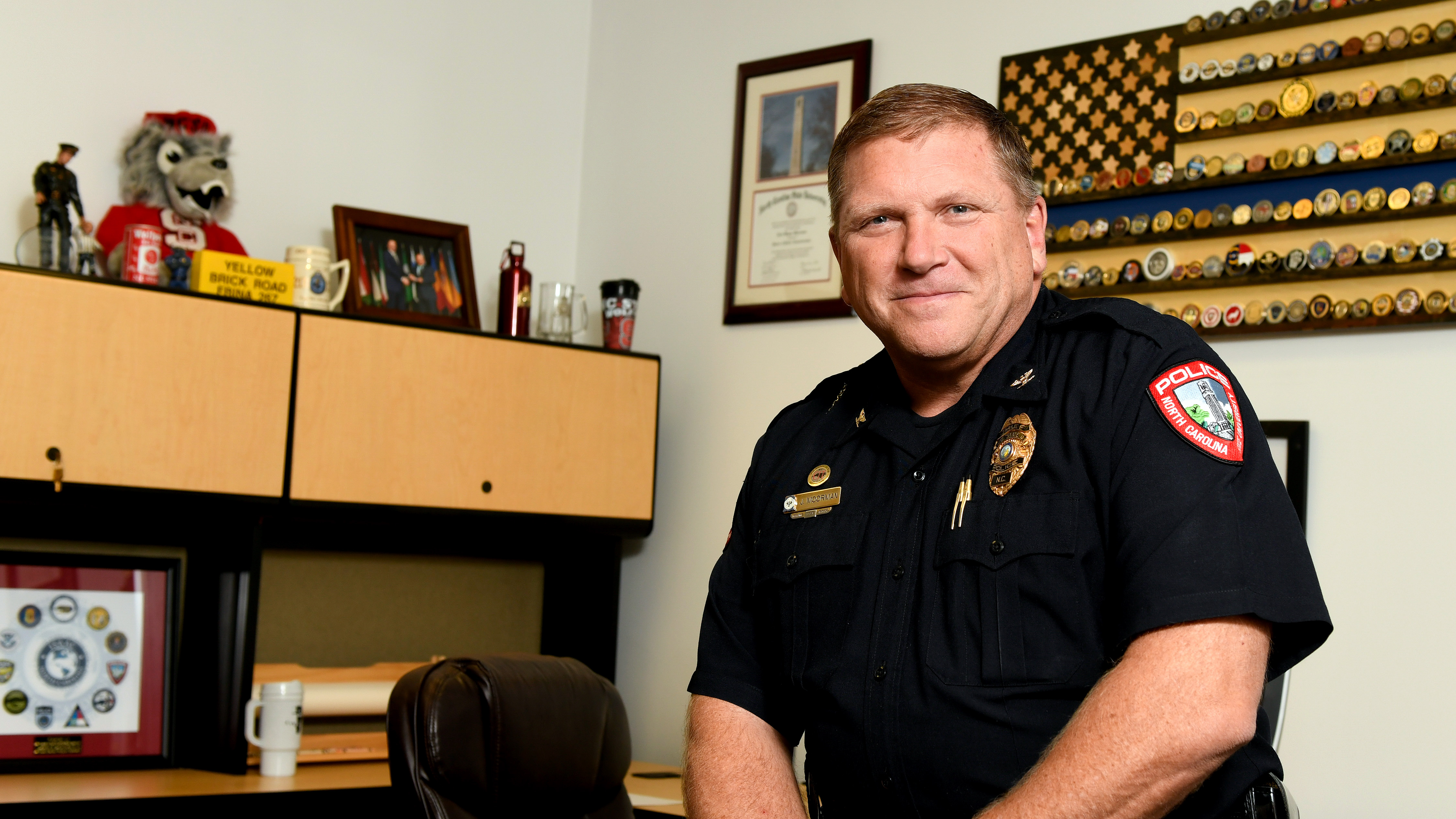 If you were retiring after a 32-year career in law enforcement — including 13 years as a cop at North Carolina's largest university, with the last eight of those years as chief of police — what would you do on the first official day of your retirement? Sleep in, maybe, before rolling out of bed to shoot an afternoon nine at Lonnie Poole Golf Course. Or you might take a bag of microwave popcorn to the sofa, where you'd start clearing out a backlog of some long-delayed binge-watching.
But if you're Chief Jack Moorman of the NC State University Police Department, you'd get up early, pack the car and start driving halfway across the country to Denver, Colorado.
Why, exactly?
"I've never been to Denver before, and I had the opportunity to go as an invited guest of the board of directors of a prestigious international law enforcement accreditation agency," Moorman says. "And my dad taught me to always take advantage of opportunities."
Moorman's father was a World War II veteran who grew up during the Depression in the small, rural town of Gladys, Virginia, so he was a man who understood the value of an opportunity.
If you want to make something of your life, you have to work hard, get an education and make use of the opportunities life presents you.
"My dad only got a fifth-grade education because he had to stay home and help out on the farm," Moorman explains. "So he taught me that if you want to make something of your life, you have to work hard, get an education and make use of the opportunities life presents you."
Moorman went on to do all those things, becoming the valedictorian of his high school graduating class and receiving a full-tuition scholarship to Lynchburg College, where he earned a bachelor's degree with a double major in business management and religion. If you're thinking those fields aren't obviously related to a career in law enforcement, Moorman would agree with you. He didn't settle on law enforcement as a career until the final semester of his senior year, as the result of the unfolding of a series of chance events.
Despite his scholarship, Moorman worked 40 hours a week all four years of college. "I went to class during the day from about 8 in the morning until 12:30, and then I worked in a factory from 4 until midnight," he explains. He made that tough schedule work until the final semester of his senior year, when he had to take a required class that was only offered at night. Out of necessity, he quit his factory job and took a job as an assistant manager at a video arcade in Lynchburg's only shopping mall.
Chance Encounter at the Arcade
As it happened, some of the mall's security guards were off-duty Lynchburg police officers working a second job, and because the arcade was such a popular hangout spot, the officers would come by now and then to make sure everything was all right. Moorman began talking to them, got to know them and eventually did some ride-alongs with them, which sparked his interest in law enforcement.
"That whole series of events taught me that trivial occurrences can turn out to be pivotal," Moorman says. "If I hadn't had to take that night class, I might not be sitting here right now," he says, gesturing around him at an office festooned with plaques, awards and other mementoes of a long, distinguished law-enforcement career.
Moorman chose Raleigh as the place where he wanted to begin his career after graduation because one of his best friends from college had gotten into graduate school at NC State. Moorman roomed with his friend, and his first job in Raleigh had him working in loss prevention at Ivey's department store (which was later merged into Dillard's) at North Hills Mall.
What was it like to work security in a mall, just like the off-duty officers he'd befriended back in Lynchburg? "I really enjoyed it," Moorman says. "It was interesting to see the variety of individuals you would actually catch shoplifting, from teenagers to retired police officers to grandmas stealing presents for their grandkids."
Learning to Hone His Instincts
He says the experience was valuable in helping him begin to hone his law-enforcement instincts. "We'd look through these two-way mirrors," he explains, "and as you would watch people, you would learn to recognize the characteristic movements and actions they would make prior to concealing merchandise: looking around, scoping the area out."
Moorman was also surprised to learn of the existence of professional shoplifters who would actually come to the store with a shoplifting list.
"At the time, $400 worth of merchandise was the cut-off point between misdemeanor larceny and felony larceny, and the pros would come in there with a calculator to make sure they stayed below that line," he explains.
Moorman's time at North Hills was short-lived, however; after six months, the Raleigh Police Department hired him in 1987. "I did most everything during my 20 years at the Raleigh PD," Moorman says: patrol officer, K9, community policing, followed by promotion to investigator working on drugs and vice, and then more promotions to sergeant, lieutenant and eventually to captain.
Along the way he earned a Master of Public Administration from NC State's School of Public and International Affairs in 2001. Moorman liked that program a lot because he felt he could derive a concrete, tangible benefit from it. "The MPA at NC State isn't just theoretical," he explains, "it's something you can put it into practice in your everyday life."
In 2006 Moorman took his career to the next level by coming to the NC State University Police Department as director of the Emergency Communications Center, which includes the university's 911 center. The following year he became captain of Support Services, and everything was humming along nicely until the department's chief, Thomas Younce, announced in 2011 that he was retiring.
"When Chief Younce announced he was retiring, I actually asked him not to," Moorman says. "I liked my job the way it was. Some people, all they want is to be a police chief. For me, I just wanted to be a police officer and do my job to the utmost, no matter what it is. But the chief's mind was made up, so I figured, well, I could at least apply."
He did, and once again, his father's dictum of hard work, education and taking advantage of opportunities paid off when he was hired as chief of police.
"It's really been great working here," Moorman says. "What I like so much about it is the sense of community. Everybody you encounter, you're all working toward the same goal, which is ensuring the safety and well-being of everyone on campus, and especially the students. When students come here, the expectation is that they're going to be safe and well taken care of.
"It's a critical stage of life that's very difficult sometimes. So when we interact with students, enforcement is actually not our primary goal. We have zero tolerance for anything that jeopardizes safety, but for other types of problems that crop up, we can put students in touch with the Counseling Center if they need that kind of help. Or we can refer them to the Office of Student Conduct, which is not punitive; the point there is to help them learn from their mistakes. It's great to feel like you're working in an agency where everyone's working together to make lives better for everyone in the community. It's a very positive experience."
In 2017 Moorman received the honor of being invited to attend the FBI National Academy, a 10-week course of study for law enforcement administrators from across the country and around the world. The academy, which is held at the U.S. Marine Corps base in Quantico, Virginia, leads attendees through coursework in intelligence theory, terrorism and terrorist mindsets, management science, law, behavioral science, law enforcement communication and forensic science.
"In addition to all the coursework, they make you do PT every day, in preparation for that," Moorman says, pointing to a yellow brick enshrined atop his office cabinets, bearing the words "YELLOW BRICK ROAD" in black letters. "At the end of the 10 weeks they make you run a 6.1-mile obstacle course through the woods there on the base," he says. "They call it the 'yellow brick road' because of the yellow bricks they used to set out along the way so you wouldn't get lost. If you complete the course, you get to take that brick home."
The year after he earned his yellow brick, Moorman racked up another achievement: In 2018 NC State's College of Education awarded him an Ed.D. in adult and community college education.
"I really enjoyed that degree program because it connected theory with practice," he says. "There are a lot of brilliant people doing research in different areas, and there are highly qualified professionals in the workforce. This program connected the two areas."
Putting His Degree to Work
Moorman wrote his dissertation on job satisfaction within campus law enforcement. "All law enforcement agencies are facing issues with hiring and retention, so I was hoping my research would help me better deal with those issues in my position as chief of police at State," he says.
One of the first things Moorman discovered in his research is that his chosen area was understudied in the literature, so he set out to address that gap by sending job-satisfaction surveys to every law enforcement officer at all public doctorate-granting institutions in the South. The results showed that support from leadership, autonomy, feedback and task identity — the ability of officers to see how their tasks fit into the overall success of the organization — were the most significant predictors of job satisfaction.
"Since then I've looked for every possible opportunity to more fully incorporate those principles into how I manage and lead," he says. "How can I give more support, more autonomy, more feedback, along the lines of my findings? I work on that constantly."
Moorman's last day on the job will be Oct. 1. What's next? For the longer term, his main goal is to spend more time with his kids, the oldest of whom works full time in NC State's Facilities Division. But for the short term — starting bright and early on Oct. 2, as a matter of fact — he's going to start that drive halfway across the country to attend a board meeting of the International Association of Campus Law Enforcement Administrators in Denver.
"I've been a board member of IACLEA since 2014," Moorman explains, "and our next board meeting is in October, right after I retire, but I didn't even plan on going because I won't be on the board anymore. But then they called me last week and said, 'We want you to come out as our guest.'"
He appreciated the gesture; the only issue was that it was too late to buy an affordable plane ticket. However, to Moorman — a new retiree with plenty of time on his hands — that was just another opportunity.
"I'd rather drive than fly anyway," Moorman says with a grin, "and I'm not on some tight schedule, so I figured I'd get in the car, take my time, see the country. It'll be my first time going to Denver. Heard it was nice."
At long last, he'll have all the time in the world to find out for himself.