Students
Forging Ahead, Their Way
No two degree paths are ever the same. Find out how these fall graduates made it all work.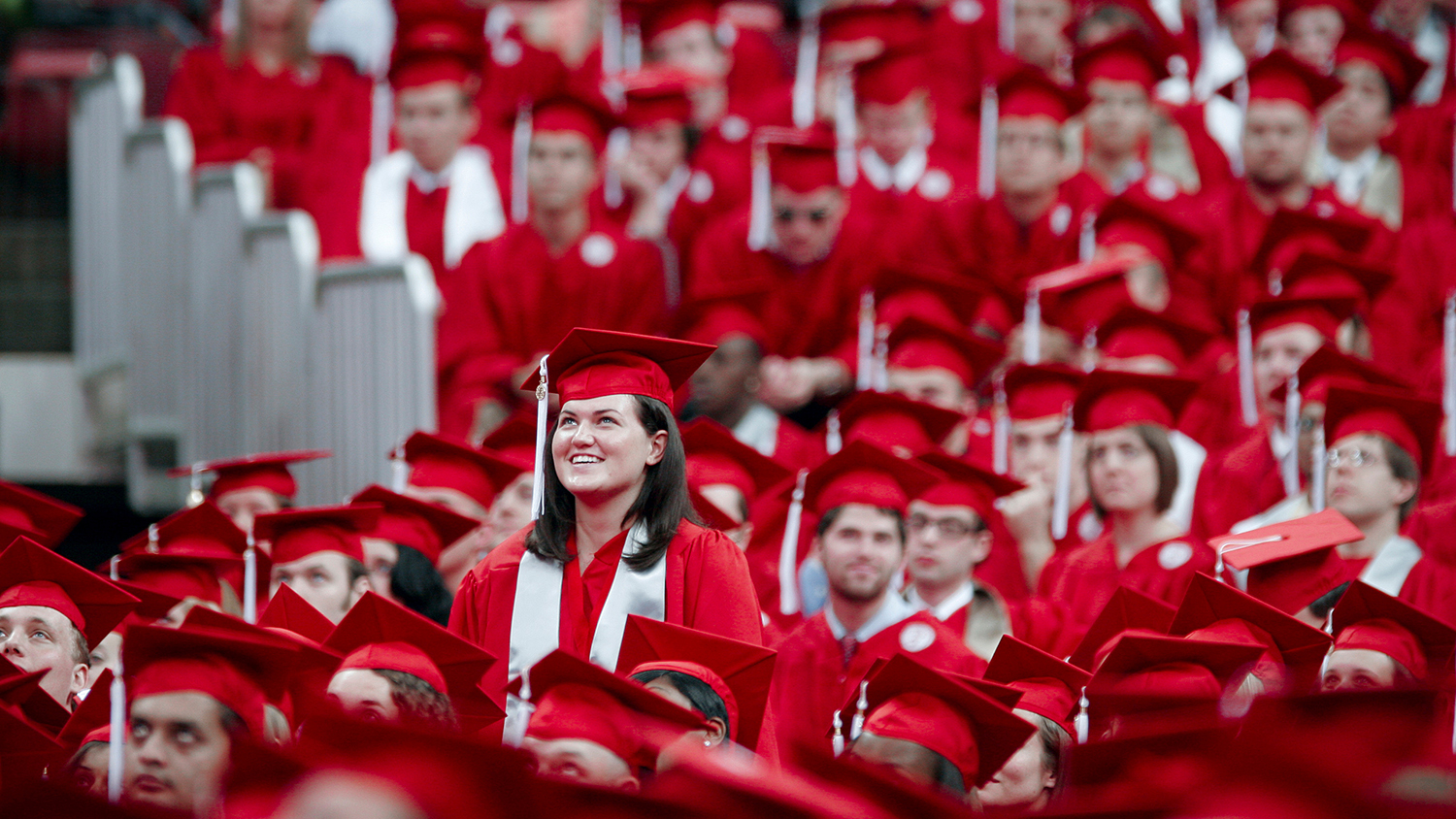 This year, 3,435 students will turn their tassels for Fall Commencement on Dec. 19. For many students, the path to their degree was anything but straightforward.
Full-time jobs. Online classes. Families. Careers. Years away from the classroom. Second guesses and second chances. These students prove that just because life happens, it doesn't mean graduation can't.
Karen Pate
Karen Pate has never been afraid of hard work. She started working right out of high school, and earned her associate degree from community college in her late twenties. Then the first of her two children was born. "I had planned to go back to school when my children were older, but life happens," she says.
She found that the Leadership in the Public Sector (LPS) program worked with her schedule, and the class options were in line with the classes she was interested in pursuing. She was able to continue her full-time job and take classes online. "I immersed myself in the program and accomplished many goals that I had set for myself".
After graduation, Pate will continue her insurance career in Raleigh and use the knowledge she attained from the LPS program to further enhance her leadership skills.
Niambi Ivery
Niambi Ivery had been considering a graduate degree for a while; the trouble was finding the right one. When she began work at UNC Charlotte in 2016, she started searching for programs that combined her career experience in program management with her passion for mentoring young people.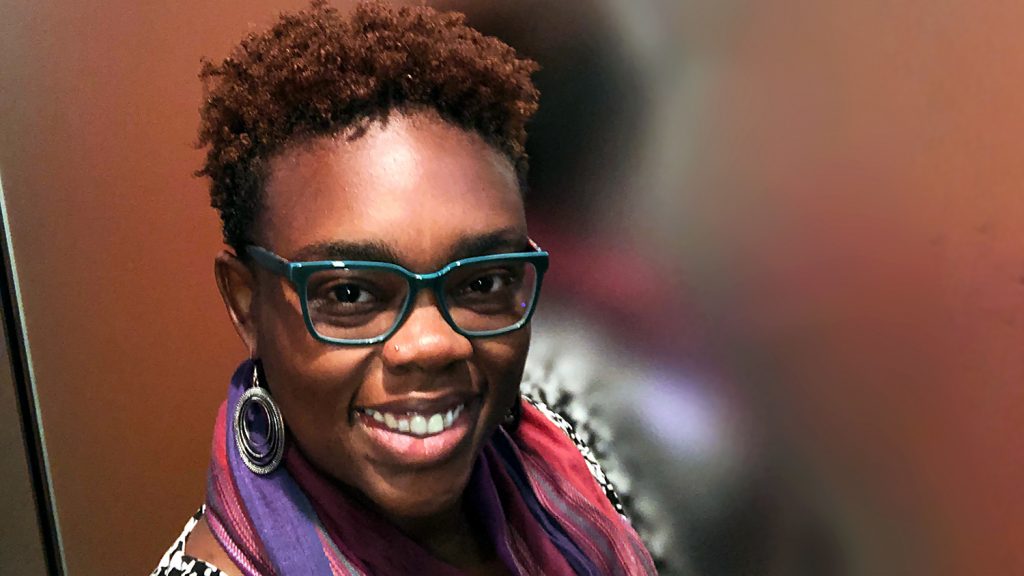 With three sons and a full-time job, Ivery knew she'd have to find a program that offered online courses, but also kept her engaged. She began the Family Life Education and Coaching graduate certificate program, and it struck a chord. "I had no idea that parenting education was a resource for supporting families," says Ivery.
The insights that followed led her to seek a master's degree in youth, family and community sciences. "I remember thinking that if had I pushed through on previous attempts to go back to school, I would have likely already graduated," she says. "I told myself there will never be a 'good time,' so now is the time." She credits her faith and determination — and moving at her own pace — with her success.
Ivery recently started a new position with Mecklenburg County Public Health as a Positive Parenting Program coordinator, a serendipitous combination of her field of study, interest and skill set.
Michelle Beasley
Michelle Beasley had wanted to go back to school and finish her degree from NC State since she left in 1990. With two associate degrees and a few other classes in between, she was always learning, but graduating with the Pack was important to her. "I had just always wanted to finish at NC State, where I started."
When her daughter was in high school, she realized she was running out of time to finish college before her daughter started. "When I found the LPS program at NC State that would allow me to complete 100% of the work online, I jumped right in," Beasley says.
What followed was a lot of 4 a.m. wake-ups and a dogged commitment to getting it done. Beasley's passion for environmental education and conservation has led her to nonprofit work, which she hopes to continue after graduation. "For anyone considering going back to school — online or otherwise — I say do it now," she says. "Don't let your own fear get in the way of accomplishing what you know you can do."
Josh McLain
Josh McLain is used to knocking it out of the park. A valuable member of the NC State baseball team during his first years here, he's finishing his degree this fall after spending a year and a half with the Los Angeles Dodgers. "I decided to come back and finish my degree because I was so close to graduating," he says.
McLain chose social work because he's always wanted to impact people and society in a positive way. "My advisor, Jenny Womack, suggested social work my sophomore year, and I have loved every class since," he says. McLain also interns at Healing Transitions, and he wants to learn more about addiction recovery so he can work with veterans with these issues in the future.
During his time as a busy student-athlete, McLain discovered it was all about balance. "You're often doing assignments on a plane or in a hotel room after a game," he says. This time, he found that online classes can pose a challenge — you have to be self-motivated.
McLain remains a proud to be a member of the Wolfpack. "When you go out and compete against other schools around the nation, you get a sense of what they represent and how they carry themselves," he says. "It always made me love NC State's traditions even more."
Benjamin Tennant
Benjamin Tennant will soon become a three-time NC State alum, with degrees in business administration and accounting, and, this fall, a Jenkins MBA with a graduate certificate in Technology Entrepreneurship and Commercialization.
"I wanted to pursue an MBA to build upon my work experience and broaden my opportunities," he says. "Plus, I enjoyed the community of like-minded, ambitious and mostly local students."
The unique combination of online and in-person classes builds success into the program for busy students. "That flexibility allows students to gain as much value as possible from the program," Tennant says.
While attending classes in Nelson Hall, Tennant met one of the founders of Tethis, a leading biomaterials company launched by three NC State graduates. The professional relationship that followed opened the door to his next career move with the company, where he's been hired as controller.
With a handful of degrees and business connections from NC State, Tennant is Wolfpack through and through. "I live right outside Raleigh and really enjoy being so close to a university that has served me so well," he says. "I look forward to giving back to the community."
Watch: Walking Their Own Paths
At NC State, there are as many paths to graduation as there are graduates. Take a look at the different paths these December grads took to earn their degrees.