Campus Life
Black History, Black Present: Nubian Message
For NC State's minority and marginalized groups, this powerful student voice is as vital as ever.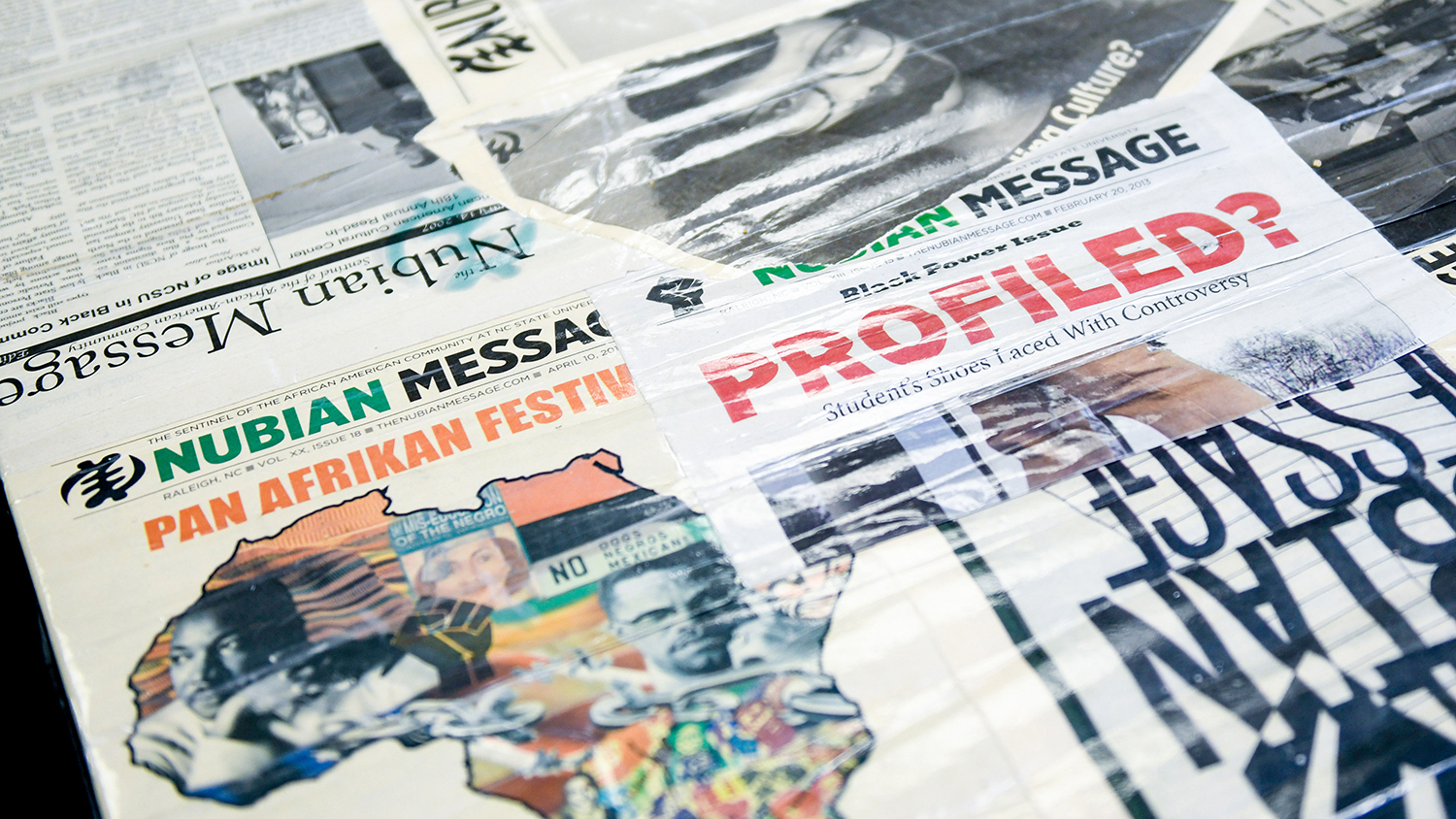 Every Monday evening, in a small office on the third floor of Witherspoon Student Center, the staff of Nubian Message, NC State's black student newspaper, gather for their weekly meeting. Publication awards hang proudly on the wall, along with articles and photographs from the paper's rich history.
Crowded around a table plastered with laminated Nubian covers from past issues, the staff of 11 — including photographers, graphic designers, editors and writers — address strategy for upcoming issues.
Events coverage is planned months in advance to ensure staff availability. The students at Nubian are often involved in other groups, and everyone has numerous academic commitments. Still, their passion for campus representation is strong.
At a recent meeting, there was talk of an NPR Tiny Desk-style concert video with a local music group. The Grammy Awards surfaced, and so did the Black Panthers, along with the importance of voting in the upcoming presidential primary elections.
The Nubian office acts as a space to both discuss community issues and plan future columns. Conversation turned on a dime from serious discussions about threats of violence to celebrations of pop culture. Facts about the history of the African diaspora blended seamlessly with ideas for playlist selections.
For an evening meeting after a long day of classes, the energy level was remarkably high as staff volleyed story ideas. Brainstorming at the whiteboard, the small room echoed with big voices, laughter and impassioned opinions.
"If you don't know how you feel about it, don't write about it," one student said to another. "It's not going to be good."
Born From Adversity
The early nineties brought a demographic shift on some UNC System campuses, and with it, racial tension among the student bodies. On Feb. 8, 1991, a student opinion piece in NC State's original campus newspaper, Technician, described African American campus centers and events as "reverse racism." Another opinion piece published on Sept. 23, 1992, contained racial slurs and suggested a race war was approaching.
Spurred by what many students saw as unfair coverage and misrepresentation, some 200 students protested in the Brickyard on Sept. 25, 1992. They burned copies of Technician, and the idea for an independent black publication was born.
The inaugural issue of Nubian Message was published on Nov. 30, 1992, and featured a letter from its founding editor-in-chief, Tony Williamson, outlining the reasons for the paper's creation. The first issue was printed with help and equipment from NC Central University; later issues received NC State support and funding, following a unanimous vote by the Student Media Authority to recognize Nubian as a permanent member in 1994. (It's worth noting that the paper's staff still get so many queries about their need to exist that they published a list of frequently asked questions in their recent 25th anniversary issue.)
Today, Nubian's content offerings are diverse: playlists and poems, opinion columns and book reviews, event coverage and policy analysis. Blackademics, a recurring column, features profiles on minority professors at NC State in historically underrepresented categories such as philosophy, German and science education.
In addition to student interests, academics and cultural events, Nubian strives to cover issues of institutional equity. Ellen Meder, editorial adviser for student media, praised the publication for both its quality and advocacy.
"On many occasions, the Nubian staff has approached reporting from a different angle," she said. "They have a specific drive to properly represent the black community, particularly at a PWI [primarily white institution] where, historically, a lot of coverage isn't always done right."
The fact that Nubian exists makes some people uncomfortable.
Coverage from the affected party's perspective — like a black student's opinion on rumored changes to a black student housing initiative — is important. That may seem like basic journalism, but for the staff of Nubian, it's a standard for which they continue to fight.
"The fact that Nubian exists makes some people uncomfortable," said Yesenia Jones, the paper's editor-in-chief and a senior in communications with a concentration in media studies. "Just being a black publication, we face questions like 'Why do we need that?' and 'Why don't you become a column in Technician?'"
In recent years, Nubian's scope has widened. They've updated their mission statement to reflect more inclusive coverage of Latinx, LGBTQ and other campus minorities, while remaining true to the paper's roots; the inside cover of every issue pays tribute to African and African American community elders.
"This is a student publication for any person of color and any marginalized group," said Jones. "Inclusivity was left out of the first mission statement. Especially now, with all of the oppressive rhetoric occurring in society, we wanted to let everyone know we can be a voice for them."
Protest, Livestreamed
Seeking to meet readers where they are, Nubian has worked hard to amp up their Twitter and Instagram channels, led by social media director Elikem Dodor, a second-year student majoring in applied mathematics and science, technology and society, with a minor in Africana studies.
"We have our highest levels of engagement when we're covering stuff that's more controversial, because our readers are passionate about those topics," said Dodor. "I try not to see negative comments as a personal attack, just strong feelings about the topic."
One such topic was the Nov. 13, 2019 "Culture War" rally hosted by the Turning Point USA student chapter, featuring Turning Point founder Charlie Kirk and NC State alumna Lara Trump. Some students felt the views expressed by Kirk and Trump created an unsafe learning environment, while others felt they were exercising free speech.
The tour incited one of the largest protests in recent NC State history, organized by the campus coalition "No Hate at NC State." Nubian provided extensive coverage in their publication and on social media.
"That event was a big deal for us," said Jones. "There aren't many protests of that scale, and it was amazing to see our team work together to cover it. We were writing it up the same night because we were printing the next day! I had so many people come up to me afterward and commend us on our coverage."
Regarding the protest, Meder emphasized that university staff worked with students so they could participate and cover the event while remaining safe. "You can't ignore what's happened on other campuses, and what's happened to other young journalists reporting on heated public discourse," she said.
We don't run from tough topics, but we have to be smart about them.
Staff writer Shawn Fredericks, a senior majoring in Africana Studies, has received personal attacks after some of his posts. "People messaged me on Facebook. Trolls and spam — every writer has to take precautions. We don't run from tough topics, but we have to be smart about them."
All six NC State student media outlets are editorially independent, a crucial requirement for authentic student coverage. "There are times when we brace ourselves if they shine a light on a painful truth," said Meder. "But the reason why we thought people would react is the reason why it was important to do it that way."
"For 28 years, Nubian Message has played a key role on our campus, serving as the student voice for issues and events that affect not only our African American community, but the entire institution," said Lisa Zapata, interim vice chancellor and senior associate vice chancellor for the Division of Academic and Student Affairs. "Nubian educates and informs, while also creating and celebrating community here at NC State."
A Message of Inclusivity
For African Americans and other marginalized student groups, Nubian's presence on campus remains vital, especially as the national discourse rages on.
"On a predominantly white campus, it feels like a moral duty for me as a journalist on campus to cover issues my community is facing and to provide a voice for them," said Jones. She maintains a passion for the paper with an eye on her future career. "It's demanding," she said. "You're corralling staff, trying to be the face of the paper, working on a budget and serving on the student media advisory board. But I wouldn't be who I am without it."
Student organizations like Nubian are essential to a thriving, multicultural campus environment. They help students discover their potential, and form lasting and supportive networks.
"This is how I found community here at NC State," said Fredericks. "It's such a unique thing to be the amplifier for black voices on campus and see how important that is."
Ugonna Ezuma-Igwe, Nubian layout designer and a junior majoring in biological sciences and economics with a minor in Africana Studies, agrees. "Being here with your peers pushes you to learn new things and go out of your comfort zone," she said. "We're all here to support each other."
Jalen Rose, a human biology and philosophy major and the paper's managing editor, credits the challenging and supportive staff environment with helping understand himself. "Starting college, you're not always sure who you are and what you want to do," he said. "Nubian gave me a space to find my voice, and helped me understand myself better."
Nubian gave me a space to find my voice, and helped me understand myself better.