Resilient Pack
Resilient Pack
In this first installment in a series spotlighting NC State employees going the extra mile during the COVID-19 crisis, we share stories of determination, compassion and ingenuity.
From maintaining the safety of campus facilities to keeping the arts alive, NC State faculty and staff are stepping up (and out of) their roles to help out as the university community navigates the COVID-19 crisis together.
Below are a few examples of the people and programs making a big difference. If you have a story to share, please let us know.
Preparation is Key
When news of the novel coronavirus broke in January, Taft Waldon happened to be in the process of updating University Housekeeping's standard operating procedures on pandemic response.
"At first, it was a precaution to be ahead of the game," says Waldon, who is one of Housekeeping's deputy assistant directors.
Thanks to his efforts, campus preparation was well underway by the time the first case of the coronavirus was confirmed in North Carolina. Waldon had researched additional disinfectants and revised cleaning protocols in partnership with Environmental Health and Safety. Housekeeping had ordered extra supplies and trained employees on new procedures.
"Taft Waldon is our unsung hero," says Ada Baldwin, director of University Housekeeping. "He never stops working."
On campus, Housekeeping employees have increased how often they disinfect high-touch surfaces such as door handles, light switches, sink faucets and restrooms. They also switched to a new disinfectant that kills germs in just 30 seconds.
"Environmental Health and Safety has verified that current cleaning and disinfection processes and chemicals succeed in combating coronavirus," Baldwin says. "We are doing everything possible to keep our campus community and staff healthy."
Getting Students Home
When study abroad programs in continental Europe were suspended on March 11, NC State faculty and staff kicked into high gear to get their students home safely — and as quickly as possible.
For the NC State Prague team, that meant corralling 52 students traveling all over Europe for their spring break.
"Our sole goal was to get the students directly back to the U.S., or return them to Prague, then to the U.S.," says Anaël Symůnková, communications specialist with the NC State European Center in Prague.
The crisis amplified on March 13 when the Czech government declared that it would close all borders to foreigners on March 16, Symůnková says. "Students who had already booked plane tickets to leave the following week saw their flights canceled."
NC State Prague Director Kim Strozewski, Associate Director Megan Winzeler and Student Affairs Coordinator Eva Kavalova worked around the clock over the course of four days to help students navigate the complicated process of booking flights back to the U.S. Also important, Symůnková says, the NC State Prague team gave the students "full emotional and logistic support in a very stressful time."
Winzeler says that as the students' primary contact, Kavalova was particularly heroic.
"Announcement after announcement kept coming out about countries closing borders, airlines shutting down service, and a countrywide quarantine in the whole Czech Republic," Winzeler says. "Eva navigated these announcements with a calm, collected demeanor and always exercised incredible empathy and patience when communicating with each and every student."
Fifty of the students returned home safely within five days of the program suspension, and the remaining two students made it home shortly after, Symůnková says.
"This is a great team who functioned efficiently through different time zones and across the Atlantic to take care of our students and get them safely home."
MarketPlace Team Moves Mountains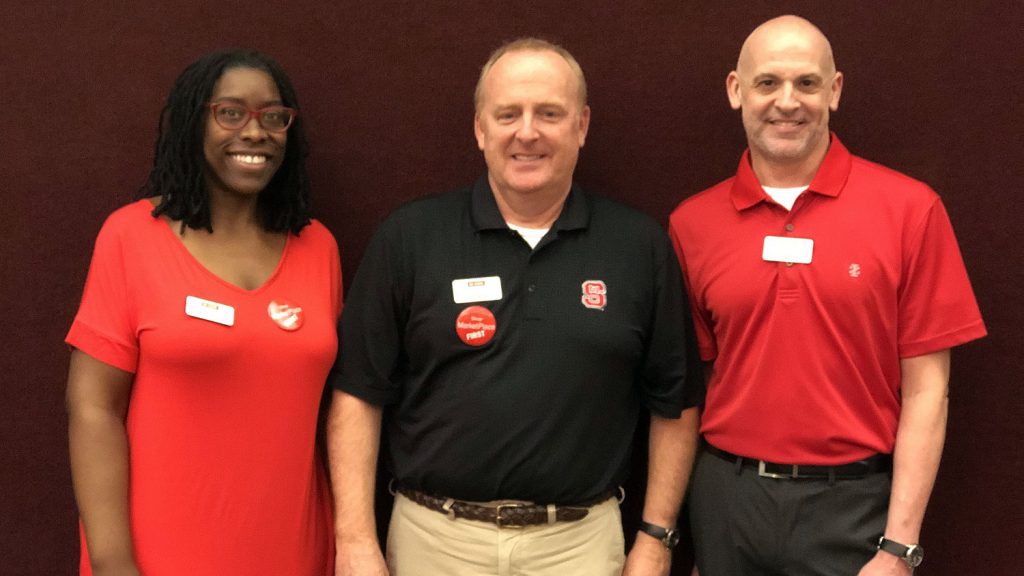 Staff members in NC State's Procurement and Business Services have been working around the clock to minimize the impact of COVID-19 on the university's procurement processes and timelines.
"Our MarketPlace team, in particular, is actively sourcing medical, household and cleaning supply products, which are vital for fighting the coronavirus," says Maria Fister, lead instructional designer with Procurement and Business Services. "We are in daily communication with the university's MarketPlace suppliers, who are either taking pre-orders for items that are on backorder or are confirming which items are in stock and ready for purchase."
If you are a faculty or staff member in need of assistance finding products, visit the Procurement and Business Services website or contact the MarketPlace team at marketplace_orders@ncsu.edu.
The Arts Flourish Online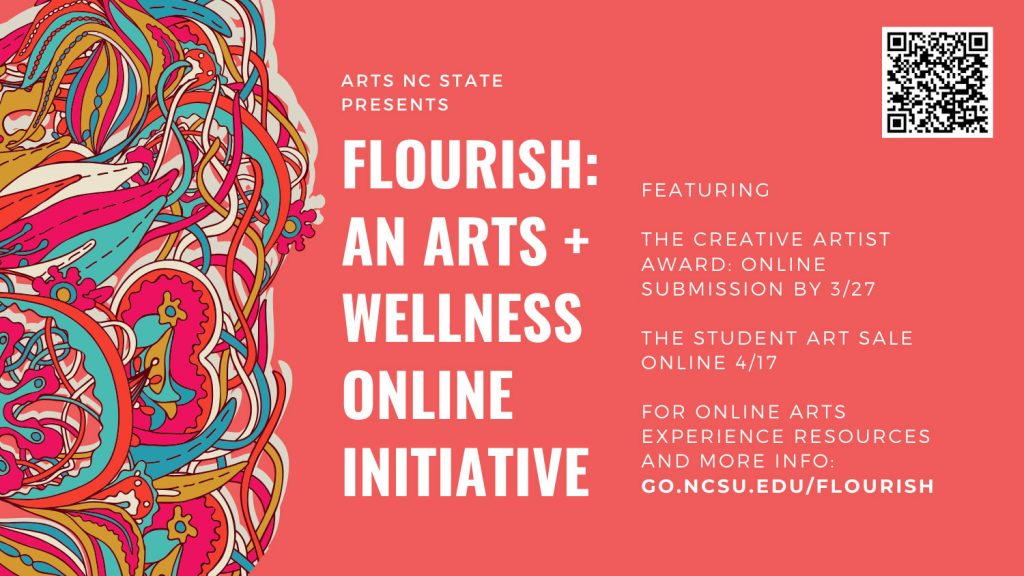 This strange new age of social distancing isn't stopping Arts NC State from hosting its Flourish Festival — an arts and mental wellness initiative started last year in partnership with the Counseling Center to encourage healthy conversations and reflection about how the arts impact our well-being.
This year it will take place online and will include art-making opportunities for NC State students.
"It was disheartening to see so many arts events canceled due to COVID-19, but we knew that there could still be opportunities for our students and community to engage with the arts while physical distancing," says Amy Sawyers-Williams, coordinator of arts outreach and engagement with Arts NC State.
That means moving the popular Student Art Sale online.
"While we've never done this before, we believe our patrons will understand and support these student artists, many of whom will be selling art on the web for the first time," she says.
The Student Art Sale starts at noon April 17, and student artist submissions are due April 3. Students are also invited to submit their original work in music, dance and theater for a Creative Artist Award by April 3.
The Flourish website also features a growing collection of online arts experiences and research on the arts and mental health.
"Our entire staff came together to create a comprehensive list of online arts experiences like plays, concerts, dance classes and virtual museum tours that our community could access, and we are adding to it every day," Sawyers-Williams says. "While it's not the same as being in a live audience, we hope that it will provide folks with some sense of calm and creativity while we ride this out together."