Resilient Pack
A Virtual Village
NC State's University Housing is still supporting and building community among resident students — wherever they are.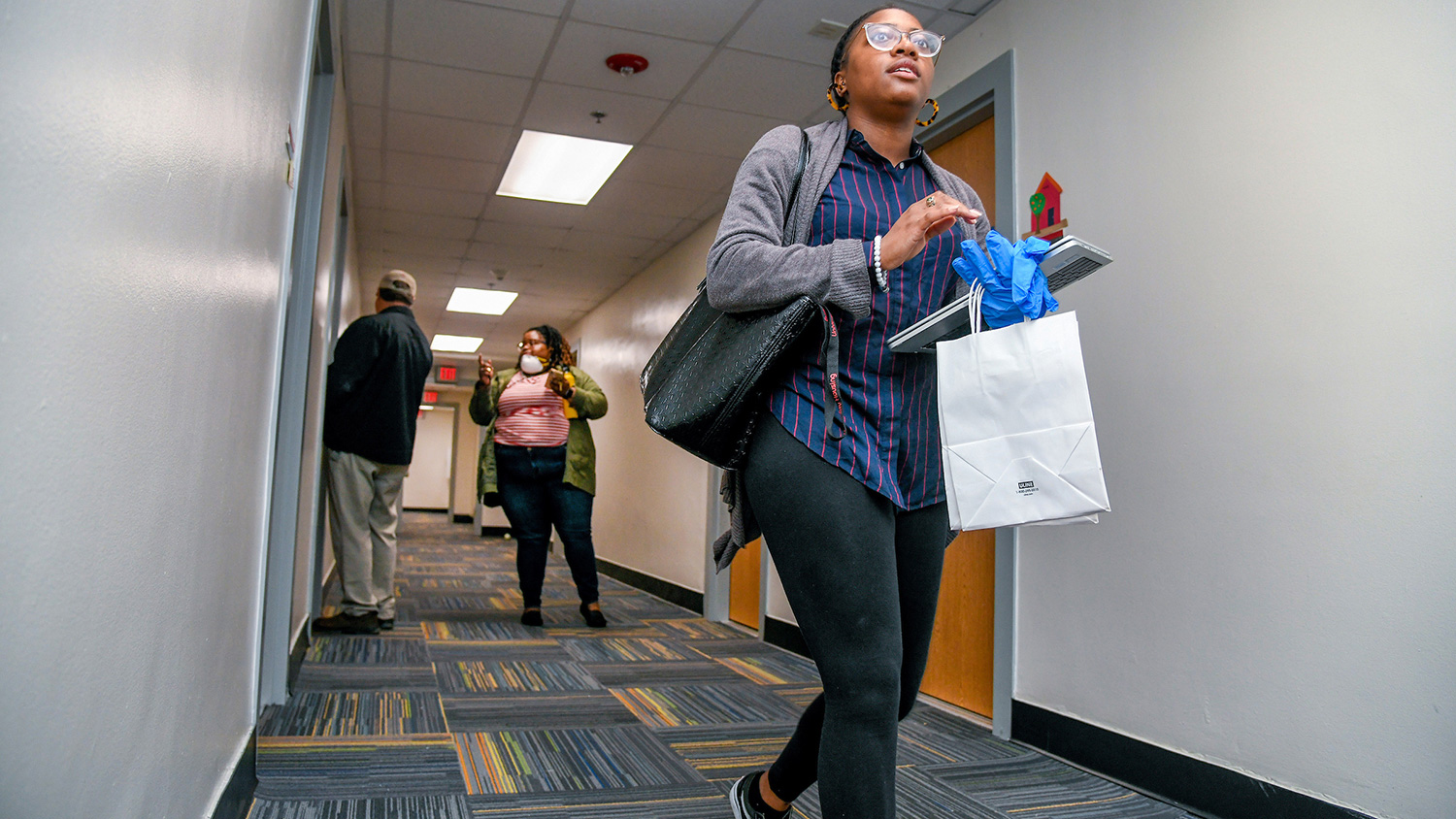 Like everywhere else on campus, NC State's dorms are a lot quieter than normal these days. But even though most students aren't walking the halls, University Housing is still open and hard at work.
Since mid-March, when the COVID-19 pandemic forced the university to close most of its campus housing and transition to online learning, the majority of NC State's residential students have been living off-campus. According to Donna McGalliard, assistant vice chancellor and executive director of University Housing, just under 700 students — or about 8% of the university's total housing capacity — remain on campus because of special circumstances.
University Housing has been working to ensure these students stay safe and healthy — while also continuing to reach out to the thousands of residents no longer living on campus. Adapting to the pandemic has required McGalliard's team to think of residence life in a whole new way.
"I've been so impressed with the quick pivot that my team was able to make and continues to make on almost a daily basis with regard to thinking of all the nuances of things that need to be considered," McGalliard said.
This has meant flexibly dealing with everything from getting mail to students living elsewhere to safely housing students still in on-campus residence halls and apartments. Students who were approved to remain were moved as necessary to centralize them in certain buildings and make sure each one has access to a private bathroom and living space. Staff on campus check in on them regularly.
McGalliard and her staff are also finding ways to engage with students — and engage students with one another — without face-to-face interaction, whether they're on campus or off.
"We're equipping our staff with a lot of formats and resources that they can use to help students stay connected," McGalliard said.
In addition to holding online office hours and making themselves available for one-on-one chats with residents, Housing staff are also finding creative ways to bring their students together for fun online, like Zoom social hours, game nights, watch parties, pet meet-and-greets and floor dinners.
Connor Brady, community director for the Quad dorms of Bagwell, Becton and Berry, has been keeping his students informed through regular e-newsletters. His staff are also coming up with ways to help residents get to know each other better.
"My residence director, Noah Johnson, created a virtual mixtape exchange called 'QuadMix,' through which residents create a playlist online and anonymously trade it with someone else," Brady said. "We had more than 50 residents participate, and some even decorated an album cover to exchange with their mixtape."
"My floor was very social with lots of friendships and interactions with each other, and everyone was worried at first they would lose touch with one another, but they've found they can continue their interactions and friendships through virtual experiences," said Jacob Miles, a resident adviser in Bowen Hall.
Miles has continued to reach out to all his students through Zoom or the phone to see how he can support them during this challenging time or connect them to other campus resources that can help. "The resources offered on campus that resident advisers utilize, like the Counseling Center and the Women's Center, have done an outstanding job of continuing to support students through this time," he said.
Staff in the university's Living and Learning Villages, which are designed to bring students together around shared interests, are also continuing the villages' unique programming and working hard to maintain a sense of community.
"My goal has been to try to still foster village life, even if we do not get to live in the same residence hall," said Kensley Ledford, a mentor in the Students Advocating for Youth (SAY) Village. "SAY creates a special environment for its residents, and moving online hasn't hindered participation. In fact, some of my residents who were less involved before moving online are now more vocal and attend more events."
Since leaving campus, Amy Henricks, a first-year elementary education student in the SAY Village, has been able to take part in all-village gatherings, attend programs, and video chat with her resident adviser and other village staff.
"Staying connected with my village community has really helped me transition to being home," said Henricks. "Even though I can't be on campus, I've still been able to participate in activities with the community that I love."
"Generally, I think feedback from students has been positive," said Brady. "This is an uncertain time, and having your resident adviser and Housing staff members that you built a relationship with during the year available to you creates a sense of normalcy."
McGalliard said that University Housing's main goal right now is to let students know they aren't forgotten.
"Not every student is taking advantage of these resources, and that's OK," McGalliard said. "The point is to let students know that we're here for them and that they have folks who care about them even though we're not face-to-face."