Resilient Pack
Lonnie Poole Stays the Course — With Precautions
The Lonnie Poole Golf Course on Centennial Campus remains open as an essential outdoor activity. But the staff is taking extraordinary measures to protect golfers during the pandemic.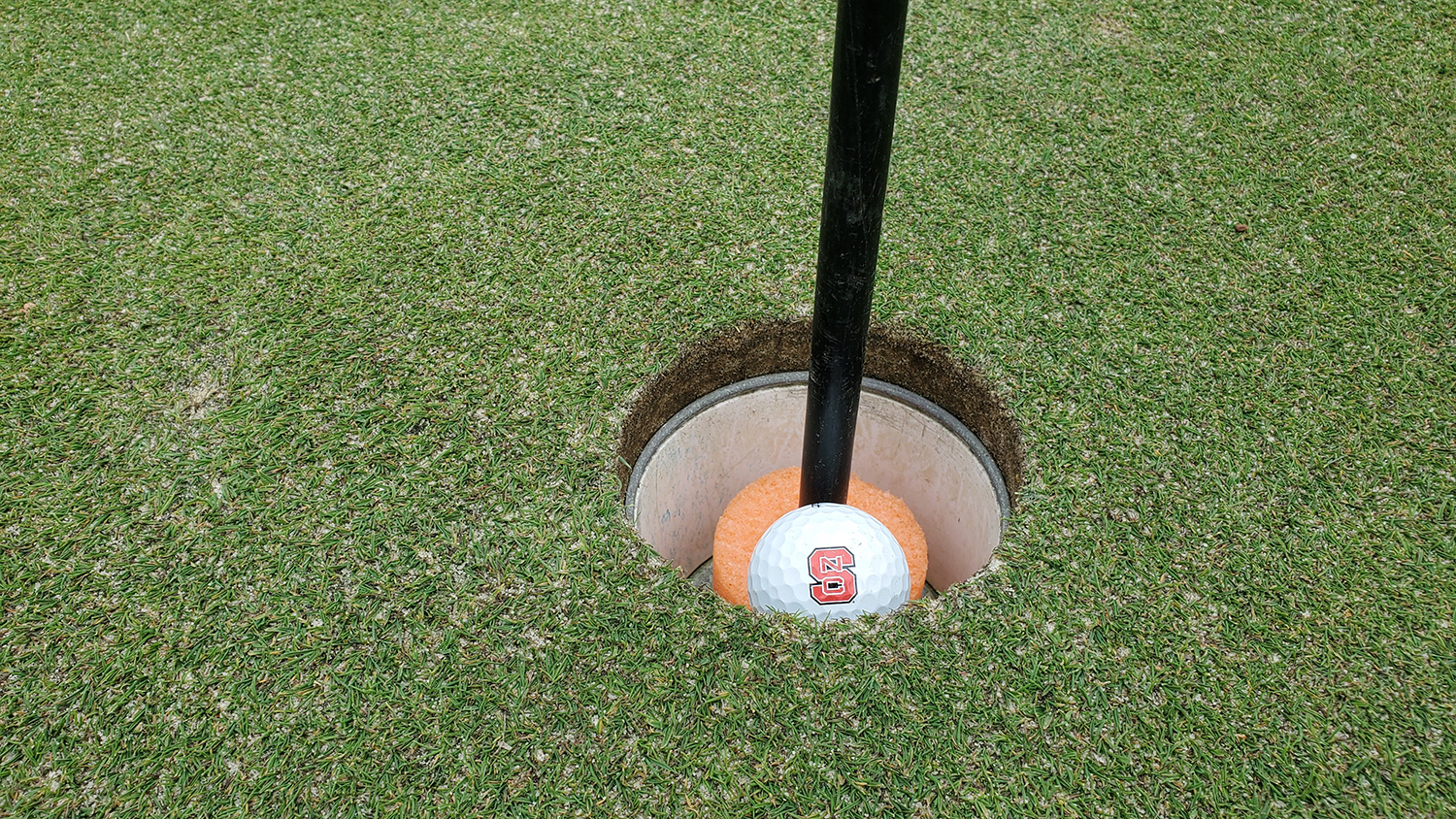 Lonnie Poole Golf Course general manager Chip Watson was playing a round of golf last weekend, a rare luxury for someone who works in the business. It was a perfectly lovely day: bright and sunny, temperatures in the 80s, not a worry in the world.
"I came up on the last hole and saw the clubhouse," Watson says. "I realized it was the first time in hours that I hadn't thought about what we are going through. I had totally forgotten about [the global coronavirus pandemic].
"And that's the whole purpose of why we are still open."
On Monday, when North Carolina Gov. Roy Cooper declared a statewide stay-in-place order, golf was deemed one of the few "essential outdoor activities," allowing most public and semi-private clubs in the state to remain open to the public, with a few dramatic modifications.
While all outings and events — including LPGC's second women's NCAA regional tournament and the Women's Big Four Challenge — were immediately canceled in mid-March, play was still allowed for individuals and groups of up to four.
It was a lifesaver for the 11-year old golf course on Centennial Campus, a self-sustaining, independent business that receives no operating funds from the university, because it kept some revenue coming in through what is typically the busiest time of the year.
In many ways, life at LPGC is still the same. The emerging grass in the fairways is cut every day. The greens are rolled and still fast. The view of the downtown Raleigh skyline is still the best in the city. The deer living in the woods on holes 7 and 16 are still just as curious every time a cart pulls onto those fairways.
Golf with social distancing, however, is different.
It's completely touch-free. Players make tee times online. They check in outside the pro shop, which is closed to all customers. Both the Terrace Dining Room restaurant and the bar are closed and on-course beverage cart service has been idled. The snack bar, however, is available for take-out service and locker rooms are still open.
A full staff is needed to manage all the extra precautions, and hourly workers in positions deemed essential are being paid, per state mandate, at time-and-a-half.
The driving range is still open, but attendants wearing rubber gloves deliver buckets of balls to players who purchase them before their rounds. Bag stands and club washing stations, however, have been removed. And every day, range balls are collected, cleaned and sanitized.
Only players who live in the same household can share a two-person cart. Everyone else is required to ride separately. On the course, all ball washers, sand bottles, rakes and water coolers have been removed.
Players don't have to touch the flagstick anymore, because a recent United States Golf Association rule change now allows for it to remain in the hole for putts. But players still have to reach into the four-inch hole to retrieve their balls.
LPGC decreased the depth of each hole by putting a two-inch piece of foam around the base of the flag, allowing the ball to go in, but remain shallow enough to be picked up without touching the cup or the stick. (Other courses have used plastic liners that block the ball from going into the hole; any ball that deflects off the liner is deemed in, but that's not exactly reflective of actual play.)
Just to be safe, though, each cart is sanitized after every round. Gathering spaces around the clubhouse are closed, with no chairs around the fire pit on the terrace, no one milling about in the wide, open areas that were built especially for golf's social aspects, like a post-round drink. Players are encouraged to take their bags directly to their cars in the parking lot.
So far, the overabundance of precaution has been successful in keeping the fairways and greens open, and business has been slower, but steady.
"Our play for March was about what we budgeted so we didn't really see any change," Watson says. "In April, knowing we're going to lose all the tournaments, knowing we lose all the food and beverage, it's going to hurt, but we should probably be able to skip through OK."
For now, Watson says, keeping the course open is not about finances.
"It's about giving people a place to go for an outdoor activity, to help with both their mental and physical health," he says. "We're definitely not making money right now, but May and June are traditionally our busiest months, so we'll see what happens then."
Here are some of the additional measures LPGC has put in place to protect players and staff:
The Carole Johnson Poole Clubhouse, including restaurant, bar, pro shop, meeting rooms and locker rooms, is closed except for a hallway leading to the bathrooms.
Extra hand sanitizer has been placed in customer and staff areas.
Extra cleaning is being done by the housekeeping team and golf staff.
Signage has been posted regarding social distancing and health tips.
Customers check in outside of the building.
When possible, fees are collected online or in advance over the phone.
All golf cars are cleaned, disinfected and sanitized before and after each use.
Practice putting green flags, range bag stands, bunker rakes, benches, ball washers have all been removed.
All outdoor seating has been removed to avoid social gatherings.
Carts are immediately sanitized when returned to the clubhouse.
All on-course restrooms are closed and sand-bottle stations have been removed.
Staff is wearing protective gloves in all areas.
All water coolers have been removed from the course.
All golf club rentals have ceased for now.
Course closes at 5:30 p.m. to give staff extra time to sanitize carts, range balls and other items, and to discourage late-afternoon social gatherings.