Beyond the Bricks
It's in the (Produce) Bag
COVID-19 may bruise North Carolina's tourism economy this summer, but it's not stopping the Vacationer Supported Agriculture program from connecting travelers to local foods.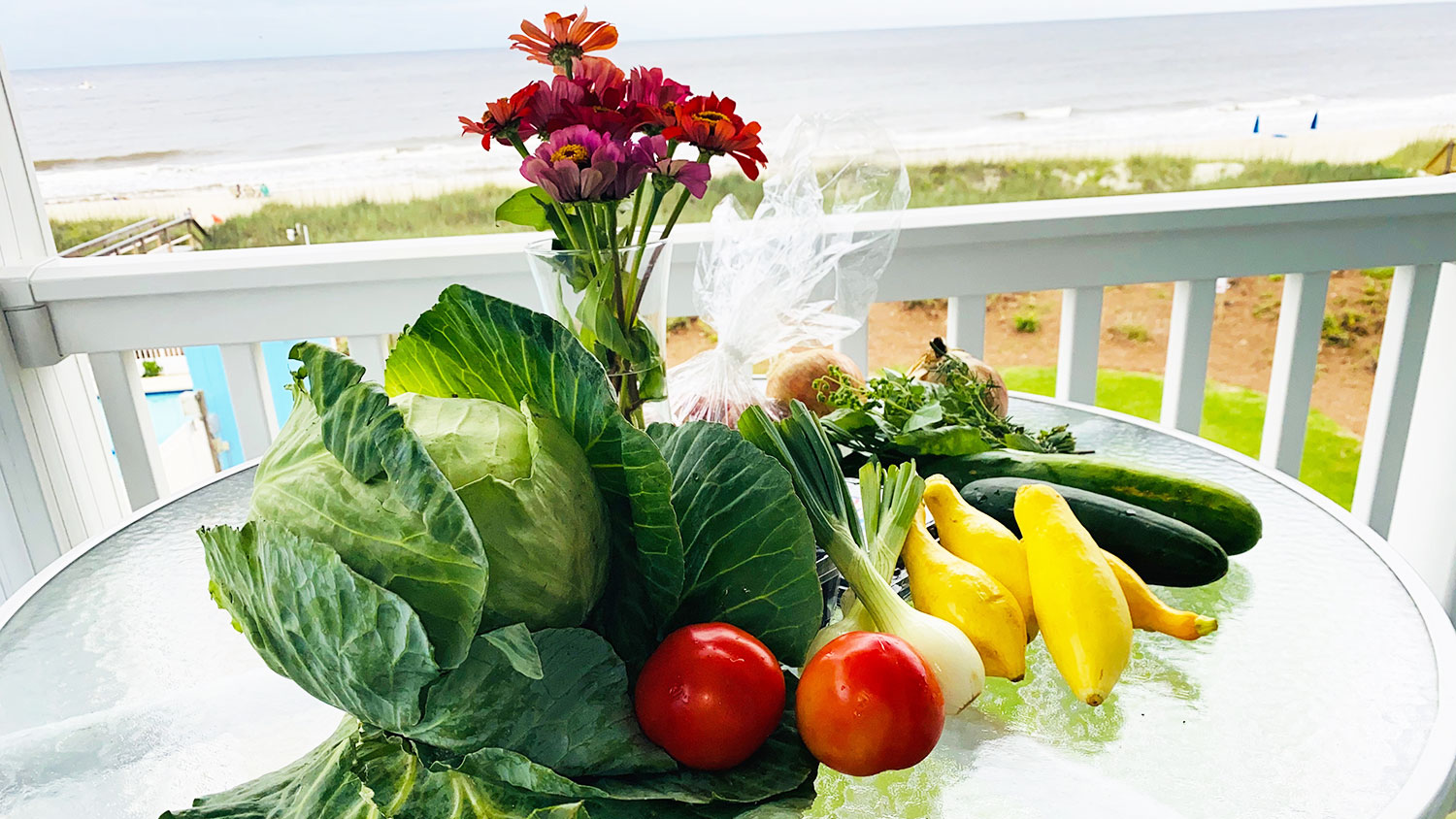 Vacation season is upon us. And, although it looks very different this year in the midst of a pandemic, one program is working hard to support coastal tourism in North Carolina while creating new revenue opportunities for local farmers.
The Vacationer Supported Agriculture program — led by North Carolina Cooperative Extension and NC State start-up People-First Tourism Inc. — connects beachgoers to fresh local produce before they even put a toe in the sand.
"A large number of visitors opt to book a self-catered vacation rental, such as a cabin in the mountains or a beach condo on the coast, due to a perception of better value and convenience," says Duarte Morais, People-First Tourism founder and an associate professor in NC State's Department of Parks, Recreation and Tourism Management. "As a result, many renters arrive at their destination with home-bought groceries in an attempt to optimize their precious few days of vacation."
Morais, along with Becky Bowen, Susan Jakes, Hannah Dankbar and other colleagues in Extension's Fork to Farmer project, realized this represented a significant revenue loss for North Carolina farmers and set out to develop a new way for them to tap into the state's tourism economy.
With grant funding from the United States Department of Agriculture, the VSA program has expanded from serving one beach in 2018 to more than eight beaches along the North Carolina coast today, with sights set on the Outer Banks as a potential new market.
How Does it Work?
Participating in the program starts with the click of a link.
If you've booked a summer rental through one of the program's participating realties, you'll receive an email before you arrive that invites you to purchase a bag of fresh local produce.
Choose your vacation week from a drop-down list, select the number of produce bags you'd like, and pay online. Then, pick up your produce at an easy-access location when you arrive at the beach. Recipe cards often accompany the bags for tourists who may never have encountered, say, okra, or other Southern vegetables and fruits.
Simple, right?
Behind the scenes, however, is a massive, highly coordinated effort by a number of different people to make the intricate system work seamlessly.
This includes Extension staff from numerous county centers, nonprofit organizations, farmers, and People-First Tourism, the company that developed the software for the online ordering system.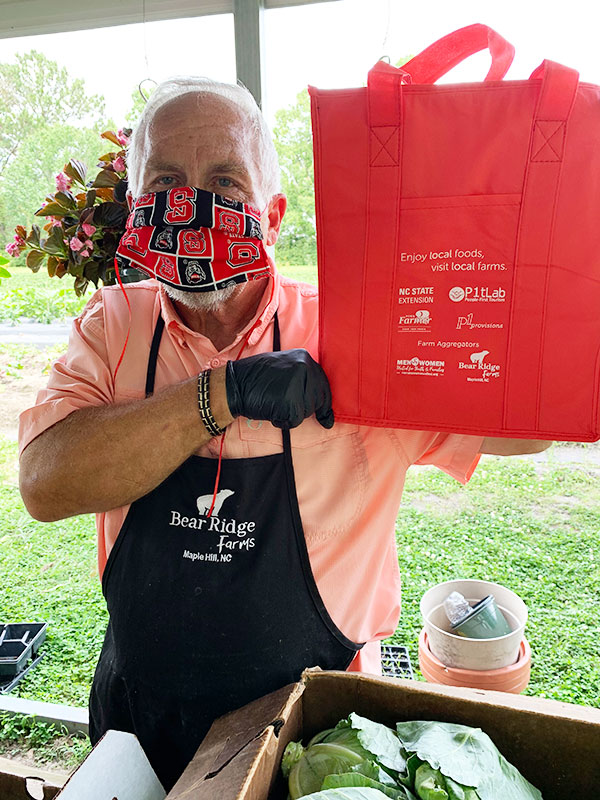 The VSA program follows three business models to accommodate the needs of and resources available in each community served. For example, in Brunswick County, a nonprofit organization serves as an intermediary aggregator and distributor. In Pender County, a farmer fills those roles.
"It's a wonderful collaboration, with a lot of contributions from a lot of people," Bowen says.
It Takes a Village
For the program to launch successfully, Bowen says they quickly realized the need for an on-the-ground aggregator. So Brunswick County Extension Director Mark Blevins connected them with Randolph Keaton of Men and Women United for Youth and Families, a community hub and job development center in Delco, North Carolina.
"We package the produce at our job center, then deliver it to the beach areas and distribute it each Saturday during the season," Keaton says. "All of the work is done by our team of youth ambassadors who have really taken ownership of the program. They really enjoy it.
"It's amazing to me, that on a Friday afternoon, they want to come here and spend five or six hours putting produce in bags, shucking corn, sorting cucumbers or whatever it takes, and they're happy spending their time that way," he says. "They're gaining independence and learning about business operations, but they're also getting hands-on experience with agriculture."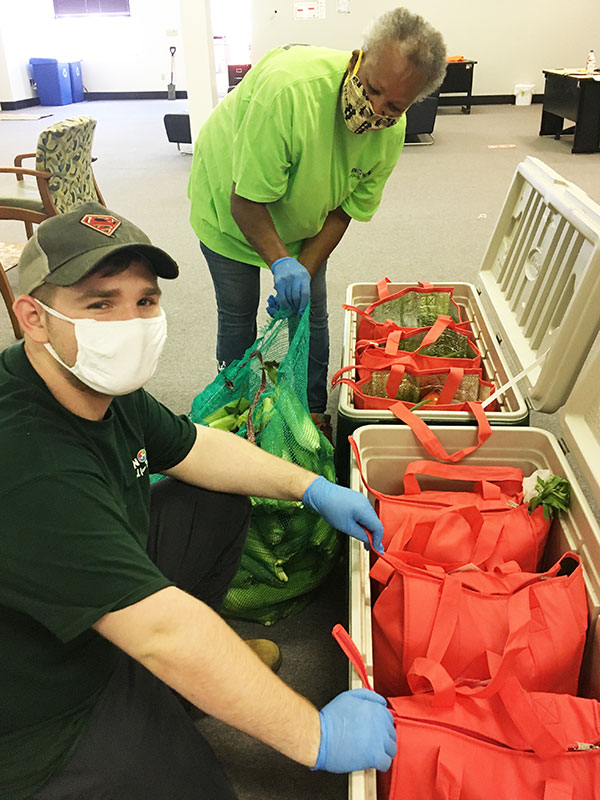 People-First Tourism also played a key role in getting the VSA program off the ground.
Morais, who jokingly refers to himself as "lead instigator," describes it as "a social movement with a business model embedded in it." The company's mission is especially meaningful to him because his family operates an agritourism farm in Portugal.
"We formed People-First Tourism to study the less-served people in tourism, the local people, who we call microentrepreneurs," Morais says. "Because we are advancing academic knowledge and Extension programming through our collaboration with them, we also feel ethically bound to help them earn income from the tourism economy."
So Morais and his team created an online marketplace where locals could sell experiences, such as farm stays and art walks, in exchange for participating in the researchers' studies. The company is NC State's first tech-based social venture, he says.
People-First Tourism has been involved with the VSA program from day one, administering the online pre-vacation sales and the disbursement of payments to farmers and delivery microentrepreneurs. For its work with the VSA program, the company collects a small percentage of the sales of the produce bags.
It's a win for everyone involved.
Farmers are paid in advance for their produce sales, often receiving checks in May for bags to be distributed in August.
"The Vacationer Supported Agriculture program has added a great amount of value to our farm," says Brian Knowles of Bear Ridge Farms in Maple Hill, North Carolina. "It has helped us to be able to sell more of our produce, including tomatoes, squash, zucchini, peppers and sweet corn. Being able to provide vacationers from different parts of the country our produce is an awesome feeling."
Leaps and Bounds
When the program started in 2018 in Ocean Isle Beach under the local name "Vacation Vittles," it involved one realty company and 10 farmers.
Positive survey results and growing interest among key audiences encouraged the program to expand to several new destinations on the coast.
It's a win for everyone involved, Morais says.
"The program helps realty companies showcase their commitment to neighboring communities and working lands, provides professional development opportunities to local aspiring youth, and creates an important new revenue stream to small farmers near tourism destinations."
After a successful first season, they hired a part-time staffer to develop realty company partners in seven more beaches across three additional counties. Extension also cultivated relationships with new farmers interested in participating in the program.
By spring 2019, the VSA program had partnered with 13 realty companies, more than 40 farmers and seven beaches.
Hopes were high for an even more successful 2020 season.
Then, COVID
Having sold 1,200 bags in 2019, the program anticipated expanding to three or four new counties and selling about 3,000 bags this summer.
"But now with COVID we just have no idea of how many we will sell," Morais says.
The founders of People-First Tourism met in March to decide whether or not to pull the plug. The company had already invested about $2,000 in staff and was tempted to pull back, Morais says.
"But we didn't want to compromise all of the relationships we've developed, and we figured the worst that could happen was to lose another two or three thousand dollars," he says. "And if we stuck with it and sold a few bags, it might benefit the farmers and the program."
So they decided to move forward, on the condition that all sales are nonrefundable. Here's the best part: If customers who buy the produce aren't able to travel because of COVID-19, the produce is donated to unemployed tourism workers in coastal communities.
And the bags are selling.
"I think it shows the level of humanity that perhaps this pandemic is eliciting in many of us," Morais says. "People maybe are a little bit more selfless, and they are thinking more collectively. I find it's very heartwarming."
The VSA program is following CDC and travel association regulations for this summer, Bowen says. Extension also has developed safety protocols for farmers and customers to follow.
"We are very concerned that everyone follows proper protocol in terms of social distancing and wearing protective gear," Bowen says. "We are focusing on touchless delivery as much as possible."
Thanks to a grant from the University of Mount Olive AgPrime Program (funded through the North Carolina Tobacco Trust Fund), they've been able to provide farmers, staff and volunteers with gloves, masks and hand sanitizer. The grant also enabled the purchase of insulated zipper-closed bags, which discourage customers from handling the product.
The youth ambassadors from Men and Women United have built hand sanitizer stations at each of the pickup sites, Bowen says, and they've all received safety training from Columbus County Extension.
"Almost all of the realty companies are participating this year, but a couple of them dropped off because of their concerns about the pandemic and the uncertainty about the market," Bowen says. "So we've found other pickup sites to use, such as service marts and surf shops."
One month into the 2020 season, spirits are high. Produce bag sales are on track to meet the number sold in 2019. And plans are in the works to continue expanding the program to more North Carolina beaches and other tourist destinations around the state, Bowen says.
"No matter what our customers decide to do this summer, something good happens," Morais says. "Either they enjoy fresh local produce on their beach vacation, or if they decide not to come, they're still supporting local communities that are struggling because tourism is down. We just want the program to provide a little bit of relief."
If you're interested in purchasing a VSA produce bag, visit this site for a list of participating realties and beaches.